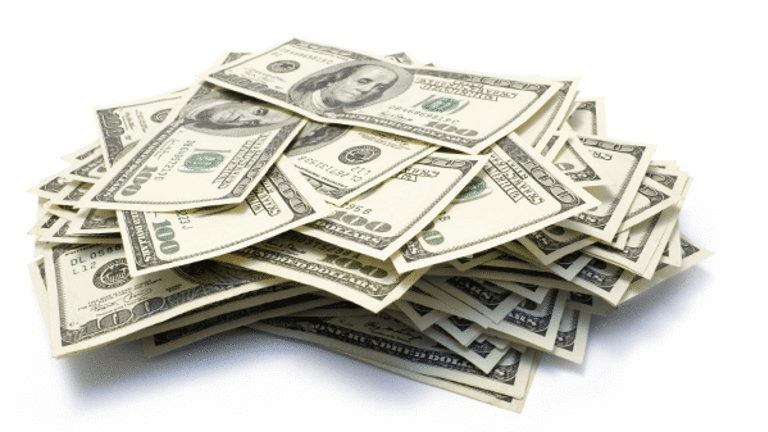 Currencies: Friday's Gains Maintained in Forex Action
The solid gains in overseas currencies seen on Friday, have been maintained this morning. The dollar has lost ground across the board as the market reconsiders its view of the U.S. currency and the outlook for the economy.
The
OECD
has predicted further strong growth in the world economy with 4.3% forecast for 2000 and 3.8% for 2001. Growth in the 11-member euro zone is expected to be 3.5% and 3.3% for the next two years.
The euro is opening at $0.9345 after seeing highs of $0.9410 in European trading.
Clearly, calls for a stronger euro seem more plausible today. "Current developments in the euro, which do not satisfy me fully even if it, fortunately, staged a rebound in recent days, call for joint reflection and maybe even joint action by the
European Central Bank
and Euro 11, as well as better coordination between major monetary zones," said French Prime Minister
Lionel Jospin
.
German economic growth in the first quarter rose 0.7%, helped by a strong performance in the export sector. Finance Minister
Hans Eichel
said that GDP data are on a, "very positive" trend in both France and Germany. ECB President
Wim Duisenberg
also focused on what he saw as strong growth prospects in the euro zone.
Following a meeting today, French Finance Minister
Laurent Fabius
and his German counterpart Hans Eichel agreed a plan (details to be announced next month) to strengthen economic policy coordination between the euro zone countries.
"The key on Friday was the double-bottom and the break of 92," said Jonathan Bayley of
Paribas
in Paris. "So far, we have not been able to break 94 but I think this is only a pause," he said. "The key levels are now 94.20 and 95.50," Bayley said.
Bayley sees this move as more dollar weakness than just euro strength and points out that cable has also seen substantial benefit from the change in pattern.
Other currencies have continued to benefit from the general move against the dollar. Dollar/yen is now trading at 106.60 after closing around 107.10 on Friday.
The euro/yen cross which gained 2% on Friday, is basically steady overnight to open at 99.60.
The Japanese economy received an unexpected boost in new data for April which showed a rise in consumer spending and a decline in unemployment.
Sterling has continued to gain significantly vs. the dollar and has opened at $1.5025, about 1% better than Friday's close. The euro/sterling cross has remained at its better levels, around 0.6215.
Dollar/Swiss franc has stayed fairly close to the euro and is trading at 1.6810. The euro/Swiss franc cross is firmer at 1.5710.
The Canadian dollar is pretty much unaffected by the U.S. dollar's fluctuations and is holding last week's levels at $1.5030.
The Australian dollar has also participated in the move against the dollar and has touched $0.58, before opening at $0.5765 in New York. The Aussie was helped by the OECD report which raised its forecast for Australian growth to 3.9% in the current year.
The New Zealand dollar has done little more than hold onto Friday's gains at $0.4595.
The South African rand has again stayed within its current range to trade firmer at 7.08 per dollar.
So far, so good for the euro in its rally vs. the dollar. While traders are cautious, there is definitely a sense that this week could see the European currency confirm its improvement and possibly stage the beginnings of a longer term recovery. "It looks very promising. There are signs that the market is looking at the dollar, but there is not a lot of volume and it lacks conviction," Bayley said.