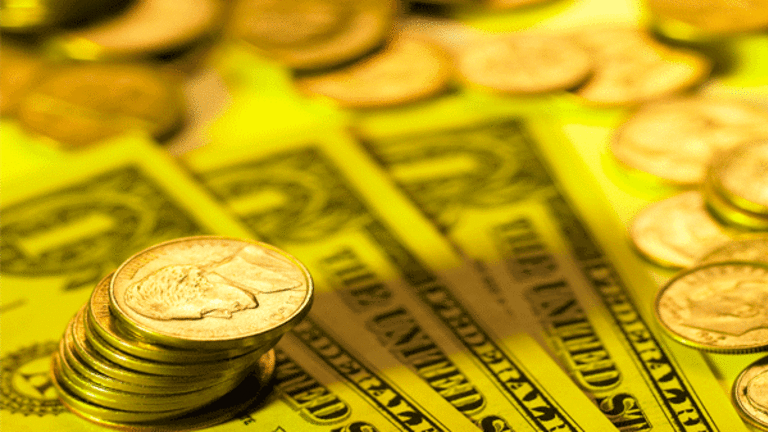 Currencies: Forex Stays on Sidelines Ahead of Data, Fed Announcement
As would be expected, the forex market has remained quiet overnight ahead of today's crucial CPI and Fed announcements. On interest rates, the consensus view among forex traders is for a 50-basis-point rise with a smaller group still looking for 25 basis points.
"Without an accompanying aggressive statement by the Fed, a 50-basis-point hike, coupled with a tame CPI number, should be read positively by stock markets," says Geraldine Concagh of
Allied Irish Bank
. AIB expects a core CPI rate of 0.2%.
CPI for April was unchanged with the core rate was up by 0.2%, slightly better than the market expected.
Housing starts for April rose by 2.8%.
The euro has remained soft and opened at $0.9050 after closing last night at $0.9110.
Retail sales
in the euro zone rose 0.4% in February for a 2.7% year-on-year increase.
Bundesbank president
Ernst Welteke
said he did not expect the major currency blocs to stage concerted intervention in the near term. He did say that, "The trend turnaround must come now at some time." A Buba council member
Christian Milow
also suggested that
European Central Bank
intervention would not be useful, "I don't think we have now a situation in which it would be advisable to intervene to strengthen the euro," he said.
Dollar/yen has edged lower and is opening at 108.95. Euro/yen is significantly lower at 98.65. Bank of Japan Governor
Masaru Hiyami
indicated that Japan was ready to end its zero interest policy when Japanese personal income stabilized.
The pound has remained under moderate downward pressure and opened lower at $1.4980. Euro/sterling has weakened slightly to 0.6040. Retail prices in the U.K. for April rose a lower-than-expected 1.9% year-over-year. These data added to the view that U.K. interest rates will not move much higher and the pound is seen as likely to lose ground to the dollar.
British Prime Minister
Tony Blair
is expected to reaffirm his strategy on sterling at a
Confederation of British Industry
meeting later today. "We should not try to artificially devalue the currency," he said in the text of his speech.
Dollar/Swiss franc is opening at 1.7140. The euro/Swiss franc cross is softer at 1.5530.
In Canada, the U.S. dollar is largely unchanged at C$1.4850.
The Australian dollar has moved above yesterday's lows but is still mired at lower levels and is opening at $0.5750. The New Zealand dollar has fallen further and is at new lows of $0.4710. The
New Zealand Reserve Bank
is expected to hike its interest rates tomorrow.
The South African rand has eased down and opened weaker at 7.06.
South African CPI
for April rose 4.5% year-on-year, above market expectations.