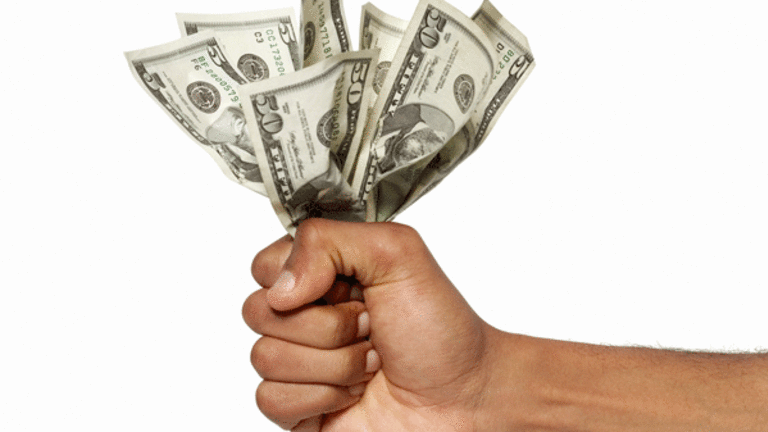 Currencies: Forex Markets Calm Amid Mideast Turmoil
Although tension in the Middle East remains high and stock markets around the world have suffered as a result, the normally sensitive currency markets have continued to react calmly. After a brief dip down to $0.8615 yesterday morning, the euro has edged back to Wednesday's levels at $0.8635. Elsewhere in forex markets, the tone is similarly muted with the dollar slightly weaker overnight.
Today's U.S.
Producer Price Index
(
definition |
chart |
) and
retail sales
(
definition |
chart |
source
) data, although stronger than expected, probably won't have too much impact on currency markets.
Traders continue to expect that the euro will slide lower as time goes on. Euro-zone spokesmen, however, take the opposite view. "The loss of value of the euro has come to an end. We are on the way back," said
European Central Bank
President
Wim Duisenberg
in a newspaper interview. "We will intervene again if we think it appropriate," he added.
Japanese Vice Finance Minister
Haruhiko Kuroda
reaffirmed the
G7
's position on the euro and said that it was unchanged since the G7's September meeting. He also expressed confidence in the international economy. "I am worried about the international situation, but I don't expect it to have a big impact on the world economy," he said in an interview.
There was good news for the single currency in Germany today. August retail sales there increased 5.6% year-on-year. This rise far exceeded expectations but is seen as too affected by seasonal factors to be a clear indicator of a trend.
The yen continues to show almost no reaction to yesterday's events and is opening fractionally lower at 107.65, having stayed in a tight range over the past 24 hours. Even the sensitive euro/yen cross has remained flat and is opening at 93.00, a notch below yesterday's close.
The Swiss franc is a traditional indicator of stress in the forex markets and, after edging higher yesterday, the Swissy has done no more than remain flat overnight, suggesting that traders are not seeking safe haven investments. This morning, dollar/ Swiss is little changed at SF1.7440. The euro is just above its record lows against. the Swiss franc at SF1.5060.
The pound seems to be a major beneficiary of forex market confusion. It kept hold of gains made yesterday. Currently, the pound is trading at $1.4700, after touching a peak of $1.4800 earlier. Euro/sterling continues to move in favor of the pound and is now trading at 58.70 pence.
Once again the Canadian dollar has weakened sharply. It is now opening at a 19-month low of C$1.5165, nearly a cent below last night's close. The key factor noted by Canadian dollar traders is a tendency to move funds out of Canadian investments and into other currencies seen as being of better quality.
"Any kind of bad news seems to be dragging the Canada lower -- regardless of how directly related or not," said Reid Ferrill of
CIBC World Markets
in Toronto. However, Ferrill sees some hope for today. "We've seen a little buying this morning out of New York. There'd better be some upside soon or we'll establish a new range," he commented.
In this atmosphere it would be surprising if the Australian and New Zealand dollars were able to make much progress, and they have not. The Aussie is unchanged around recent lows at $0.5320 after touching a new all-time low at $0.5260 in Asian trading.
In New Zealand, the Kiwi continues to trade weakly around $0.3995. Disappointment over yesterday's decision by government regulators to block a planned takeover of one of the country's leading companies by overseas buyers remains a weight on the currency.
The South African rand dipped to new record lows for the third day in a row, but the currency later staged a modest bounceback. The lowest recorded level for the rand is now 7.54/dollar, well below the 7.46 seen yesterday. Currently, the currency is trading at 7.49/dollar.
The Polish zloty is modestly firmer at 4.69/dollar after a soft opening in Europe at 4.72.
Back to top