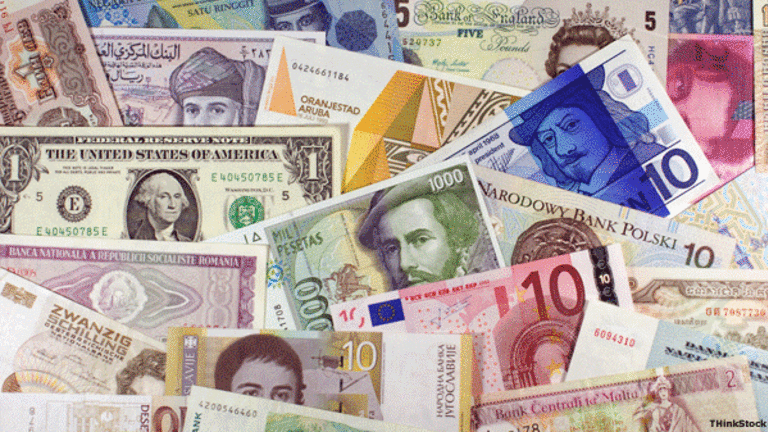 Currencies: Forex Market Opens Quietly Ahead of Inflation Data
The forex market overnight was calm ahead of today's U.S.Consumer Price Index ( definition | chart | source)
CPI for June rose 0.6% with the core rate up by 0.2%.
"Basically in-line with expectations," said Thomas Jelf of UBS Warburg. "A little bit worse in the headlines but there's nothing to upset the market too much."
Dollar/yen opened weaker, at 108.00, after closing yesterday at 108.15. Equity markets in Asia lost ground ahead of the U.S. data.
Once again,
Bank of Japan
governor
Masaru Hayami
has indicated that interest rates will rise in Japan as the economy improves. "When the time comes we will do it bravely, and I feel that time is approaching," he said to the Japanese parliament.
Traders feel that currencies are not showing consistent patterns. "Ranges are getting tighter and tighter and we need something to move us out of these ranges," said Jelf.
The euro moved little in overnight trading and opened at $0.9355.
Inflation has been the major topic in Europe this morning.
The
European Union
consolidated
CPI
for the 11 member states rose to 2.4% for the year, well above market forecasts. This is the highest rate since the euro was launched and well above the 2% target. EU spokesmen placed much of the blame for the poor numbers on the impact of oil price increases. However the core inflation number, which excludes energy food alcohol and tobacco, was up to 1.3% year-over-year from 1.1% in May.
Italian inflation moved to a three-and-a-half year high with an increase of 0.3% in June and a year-over-year rise of 2.7%.
Irish inflation rose 0.6% in June, to a 15-year high of 5.5% on an annualized basis. Inflation in Ireland is expected to peak at around 6.0% in the coming months.
Better news for the euro came in the announcement of a dramatic growth in the French trade surplus for May which increased to FF12.4 billion from FF1.5 billion in April.
The
OECD
commented in its report on financial markets that the weakness in the euro is caused by capital outflows from Europe and by market confusion over the direction of euro zone monetary policy.
Euro/yen is again approaching the parity level and is currently trading at 101.00.
The pound has edged up during European trading to open in New York at $1.4980. Euro/sterling is a little lower at 62.40 pence.
Dollar/Swiss franc is firmer at 1.6565 and the euro/Swiss franc is a little weaker at SF1.5500.
U.S. dollar/Canada is steady at C$1.4800.
The Australian dollar is steady at $0.5835 but remains quite weak. Traders see the $0.5820 level seen yesterday as a crucial support and anticipate a further fall if that level is broken. The New Zealand dollar is softer at $0.4580.
The South African rand has stabilized at 6.90 with the latest inflation data showing no change from the previous month.
The Polish zloty is unchanged at 4.31, supported by expected privatization inflows from the sale of a stake in
TPSA
to
France Telecom
.
The Mexican peso is steady at 9.33.
The Indonesian rupiah has recouped some of its recent losses to 9,230 with local banks selling dollars.