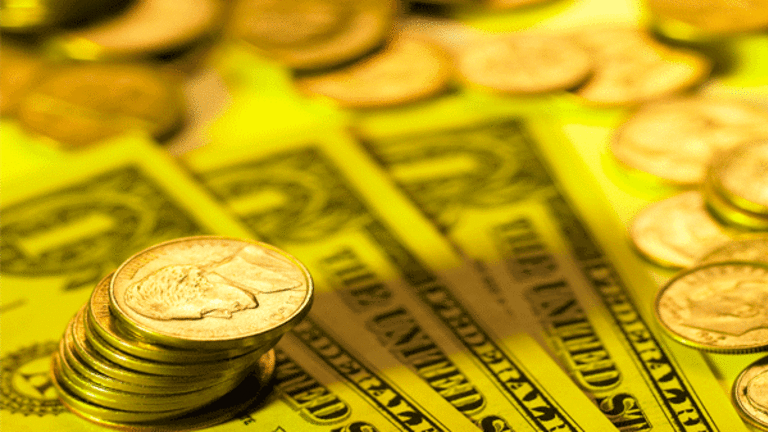 Currencies: Euro's Woes Deepen in Quiet Pre-Holiday Action
Yesterday saw two important but widely expected developments in forex markets. The U.S. trade deficit for February came in at $29.24 billion, the largest ever monthly trade deficit. The euro fell to a new lifetime low vs. the dollar at $0.9355.
Dollar/yen opened at 104.90, little changed from yesterday's close. Market attention has drifted away from the yen with the euro's problems taking center stage. Today, a
Ministry of Finance
spokesman
Zembei Mizoguchi
warned against a sharp rise in the yen and said that the authorities would take action in the currency markets if necessary.
The euro has stayed above yesterday's lows and is opening at $0.9375. Finally, one European spokesman has actually said that a weak euro might be in Europe's best interests.
"The performance of the euro since its creation is globally positive for industry," said French industry minister
Christian Pierret
. He followed up by saying, "The euro's slight erosion against the dollar since the start is not bad for growth and, therefore, employment."
These comments put Pierret out of line with virtually all recent euro-zone statements but much closer to the opinions of many forex experts. Traders have a deep suspicion that many European leaders really want a weak euro as it helps stimulate economic activity and avoids the need for some tough structural decisions.
A more traditional line was taken by a
European Central Bank
council member, "Furthermore, the exchange rate is affecting inflation and liquidity conditions are generous," said
Eugenio Domingo Solans
. He called for a close watch on any signs of rising inflation.
"Some political uncertainty is weighing on the euro, but mostly it is a continuation of the general lack of confidence in the currency. This comes after some disappointing data, including higher inflation, and statements indicating the benign neglect of the ECB," says Andy Kashdan of
MG Financial Group
.
These sentiments are widely shared in the forex markets and few see the situation changing anytime soon. "A slowdown in the U.S. appears to be the only thing that would help at this stage but there is little sign of this at the moment," says Geraldine Concagh of
Allied Irish Bank
.
Elsewhere, the market has reacted more calmly. U.S. dollar/Canada has remained steady and is opening around C$1.4735. Traders feel that the short term momentum may have shifted in favor of the C$ but that there is still no sign of the cross moving out of its well established trading range.
The dollar/Swiss franc has continued to lose ground in Europe and is trading at the top end of recent ranges at SF1.6780.
Sterling is largely unchanged and is opened around $1.5800. Sterling/euro is at 59.3 pence, only a touch above all-time lows at 59 pence.
The Australian dollar has remained steady overnight with local currency markets now closed until the middle of next week. At the opening in New York, the $A is trading at $0.5930.
There was minimal movement in Asian markets and the unit did not approach key support and resistance levels around 59 and 60 cents respectively. The outlook remains poor and traders expect the $A to decline below 59 cents as commodity prices may have peaked and the interest differential with the U.S. is likely to widen.