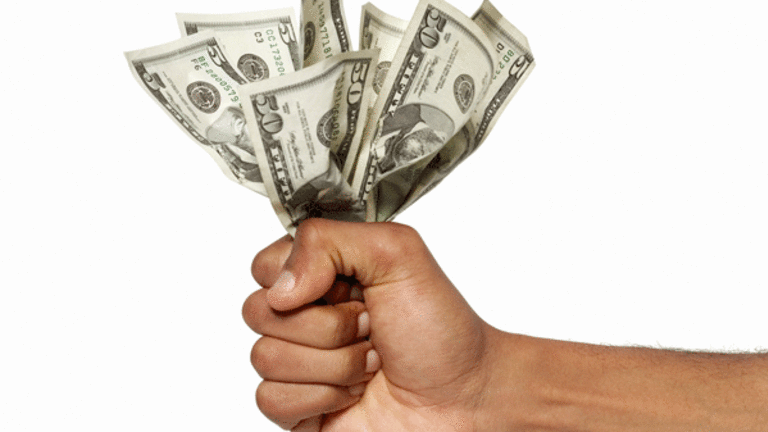 Currencies: Euro up Slightly as Euro-Zone Leaders Take Upbeat Tone
The significant action in the ongoing euro drama overnight came more in the form of statements from euro-zone leaders rather than in developments on the trading floor. There was not much movement overnight in the euro or, indeed, in any of the major currencies. The euro is opening slightly above last night's New York close at $0.8445.
There were some attention-getting comments from
Bundesbank
President
Ernst Welteke
, who focused the market on the issue of possible further central bank intervention. "We are observing developments in currency markets carefully and will, if needed, intervene again," he said in a magazine interview.
Welteke also addressed the likely implications of a slowing U.S. economy. "After the latest data on a weakening of growth in the U.S., I assume that more attention will be paid to the overall favorable economic prospects in the euro-zone," he added.
Separately,
European Central Bank
President
Wim Duisenberg
suggested that the lack of a "cash" euro was a "big handicap." He noted that "the people already have the euro, only they do not see it, they do not realize it, they do not feel it." Euro notes are scheduled to go into circulation on January 1, 2002.
Meanwhile,
Bank of England
Governor
Eddie George
gave a fairly positive assessment of the euro's prospects to a
Parliamentary Committee
. "Basically, looking at the euro economy, I think it's not at all a bad performance; it's quite a good performance," he said.
Retail sales in the 11-member euro-zone rose 0.3% in August, for a 2.4% year-on-year increase.
The dollar is firmer against the Japanese yen, at 109.15. The yen is edging lower, but traders do not expect any major moves: They anticipate that the currency will trade in a narrow range.
A
Bank of Japan
report projected an increased rate of economic growth for the next fiscal year but also noted many threats to economic performance.
"People are starting to cotton on to the fact that the economy is not doing well," said Lee Ferridge of
Rabobank
in London. "Today's
Bank of Japan report wasn't very bullish and people are starting to ask, When will it ever be?" he added.
The euro/yen cross is slightly firmer at 92.10 after yesterday's close at 91.60.
Sterling is lower against the dollar at $1.4500. Meanwhile, it is steady against the euro at 58.15 pence.
Dollar/Swiss is opening at SF1.8025, little changed overnight. In euro terms, the Swiss franc is also relatively unchanged at SF1.5215.
The Canadian dollar remains quite weak at C$1.5310. It hit a new 19-month low of C$1.5320 earlier this morning.
The Australian dollar has slipped sharply after finally showing a bit of strength last week. This morning, the currency reverted to its southward spiral, falling 2%, to $0.5135, from yesterday's New York close at $0.5250.
The New Zealand dollar also is opening well down at $0.3935, from $0.4025.
The general strength of the U.S. dollar has kept pressure on the emerging markets currencies of Southeast Asia. These economies are struggling to generate economic growth and are often beset by political unrest as well.
These are some of the issues behind the ongoing decline of the Indonesian rupiah, which has fallen to lows around 9,400/dollar. The outlook remains discouraging and could worsen, since any extended decline in the Japanese yen vs. the dollar will drag these regional currencies down as well.
Back to top