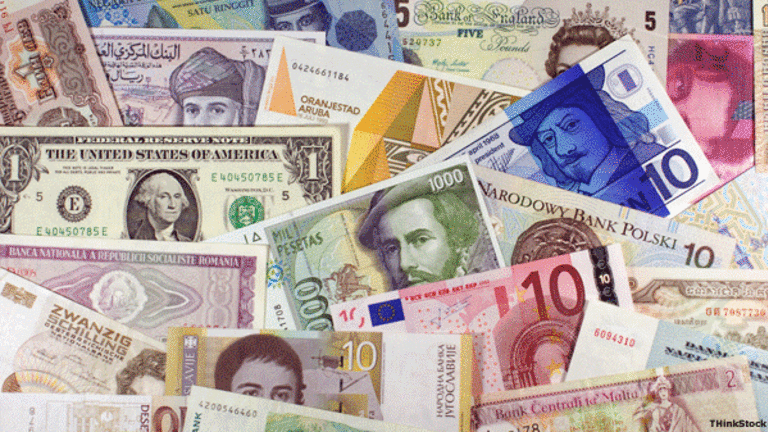 Currencies: Euro Slips Again After Release of U.S. Employment Numbers
It's all downhill for the euro.
Despite massive intervention two weeks ago and a 25-basis-point interest rate increase yesterday, the single European currency continues to slip. Following today's U.S.
employment report
(
definition |
chart |
) for September, the euro was trading around $0.8710, marginally down from last night's close at $0.8790. Even more discouraging for the
European Central Bank
, the euro actually fell to lows of $0.8675 in Asian trading, recovering only on intervention fears.
Philip Shaw of
Investec Bank
in London described the euro as having "backtracked" in the wake of yesterday's ECB rate hike. "There was a rumor that the ECB was holding an emergency meeting," he added.
The euro's decline is particularly worrisome since, in theory at least, the ECB's action should support the single currency, since it narrowed the interest rate differential between the euro-zone and the U.S. "The narrower interest rate differential should give the euro the chance to become somewhat stronger, which won't hurt further developments" in the economy, said
Bundesbank
council member
Edgar Meister
at a conference in Frankfurt.
Also hoping for more stability in forex markets was German Finance Minister
Hans Eichel
. "The exchange rate gap between Europe and the U.S. dollar should be narrower this year," he said. Eichel sees euro-zone growth as closing in on U.S. growth.
The U.S. employment data were better than expected. Non-farm payrolls increased by 252,000 compared with expectations of 230,000. The unemployment rate dropped to 3.9% from 4.1% last month. As anticipated, average hourly earnings rose 0.3%. With Columbus Day likely to make trading light on Monday, Shaw was not sure that there would be much "follow-through" on the news in the forex markets.
Dollar/yen has lost ground overnight and is opening around 108.95, as traders revert to selling euros and buying dollars or yen. Following yesterday's ECB meeting, the euro/yen cross touched highs at 96 yen but has since pulled back sharply to trade at 94.85 this morning.
Once again a split is emerging between the Japanese government and the
Bank of Japan
. On Thursday Japan central bank governor
Masaru Hayami
asserted that "a self-sustaining recovery led by the private sector has begun." This morning, however, the government challenged that view. "The economy is not in self-sustaining recovery," stated Economic Planning Minister
Taichi Sakaiya
, who suggested that personal income and expenditure were still lagging.
Dollar/Swiss franc has firmed strongly since the ECB action, particularly as the
Swiss National Bank
did not match the rate increase. This morning, the dollar is again firm at SF1.7500, having touched highs of SF1.7555 in European trading.
Sterling continues under pressure following the
Bank of England
decision not to raise U.K. interest rates. The pound is now at $1.4475, despite fairly positive economic data. U.K. manufacturing output rose 0.6% in August, following a decline of 0.2% in July.
"Sterling has been subject to a little bit of profit-taking across the board. We have some interesting numbers next week -- including inflation. Not much is happening at the end of the week," commented Shaw.
The Canadian dollar has continued to strengthen over the past couple of days, lately trading firmer at C$1.4935.
The Australian dollar hit a new record low at $0.5280 overnight before staging a modest recovery to open at $0.5330. The Aussie is linked to the euro but is more exposed to selling pressure, since it trades in relatively small volume and the
Reserve Bank of Australia
does not have large forex reserves to support its currency.
The New Zealand dollar is actually a little stronger at $0.4020 but not far above the record low it touched earlier this week at $0.3990.
The Polish zloty and the South African rand are trading quietly as markets focus on U.S. data and on the worrisome renewed weakness in the euro.
Back to top