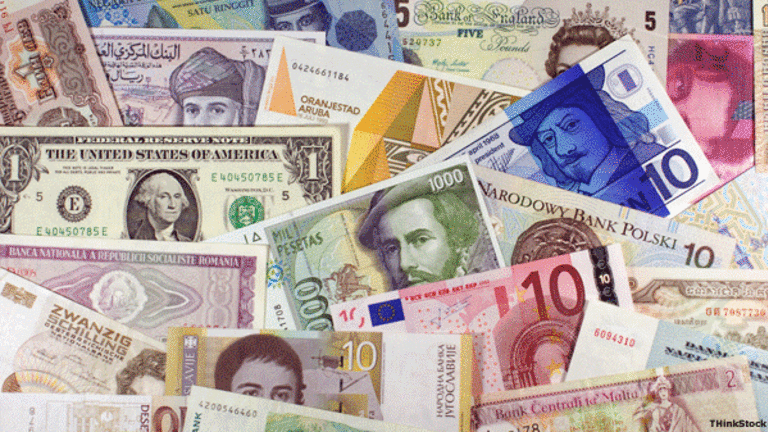 Currencies: Euro Creeps a Bit Higher from Latest Low
Sound familiar? The forex market is focused on the euro and its seemingly never-ending problems.
The currency touched a new all-time low at $0.8325 yesterday. While it's not exactly rallying, the euro did regain 1% against the dollar to open at $0.8430.
And this morning, the
European Central Bank
left euro interest rates unchanged -- an action, or lack of one, that had been expected. At a press conference following the meeting, ECB President
Wim Duisenberg
was careful to avoid giving any reason for the market to sell the euro. He glossed over the euro's poor performance yesterday (can
you
avoid the elephant in the room?) and was only mildly bullish about the region's economic outlook. Said Duisenberg: "I am still saying we are at cruising altitude"
Currencies didn't move dramatically on the news out of the ECB.
The closely watched
Ifo
business confidence survey from Germany was due to be released today, but was unexpectedly delayed. It is expected to be soft.
Japanese ministers have been trying to generate support for the euro. "I have no doubt that the euro is too weak given the economic fundamentals,"
Haruhiko Kuroda
of the Ministry of Finance said in a published interview.
Doubts about the commitment of the U.S. in any further coordinated intervention to help the euro were raised by comments by U.S. Treasury Secretary
Laurence Summers
. In comments to journalists, Summers stressed his interest in a strong dollar. "Our policy of the strong dollar is in the national interest is unchanged," he said. Even so, the U.S., along with Japan and the ECB, last month intervened to
boost the euro.
In line with the last couple of days, the yen is steady around 107.90. The market sees no strong momentum in dollar/yen, with ongoing weak economic performance in Japan keeping yen bulls at bay.
Dollar/Swiss is 1% lower this morning, at SF17840, following the 11-year high hit yesterday with SF1.7985. In euro terms, the Swiss franc is close to its lifetime high at SF1.5040.
The pound is opening unchanged at $1.4430. Euro/sterling is marginally above yesterday's record low of $0.5795. British retail sales rose 0.6% in September for a year-on-year rise of 4.6%, significantly stronger than expected.
The Canadian dollar is a little firmer at C$1.5100.
The Australian dollar is barely above yesterday's record low at $0.5190, hurt by the currency's implicit connection with the euro and unable to attract adequate capital inflows. It's a similar story with the New Zealand dollar which is only 20 points above the record low of $0.3905 touched on Wednesday.
After several days of weakness, the South African rand fell to a new record low at 7.715/dollar overnight. This morning, the rand is marginally firmer at 7.665.
Back to top