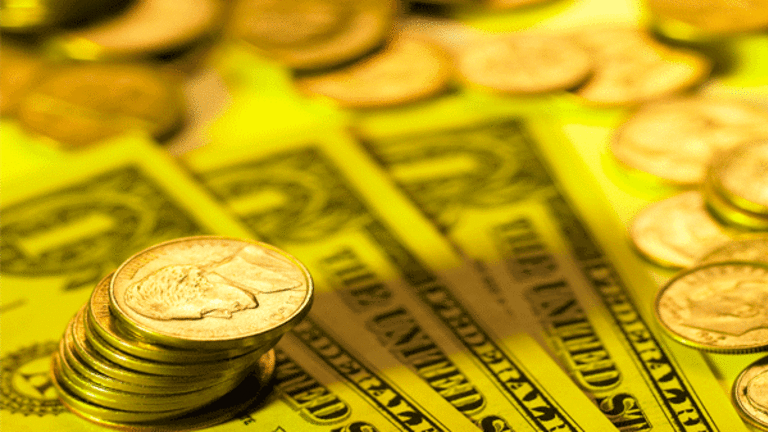 Currencies: Euro Boosted by Positive Words
The euro climbed past two-week highs against the dollar and yen this morning after European officials' supportive comments led to strong buying of the single-currency.
The euro traded most recently for $0.8553, slightly off the day's highs against the dollar, but still up from yesterday's closing price of $0.8506. The euro priced against the yen for 107.35 yen per euro most recently, a strong step up from yesterday's close of 106.56 yen per euro.
This morning, Belgian Finance Minister and
European Central Bank
member
Didier Reynders
reiterated a forecast for the eurozone to grow 2% to 2.5% this year. This gave the euro an initial boost, which was then reinforced when European Monetary Affairs Commissioner
Pedro Solbes
said eurozone growth will rival that of the U.S.
Also giving legs to the euro were some economic data from Germany released last night. German industrial production rose a better-than-expected 0.9% in May, and the country's total exports rose 16.5% year-over-year in April. German exports to the U.S. skyrocketed a solid 25.3% in April as well. Germany is the eurozone's largest economy; it's the world's sixth-largest economy.
The yen, meanwhile, was hurt by commentary from its own officialdom, pushing it down hard against the stronger euro and the dollar. The dollar rose to 125.48 yen per dollar this morning, near recent three-week highs, from 125.28 yen per dollar at last night's market close.
Japan's top financial diplomat,
Haruhiko Kuroda
, said last night that Japan's foreign exchange policy won't be changed, and that exchange rates should reflect country fundamentals. And another Japanese official said that only a full-scale financial crisis would make the Japanese government give more funds to the country's debt-ridden banks.
The British pound gained slightly on the back of the euro's strength today, climbing to $1.4115 recently, from $1.4097 at last close.
The U.S. dollar slipped against the Canadian loony recently, falling to C$1.5194 from C$1.5211 at last close. The Australian dollar remained virtually unchanged at $0.5107, barely off Monday's close of $0.5105.
Back to top