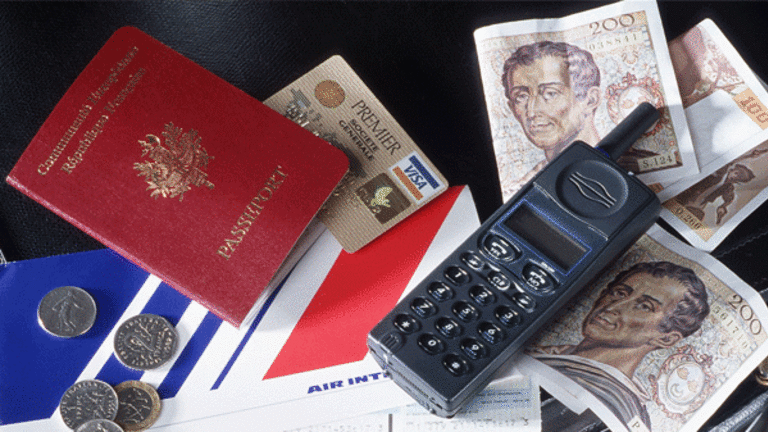 Currencies: Euro Again Near Its Six-Month Lows
It's so quiet in the forex markets today, you could hear a euro drop.
The currency had gathered a bit of strength under its wings overnight on traders' beliefs that a central bank would intervene to support the euro from its recent drop-off. If that happened, it would also weaken the recently stronger yen. The eurozone wants a slightly stronger currency to drive it out of its economic slump by increasing domestic profits, while the Japanese are looking for a weak yen to fuel stronger exports.
But continued worries over the gloomy outlook for eurozone growth has brought the euro back to near its six-month lows. Weak economic data continues to flow out of the eurozone. The euro lately was up a bit from last night's closing price, but already off its highs of the day. It had reached $0.8592 earlier, but lately was $0.8573; the euro closed last night at $0.8554. The currency crept up slightly on the yen this morning, recently trading for 103.17 yen per euro, up from 102.79 yen at yesterday's close.
Recent trading has seen movement in euro/yen as the largest factor in dollar/yen trade. As investors sell euros, the demand for yen has increased, which leads to selling off dollars to buy more yen. With little action between the euro and yen today, the action in dollar/yen trading is even more mild. The dollar traded most recently for 120.28 yen per dollar, hovering above the key psychological barrier of 120 yen, and up just barely from 120.19 yen at last close.
The U.S. coin is mixed in trade against the second-tier currencies, as the British pound lately firmed slightly to $1.4274, up from $1.4230 at Tuesday's market close. The U.S. currency then firmed against the other members of the dollar bloc, trading most recently against its northerly neighbor for C$1.5388, up from C$1.5360 at last close. The Australian dollar fell to $0.5147 from $0.5169 yesterday.
The Polish zloty was gathering strength today after the Polish
Monetary Policy Committee
this morning decided not to change interest rates. Traders were recently pitching 4.04 zloty per dollar.