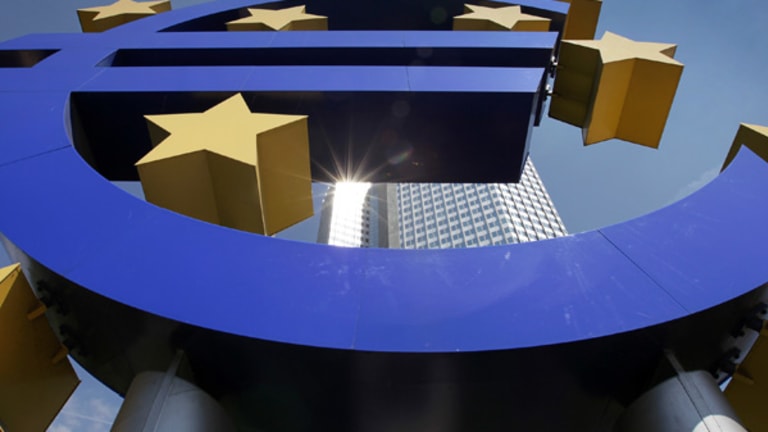 Currencies: ECB Spokesman Says More Euro Action to Come
There was little movement in forex markets overnight as traders reassessed yesterday's surprise announcement from the
European Central Bank
that it would buy 2.5 billion euros. The bank said it needed to recycle interest earned on foreign currency reserves since January 1999.
Despite ECB denials, traders saw the action as "quasi-intervention." This morning, an ECB spokesman indicated that the bank would continue to be active. "People should not be surprised if we are seen in the market again today. We are going to spread the purchases of euros over the next few days," he said in a press interview.
Market reaction to the action has been fairly negative.
"At the moment, the risk
or reward of intervening is not particularly positive, and this was a cheating way of doing it," said Francesca Farnasari of
Lehman Brothers.
After an initial pop-up, the euro drifted back to prior levels and showed no signs of improved resilience. Overnight, the currency traded in a 1% range and opened in New York around $0.8630.
The effort to talk up the euro continues. Among others, ECB Chief Economist
Otmar Issing
contributed to the debate. "The economic outlook for the euro zone is better than at any time in the past two decades," he wrote in a newspaper article.
Like most other analysts, Farnasari is cautious about identifying a bottom for the euro. "It's like catching a falling knife -- the lower it goes, the more ridiculous it gets," she said.
As with other recent U.S. data, the forex market paid little attention to today's
Consumer Price Index
(
definition |
chart |
). CPI for August fell 0.1%, for a year-on-year increase of 3.4%.
Dollar/yen opened slightly higher at 107.55. The dollar was trading at a three-week high vs. the yen as the outlook for the Japanese economy was muted, with growth for next year seen at only 1.8%. The euro was holding its recent gains vs. the yen but had not made further headway. The single currency was opening at 92.80 yen.
Sterling similarly stayed close to the euro and slipped back to $1.4065 as the euro/sterling rate was staying in a narrow band around 61.35.
The Swiss franc pushed up to 1.7700 following unchanged import and production price data for August. The euro remains soft vs. the Swiss franc, opening lower at 1.5280.
The Canadian dollar was steady at C$1.4875, modestly supported by the strength of the Canadian economy.
The Australian dollar remains weak around $0.5495. The Olympics has not helped the Aussie and traders are looking to a euro recovery or a further interest-rate hike by the
Australian Reserve Bank
for a turnaround.
The New Zealand dollar dropped about a half-cent late yesterday and opened barely higher this morning at $0.4195.
The Polish zloty was a little firmer today at 4.47/dollar as forex inflows were above expectation.
The South African rand was lower at 7.16/dollar, despite a positive assessment from Finance Minister
Trevor Manuel
.
Back to top