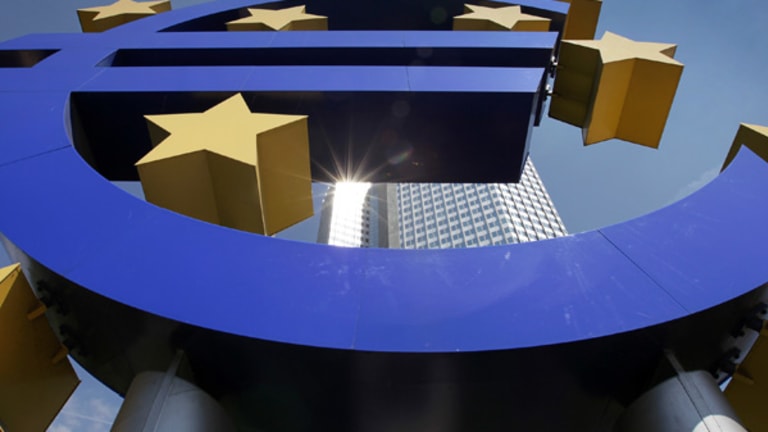 Currencies: Dollar Up Vs. Euro on Better-Than-Expected Retail Data
The dollar lately was making small gains in a quiet market in the wake of today's highly anticipated data.
Reports released this morning showed that U.S.
retail sales rose 0.1% in December, well above an expected fall of 0.4%. Sales excluding autos remained unchanged last month, below the expected 0.1% to 0.2% gain. The more significant data, the
Producer Price Index , was unchanged for December; it had been expected to rise by 0.1%.
This morning's data was expected to be pretty bad, said Jason Bonanca, currency strategist at
Credit Suisse First Boston
, but it came in a lot tamer than predicted.
Before the report was released, Bonanca had said that "the speculative money has come off the table, and there's a gradual bleeding in of corporate money," meaning that investors are now betting on the long-term vs. short-term results of the euro and that bigger, institutional money is being invested.
The euro has been losing value to the dollar since this morning's reports came out. The currency was lately trading at $0.9510, down from yesterday's close of $0.9528.
The dollar was lately losing early morning gains on the yen, recently trading at 117.69, down marginally from its last close of 117.74. This firming yen most likely is due to the slight fall of the euro vs. the dollar, which leads to the euro falling vs. the yen, and that means the yen gains strength against the dollar. The euro/yen cross most recently fell to 111.95, down from 112.19 at yesterday's close. "Crosses" refer to the action happening to the first currency listed.
This weekend, European and Japanese officials will meet in Kobe, Japan, to discuss the state of the Japanese economy. European officials have asked Japan to hold more reserves in euros to help stabilize its economy, Bonanca said. He said that even a small shift in Japanese reserve holdings to euros would take away from U.S. dollars, significantly impacting exchange rates.
The dollar was making gains against most major global currencies today. The British pound was weakening against the dollar, recently trading at $1.4854, down from yesterday's close of $1.4980. The Australian dollar was also losing to the U.S. currency today, falling to $0.5590 from yesterday's close of $0.5609.
The Canadian dollar was continuing to lose value to the U.S. currency; the U.S. dollar was recently trading at C$1.4950, up slightly from its last close of C$1.4937 yesterday.
Back to top