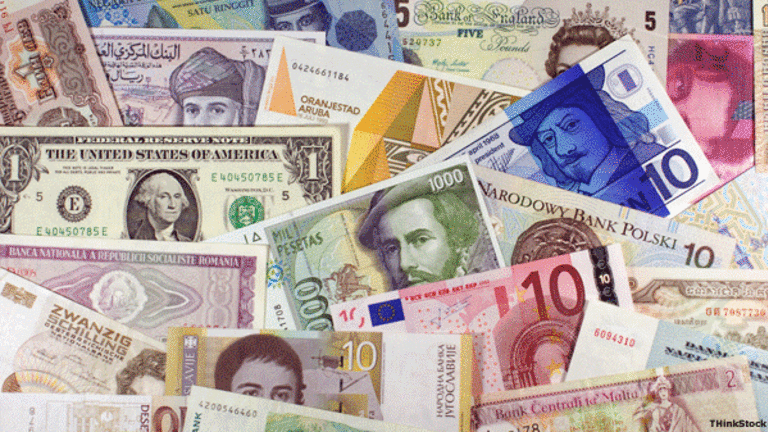 Currencies: Dollar Loses Ground Following Jobs Report
A higher-than-expected
unemployment figure in the U.S. sent the dollar reeling this morning. A reading of 4.5% surprised analysts, who had expected unemployment to rise to only 4.4%. The employment figures sent stocks tumbling early on, and the dollar followed suit.
With the Japanese markets closed today for the Golden Week holiday and Europe relatively quiet, all eyes were focused on this morning's unemployment and jobs figures. The euro jumped higher, before falling back slightly as the U.S. stock markets regained their legs and pushed toward, and finally into, the green. The euro traded recently for $0.8935, up from yesterday's close of $0.8894.
The dollar also fell back slightly against the yen, trading recently at 120.95 yen per dollar, down from Thursday's close of 121.39 yen per dollar. For a broader look at the dollar and where it might be headed in the current economy, check out today's
Daily Interview with economist Lara Rhame of
Brown Brothers Harriman
.
The euro is retracing some of its recent losses against the yen today, creeping back up to 108.11 yen per euro from yesterday's closing price of 107.93 yen.
The dollar sagged against the British pound and the Australian dollar following the unemployment news. The pound recently moved up slightly to $1.4366 from $1.4356, while the Australian dollar was barely off of its last close, trading slightly higher at $0.5188.
The U.S. dollar actually picked up a little value against the Canadian dollar as concerns about the Canadian economy persisted. The U.S. dollar climbed to C$1.5334 most recently, up from yesterday's close of C$1.5325.