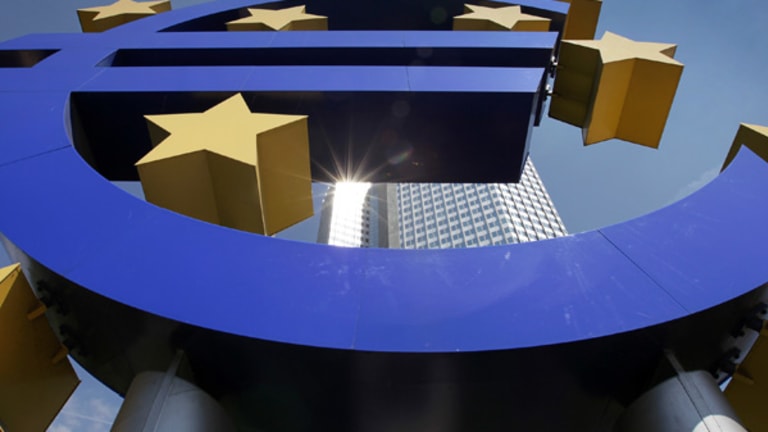 Currencies: Dollar Has Slight Gains Ahead of Fed Decision
In front of this afternoon's decision from the
Federal Reserve, the dollar is making minimal gains.
The
Federal Open Market Committee, known as the FOMC, is expected to change its economic outlook to say the risks of inflation no longer outweigh the risks of a recession. Some believe the Fed may even cut interest rates as early as this afternoon. Ahead of the meeting, the dollar remains in a pretty tight range.
"It's a little bit of pre-FOMC optimism," said Jason Bonanca, currency strategist at
Credit Suisse First Boston
. If the Fed moves closer to cutting rates, investors will expect the slowing pace of economic growth to be revived, and that helps the dollar.
The latest release about inflation in the euro zone had little effect on currency trading. The November
consumer price index for the euro zone hit 2.9, the highest since early 1994. The reading was higher than the 2.8 level that had been expected.
A stronger influence on the dollar today is the "forceful impetus to take some profits before the end of the year," Bonanc said. "If you're up a little bit, there's a strong influence to take it off the table." This has been a tough year, and profits are harder to come by. "There are plenty of roadblocks in front of the intrepid trader."
The euro was recently trading at $0.8898, down slightly from yesterday's close of $0.8934. It has been moving higher recently because of the weakening U.S. economy.
As the end of the year approaches, "the dollar/yen has shifted into a quiet range," Bonanca said. The dollar/yen was recently trading at 112.12, only a marginal step down from yesterday's close of 112.15. The euro/yen cross slipped a bit this morning, trading at 99.73, down from a close yesterday of 100.11.
Other major currencies are also feeling the slight pressure of the dollar ahead of the Fed announcement. The British pound is trading down at $1.4661 from yesterday's close of $1.4737. The Aussie dollar is also losing value against the U.S. currency, recently at $0.5408, down from $0.5417 yesterday.
Our northerly neighbors are trend-followers again today, as the Canadian dollar is slipping slightly in value against the U.S. currency. The U.S. dollar was recently trading for C$1.5268, up from a close yesterday of C$1.5258.
Back to top