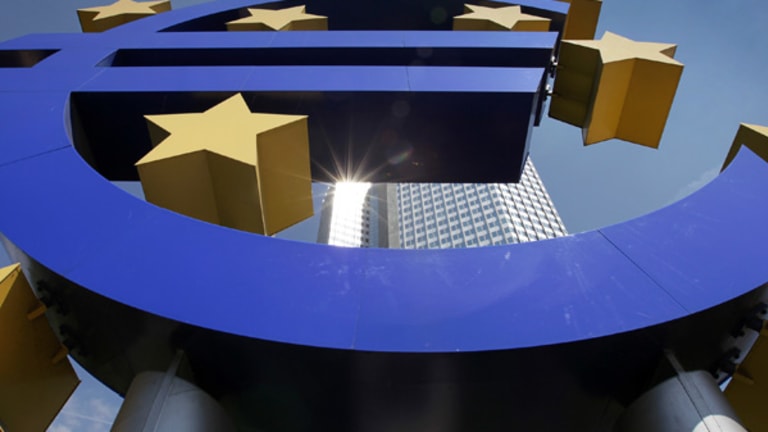 Currencies: Dollar Down After U.S. Cuts Rates Again
The dollar lost to European currencies today in the fallout from yesterday's rate cut in the U.S.
"Fundamentally, the market is shifting its perception a little," said Steve Barrow, a currency strategist at
Bear Stearns
in London. "Up till now, the markets had given the
Fed the benefit of the doubt, and not given it to at all to the
European Central Bank
."
The euro gained ground against the dollar this morning, trading most recently for $0.8849, up from yesterday's close of $0.8780. The British pound, moving largely in tandem with the euro these days, gained on the dollar also, climbing to $1.4299 from $1.4247 at last close.
Since the start of 2001, the U.S. Fed has lowered interest rates five times, totaling 250 basis points, in reaction to the slowing global economy. The ECB only cut rates once this year -- in a surprise move -- by 25 basis points last Thursday. The Fed has been praised for its actions, while the ECB has been criticized by other central banks and the
International Monetary Fund
.
But as doubts surface about the Fed's recent decisions, perhaps the tables will be turned. "The level that interest rates have got to and the speed
with which they got there are making the markets nervous," Barrow said.
Still, the strategist said, it's "a subtle shift in perception, and hasn't caused a lot of movement," he said. "We're in a very choppy market at the moment -- direction is lacking." Bear Stearns strategists believe that by the end of this year, the euro will be equal to the dollar, and stretch to $1.10 by next year.
Until the rate-cutting moves are proven "a clear winner," the market will continue to lack direction, Barrow said.
French and German corporations have been selling a lot of U.S. currency today, adding to the dollar's decline.
Yen-related trading is more clear-cut," Barrow said. "The markets lost patience and confidence pretty rapidly" in the new prime minister,
Junichiro Koizumi
, he said. Koizumi, elected on a strong economic reform platform, now appears to be mirroring past governments and may not be a reformer after all, according to Barrow.
The dollar was barely changed against the yen in trading this morning, worth 123.39 yen per dollar, off from 123.38 yen per dollar at yesterday's close. Meanwhile, the euro, on the strength it gained this morning, was at 109.20 yen per euro, up strong from yesterday's close of 108.30 yen.
The U.S. dollar also slipped in value against the other members of the dollar bloc today. The Australian dollar recently traded for $0.5228, up from $0.5215 at last close. The U.S. dollar dropped to C$1.5435 from C$1.5452 yesterday.
Back to top