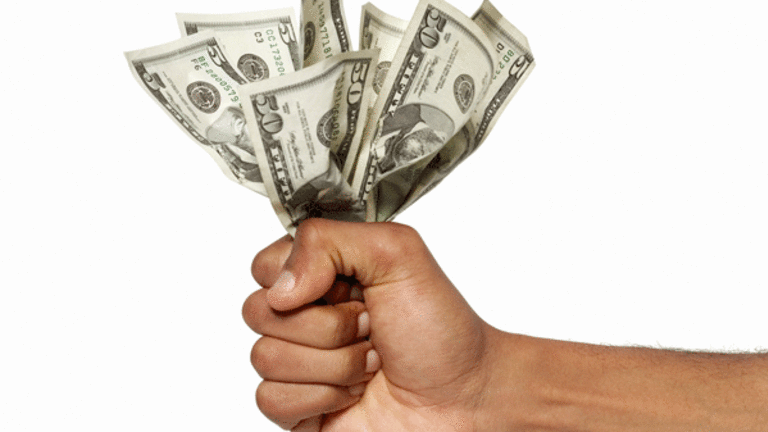 Currencies: Despite Euro Intervention Rumors, Forex Little Changed
With the exception of sterling/dollar, forex markets have moved little from last night's New York close. There have been rumors of intervention to support the euro, but these have generally been discounted. The euro is opening at $0.8950 after yesterday's lows of $0.8890.
U.S. first-quarter non-farm productivity rose 2.4% after a revised gain of 6.9% in the fourth quarter of 1999.
The dollar has retained the gains made on Wednesday. Falls in the U.S. equity indices have not discouraged dollar buyers who believe that the U.S. economy will continue to outperform its overseas counterparts.
The
European Central Bank
has declined to comment in rumors of intervention. Dealers said it was unclear if ECB market orders were for commercial or intervention purposes.
Not surprisingly, given yesterday's 2% sell off, there has been a slew of spokesmen talking up the euro. "The value of the euro does not reflect the good economic fundamentals of the European economy," said Gerassimos Thomas of the
European Commission
.
French Prime Minister
Lionel Jospin
seemed to advocate ECB intervention to support the euro. "A collective response from the large monetary blocs should be considered. In particular I would like to see the countries sharing the euro making sure their stance is well coordinated," he said.
Again, there was no trading in Tokyo and dollar/yen has held just below the 109 level. The euro/yen cross is steady at 97.30.
Dollar/Swiss franc is opening higher at 1.7285, well below yesterday's highs of 1.7375. The euro/Swiss franc cross is at 1.5475.
As anticipated, the
Bank of England
has left interest rates unchanged. Following the announcement the pound dropped over 1 cent to $1.5385. Euro/sterling moved higher to 58.15 pence.
In assessing the BOE decision, some analysts feel that the market had been expecting a 25-basis-point increase. "It was a surprise and could signal that the BOE is coming to the end of its interest rate cycle," says Ryan Shea of
Bank One
in London. Shea feels that U.K. rates may be held around these levels at least until the euro can stage a solid recovery.
Other analysts have concluded that the strength of the pound coupled with the signs of distress in the manufacturing sector of the economy would bias the
Monetary Policy Committee
against pushing rates higher.
"Businesses will give the bank credit for recognizing the untold damage that the strong pound is doing to U.K. business competitiveness," said Ian Peters of the
British Chambers of Commerce
.
The Canadian dollar has remained steady at last night's lows and is now trading at 1.4945.
The Australian dollar continues to hold in a fairly tight range and has eased slightly to $0.5905.