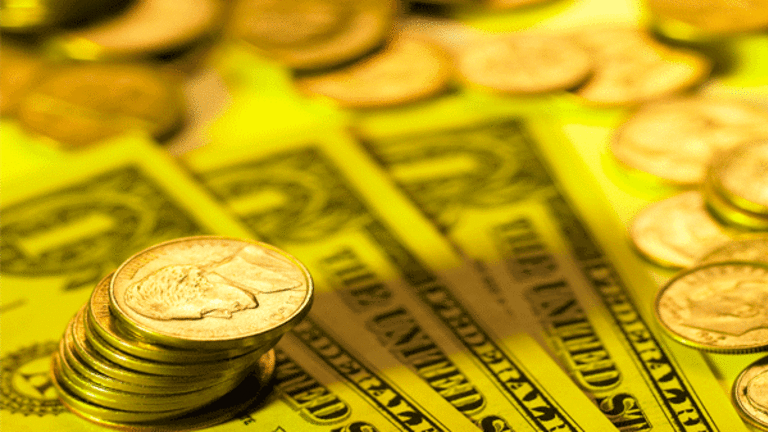 Currencies: A Return to Normalcy as Dollar Strengthens
Today sees a return to the traditional currency plays. The dollar is firm vs. the euro but has weakened against the yen.
The U.S. trade deficit for March was a record $30.18 billion after a revised $28.7 billion in February.
The euro opened at $0.8875 well down from last night's close at $0.8935 with traders pushing the single currency very close to recent lifetime lows. "Euro/dollar looks terrible and finance ministers statements will not rescue it," says Michael Lewis of
Deutsche Bank
.
Dollar/yen has been weak in overseas trading and is now trading around 107.70 after closing on Thursday at 108.60. Once again, the euro/yen cross tells the story with a new lifetime record low of 95.50 from yesterday's levels around 97.15. The euro has dropped by 28% vs. the yen since it began trading in January 1999.
"The yen is looking for a bigger move. There isn't the capital outflows from Japan that people had thought.
The problem with the euro is that nobody is short out there," says Michael Lewis. "A target of 90 is what people are talking about," he says.
The yen was boosted by a suggestion from the
Bank of Japan
that it would hike interest rates in the near future. BOJ governor
Masaru Hayami
said that there had been "heated discussions" at Wednesday's monetary policy meeting on conditions for ending the "zero interest rate" policy. "Improvement in the Japanese economy is becoming clear," said the BOJ monthly report.
Separately, Finance Minister
Kiichi Miyazawa
said that the growth target for the current year of 1% could be achieved. "It's all right, there's almost no problem," he said.
Sterling has backed off from yesterday's lows and after closing at $1.4820 is opening today little changed at $1.4810 Euro/sterling is lower at 0.5990.
Dollar/Swiss franc has rallied further in reflection of the weakness of European currencies and is opening at 11 year highs of 1.7470.The euro/Swiss franc cross is lower at 1.5510. Swiss trade deficit for April was SF220 million after SF381 million in March.
In Canada, the U.S. dollar continues fairly steady at $C1.5000.
The Australian dollar has also held around the lower levels seen in New York. Overnight the $A has traded in a narrow range to open around $0.5685.
The New Zealand dollar saw new lows yesterday at $0.4460. It has staged a modest recovery to open at $0.4510. There is some sense that both the Pacific rim currencies are undervalued at current levels.
Yesterday, the South African rand bounced off record lows of 7.185 per dollar and has held overnight in a relatively narrow range to open in New York at 7.15.