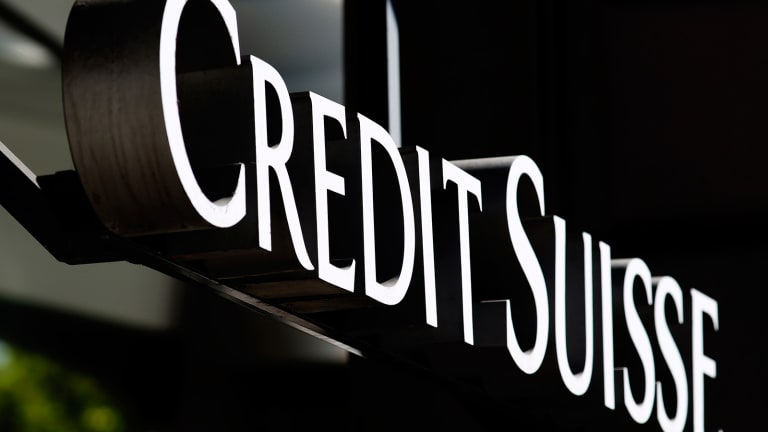 Credit Suisse Shares Surge After Strong Q1, Record Wealth Management Inflows
Credit Suisse had its best quarter in three years, cementing the case for CEO Tidjane Thiam's turnaround plans and possibly muting calls from activist shareholders to break up the Swiss investment bank.
Credit Suisse (CS) - Get Credit Suisse Group American Depositary Shares Report shares rose the highest level in a month Wednesday after the Swiss investment bank posted its strongest quarterly earnings in three years as new cash poured into its wealth management division under the renewed focus of CEO Tidjane Thiam.
Credit Sussie said net profit for the three months ending in March hit Sfr694 million ($706.7 million), topping analysts' forecasts and rising 16.4% from the same period last year. The group also said inflows into its wealth management division, a key growth driver, rose 20% to Sfr14.4 billion, the best in seven years, taking the total value of assets under management to Sfr776 billion. The bank also reiterated its full-year profit targets but said it was too early to define its progress in the current quarter, owing to the recent market turmoil.
"Thanks to the progress made in 2016 and 2017, we are nearing pre-restructuring levels of absolute profit, with a higher quality, more capital-efficient business mix that can generate growing amounts of capital organically with higher capital velocity and a higher return on capital through the cycle, while consuming less risk capital per unit of income," Thiam said. "Our focus on increasing our return on capital , reducing capital consumption and controlling risk should allow us over time to increase the return of capital to shareholders."
Credit Suisse shares were marked 5.06% higher in the opening hour of trading in Zurich, their biggest gain in nearly four months, to change hands at Sfr17.02 and trim their year-to-date decline to 2.18%.
Thiam, who has led Credit Suisse since June 2015, has both frustrated shareholders with the slow pace of the bank's turnaround and won their support for his plans to pivot the group towards wealth management while slashing costs in other divisions such as trading and lending.
However, RBR Capital Advisors AG, an activist European hedge fund, had earlier called for the bank to split its operators in order to boost shareholder value but appears now to want it to focus on an IT revamp and a further reduction in overall costs. Credit Suisse, for its part, said Wednesday that it's on track to deliver a further Sfr800 million on cost cuts this year and won't add significant numbers of new staff to its European wealth management division.