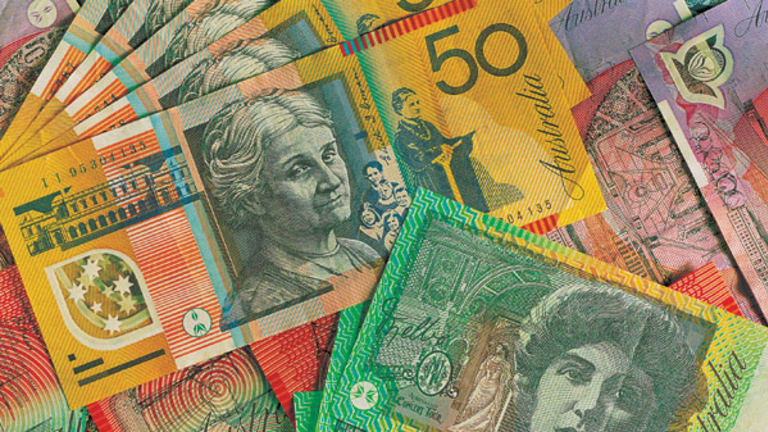 Central Bank Stance Pressures Australian Dollar
Weakness in Australia's domestic economy and key export markets suggests currency values will remain low.
Weakness in Australia's domestic economy and key export markets suggests currency values will remain low.
NEW YORK (TheStreet) -- In early May I issued a sell recommendation for the Australian dollar while it was still trading at more than parity against its U.S. counterpart.
Values in the Aussie have since fallen 11% against the greenback and 12% against the yen. Year to date, the Australian dollar is the worst performing currency amongst those used in the developed markets.
The most recent plunge lower has been propelled by comments from Reserve Bank of Australia Governor Glenn Stevens, which suggest that the central bank will cut interest rates again before the end of the year and that declining currency values are appropriate given the state of the country's economy.
For those holding ETFs such as the
CurrencyShares Australian Dollar Trust
(FXA) - Get Report
, this means the bad news has not yet come to its conclusion, and that further declines are still likely.
Stevens' comments come as a surprise to some, as consumer price inflation is holding at relatively elevated levels of 2.4%, and further rate cuts from the RBA could send price pressures above the central bank's target inflation rate.
But the weakening macroeconomic environment and most recent housing figures suggest that this is still the most likely outcome. Interest rates in Australia are already at historic lows of 2.75%, and additional rate cuts could bring real short-term rates to less than zero -- further reducing the incentive for investors to hold onto the Australian currency.
Specifically, building approvals for June dropped by a massive 6.9% (the most since July 2012), as markets were anticipating a rise of 2.0% for the month. Most troublesome here is the fact that the housing market has been one of the stronger segments of the economy, and the big miss here suggests a period of prolonged weakness. These data also show that the RBA's prior rate cuts have not generated their intended results.
If this wasn't enough, external risks are mounting as well. Expected growth rates in China (Australia's largest trading partner) have dropped to 7%, forcing the People's Bank of China to inject liquidity into money markets and
enact programs to significantly reduce production capacity
before the end of this year.
This means demand for commodities will plummet, as China is the world's largest consumer of metallurgical minerals (which include copper, iron ore, zinc, lead, tin, aluminum, and nickel). For commodities-exporting countries such as Australia, this is spells renewed areas of weakness into the latter parts of the year.
On the positive side, Australia's unemployment rate remains strong and continues to show improvement. The most recent figures showed that joblessness dropped from 4.1% to 3.9%, which is encouraging when compared to what is seen in the eurozone and the U.S. But when we look at the balance of the evidence (with declines in small-business confidence, household spending and industrial production), the picture looks less optimistic.
Given these trends, it is not entirely surprising to see that Glenn Stevens is positioning the RBA to prepare for extended weakness in the second half of the year. Lower interest rates and declining currency values will help Australian exports maintain competitive pricing, and this will help to offset some of the negatives faced in both the domestic economy and in foreign markets. With these factors taken in combination, investors shouldn't expect any major rallies in the Australian dollar any time soon.
At the time of publication the author held no positions in any of the stocks mentioned.
This article is commentary by an independent contributor, separate from TheStreet's regular news coverage.
Richard Cox is based in China, and has lectured at several universities there on international trade and finance, focusing primarily on macroeconomics and price behavior in equity markets. His articles appear on a variety of Web sites, including MarketBulls.net, Seeking Alpha, FX Street and others. Investing strategies are based on technical and fundamental analysis of all the major asset classes (stock indices, currencies, and commodities). Trade ideas are generally based on time horizons of one to six months.