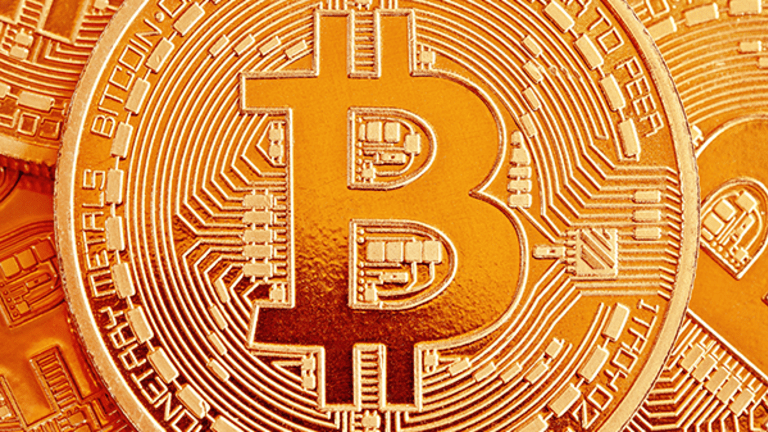 Bitcoin Frenzy Heats Up as Cboe, CME Battle For Futures Traders
The scramble by U.S. futures exchanges to win a slice of the bitcoin-trading frenzy has executives at Chicago-based exchange operator Cboe touting its new cryptocurrency contract as having advantages over a rival plan by crosstown rival CME.
As U.S. exchanges vie for their share of the bitcoin-trading frenzy, the smack-talk is heating up.
Executives at Chicago-based exchange operator Cboe Global Markets Inc. (CBOE) - Get Cboe Global Markets Inc Report , which plans to allow trading bitcoin futures starting Dec. 10, said Wednesday that their new market is designed to attract a "broader base" of customers than a rival venue planned by crosstown rival CME Group Inc. (CME) - Get CME Group Inc. Class A Report According to the Cboe executives, their new bitcoin futures contract also comes with a simpler end-of-day pricing mechanism.
The two companies are scrambling to convince bitcoin traders that their respective exchanges will become the go-to marketplace for the cryptocurrency as its value soared Tuesday above $12,000 for the first time. The price surge has attracted new speculators to the market, prompting big exchanges to compete for a slice of the business, even as bitcoin has been derided as a fraud by mainstream financial-industry executives like JPMorgan Chase & Co. (JPM) - Get JPMorgan Chase & Co. (JPM) Report CEO Jamie Dimon.
The Commodity Futures Trading Commission, which regulates U.S. futures exchanges, said Dec. 1 in a statement that both Cboe and CME could list new bitcoin-futures contracts, even while warning that the underlying market for the cryptocurrency remained "nascent" and "largely unregulated." The CME plans to allow bitcoin trading starting Dec. 18.
Prices for bitcoin surged Wednesday to $12,757, more than a 12-fold increase since the start of the year, according to the data site CoinDesk.
Cboe CEO Ed Tilly said at the conference Wednesday that his exchange's new futures contract would have a settlement value of about $12,500 based on current prices, roughly a fifth the price of the CME's new contract.
"We like being able to attract a much broader user base," Tilly said.
Another advantage, according to Tilly, is that the Cboe's contract's daily settlement price is based on transactions placed on the bitcoin-trading marketplace Gemini. That compares with the competitor's use of an index value for its settlement price, he said.
"You won't wind up perfectly" at the close of trading with "convergence," Tilly said.
A spokeswoman for CME said the company would respond soon to Tilly's comments. 
More of What's Trending on TheStreet:
Alibaba Just Found a Novel Way to Use Your Face