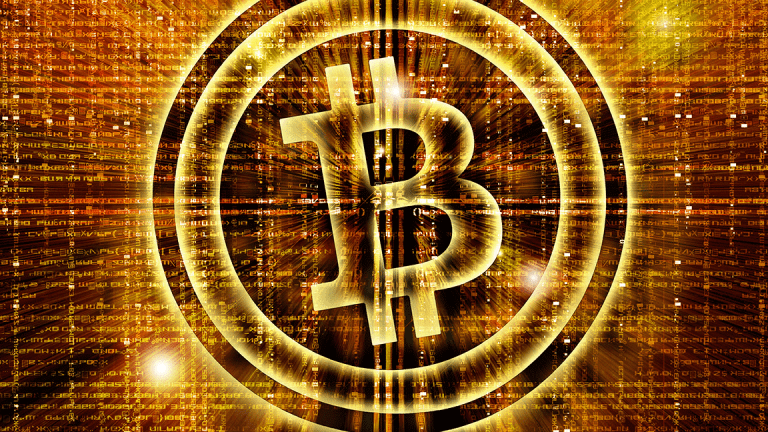 Blockchain Technology Could Thrash Small-Cap Businesses Just Like This
The blockchain revolution is coming. As the tides change, small-cap companies must either learn to evolve or perish. Here's what experts in blockchain have to say.
Remember when no one knew what an Apple Inc. (AAPL) - Get Free Report app store purchase was?
Those days seem like ancient history now that we utilize apps on a minute-by-minute basis through a cell phone all but permanently glued to our palms. According to experts, blockchain technology will become just as overarching, and maybe in even less time.
There's no doubt the blockchain revolution is coming, but the means in which small-cap companies utilize that change varies. At the LD Micro Conference in Los Angeles, TheStreet learned just how pervasive blockchain will soon become for small-cap companies.
Power to the People
For advertising technology company Social Reality Inc. (SRAX) - Get Free Report , blockchain returns power to the people. The company is working to give back consumers ownership of their own data. Instead of big conglomerates selling customer stats to advertisers, the customers ought to be able to do it themselves, SRAX CEO and cofounder Chris Miglino said.
"Over the course of the past year, we've been working on a way that we can empower consumers to own their own data," Miglino said. That's why the company developed BIGtoken, a platform that will allow customers to sell their own data on a digital platform in return for cryptocurrency.
The data that consumers add to the BIG platform will live on the blockchain. But migrating to what's largely an unregulated digital landscape presents challenges.
"We're trying to do everything the right way. File everything that we need to with the (Securities and Exchange Commission) to make sure that everything is approved. A lot of these (initial coin offering) that are happening, it's just the wild wild west," Miglino said.
SRAX wants to squash some of the uncertainty regarding contentious ICOs and the broader blockchain environment. And as part of that effort, the company plans to reward shareholders who get behind the movement.
Once SRAX gains approval for an S1 filing with the SEC, likely in the first part of 2018, it will distribute a cryptocurrency dividend to all shareholders at the very same time it begins enrolling customers on the BIG platform. Just as customers will receive BIGtoken for selling data, for every share of SRAX owned, earlier investors will receive a share of BIGtoken, Miglino said.
"When you have so many people building the blockchain and building on the blockchain, it's just going to explode," Miglino said.
Major Disruption 
And as it explodes, blockchain will certainty send some traditional finance aspects into a tailspin.
For example, in an ICO, "There's no bankers, so none of these guys are making fees on anything ... it's a disruptor to their whole world," Miglino said. It's just freestanding crypto miners and a company looking to raise capital.
But that disruption won't only take away the fees associated with capital campaigns. It could create an "immutable record of activity" for hedge fund manager compliance records, said Jeff Ramson, CEO of PCG Advisory, and investor relations and digital strategies firm.
But it's not just finance that could be dramatically altered as blockchain takes over. The likes of medical records, fundraising, crowdsourcing and everyday audits could change. "It's more mundane but it's incredibly important," said Grant Fundo, partner at Goodwin Proctor.
Growth Prospects
Alex Harrington, CEO of Snap Interactive Inc.  undefined , said blockchain can also magnify a small company's growth prospects beyond the means of traditional innovation or capital raising.
The social video application maker has been making a concerted effort in blockchain, where Harrington said the underlying tech could offer a boom for other growth technology for the business.
Blockchain is useful in "creating new ways and more powerful ways of assuring security and privacy to users in their communications," Harrington said.
That's why Snap Interactive is creating a new app geared toward video-enabled secure messaging called Back Channel.
"Blockchain interacts with several different dimensions of content delivery networks, file storage, payments, ad tech," Harrington said. "Blockchain is revolutionizing all of those fields."
What's more, blockchain can remove some costs of operating a business such as Snap Interactive, Harrington said. In a recently announced partnership with content and secure delivery firm Gladius' ICO, Snap Interactive was able to leverage both its social platform and its blockchain capability without egregious capex.
With all the revolution coming alongside blockchain, revolution is all but certain down the road. It's unlikely such a powerful force goes unmediated, experts said.
And regulation could be a good thing, Harrington noted. It might reduce the "chilling effect" of leary investors to take a stake in blockchain companies.
But if the U.S. wants to capitalize on this move, it needs to get going quickly. Other countries have made more hospitable environments for blockchain investors and early adopters, leaving the U.S. to play catch up.
"There are places that are rolling out the red carpet and that's where business is going," said Ron Levy, chief operating officer of Crypto Co.  (CRCW) .
But regardless of when U.S. regulators get on board, blockchain technology is undoubtedly happening. And it's bringing with it a revolution in the paradigm through which we understand technology and the broader world around us.
"A lot of exciting blockchain developments are playing out in real time," Harrington said. "In a year, it's going to be a different world."
Apple is a holding in Jim Cramer's Action Alerts PLUS Charitable Trust Portfolio. Want to be alerted before Cramer buys or sells the stocks? Learn more now.
Check Out TheStreet's Full LD Micro Coverage:
SRAX Chief Weighs in as Company Readies for Cryptocurrency Dividend
TheStreet at LD Micro: What CEO Dave Callaway Sees in Small Caps This Year
GreenPower Makes Taking the Bus Way Greener With Electric Models