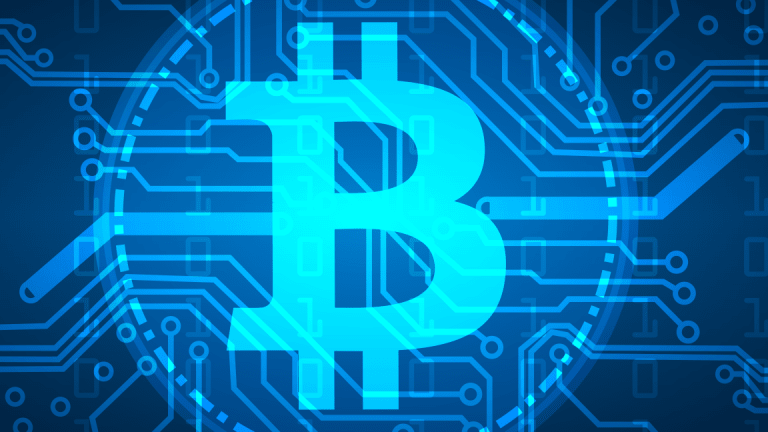 Bitcoin Today: Prices Remain Trapped Below $7,000 Despite Corporate Interest
Bitcoin couldn't muster a move past $7,000 in trading Monday. Here's what you need to know.
Bitcoin prices managed a brief climb above $7,000 over the weekend, but the momentum wasn't sustained on Monday. The No. 1 cryptocurrency dipped back to about $6,800 Monday in a light-volume session. Most of the top cryptocurrencies by market cap traded lower Monday, too, in relatively narrow ranges.
These are the stories you need to know in crypto for Monday, April 9.
Salesforce Planning Blockchain Product
Salesforce Inc. (CRM) - Get Salesforce Inc. Report is working on a blockchain-based product, CEO Marc Benioff said, according to CoinDesk. Benioff reportedly became more interested in the prospects of blockchain technology in January, when the World Economic Forum in Davos, Switzerland, overlapped with a cryptocurrency conference. He said he began to consider how Salesforce could leverage the blockchain after a conversation with an attendee of the crypto conference. While Benioff didn't offer many details as to what a Salesforce blockchain product would look like, he said the company aims to launch the product before its Dreamforce conference in San Francisco in late-September.
Chinese Government Backs $1 Billion Blockchain Fund
The municipal government in Hangzhou, China, has backed a new fund that will invest $1.6 billion in blockchain-focused startups, Sohu reported. The city of Hangzhou is set to contribute $400 million to the fund, called the Xiong'An Global Blockchain Innovation Fund. Hangzhou has become a central location for technological innovation in China, serving as the home to Alibaba Group Holdings Ltd. (BABA) - Get Alibaba Group Holding Limited American Depositary Shares each representing eight Report and recently unveiling a new blockchain innovation industrial park. Chinese investor and bitcoin tycoon Li Xiaolai was appointed as manager of the fund. The fund has also been backed by Chinese venture capital firm Tunlan Investment.
Ranieri Gets in on Blockchain Startup
Lewis Ranieri, a former bond trader for Salomon Brothers and pioneer of mortgage-back securities, has partnered with a blockchain startup called Symbiont aimed at implementing "transformative technology" in the mortgage industry. Ranieri's company, Ranieri Solutions, will be using Symbiont's smart contracts platform, called Assembly, to streamline the mortgage process and create groups of contracts that can be securitized. In a statement announcing the partnership, Ranieri wrote, "By partnering with Symbiont, a proven blockchain pioneer, Ranieri Solutions believes that together we can implement this transformative technology to bring necessary efficiencies, transparency, and security to the mortgage markets."
Bitcoin Not a Threat to PayPal
Morgan Stanley analyst James Faucette wrote to clients that Action Alerts PLUS holding PayPal Holdings Inc. (PYPL) - Get PayPal Holdings Inc. Report faces no real threat from bitcoin, but that other cryptocurrencies could pose one. When it comes to online acceptance, bitcoin won't unseat the likes of PayPal, Mastercard Inc. (MA) - Get Mastercard Incorporated Report or Visa Inc. (V) - Get Visa Inc. Report , Faucette wrote. Cryptocurrencies such as dash or litecoin, though, could be better suited to compete with the online payments companies for market dominance. Those are better designed for online payment functionality, the analyst wrote.