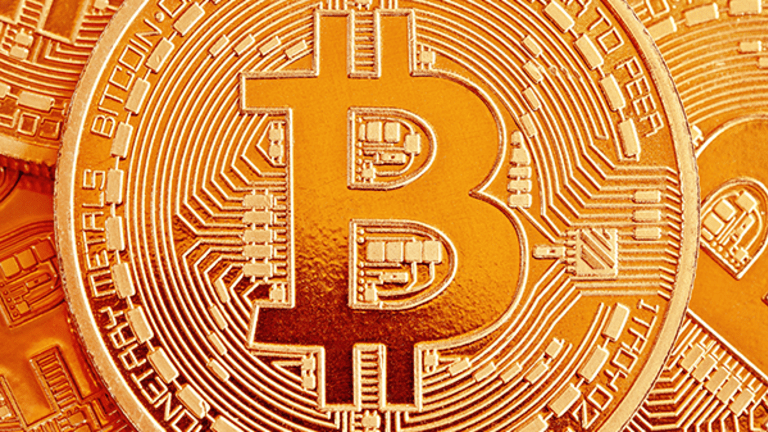 Bitcoin's Getting Hard to Ignore, Even for Wall Street Titan Goldman Sachs
Bitcoin's rapid price ascent and a related influx of "internet coin offerings" are garnering institutional investors -- even as they draw scrutiny from the SEC.
Bitcoin's time has come. Or, at least, it's getting closer.
Brokerage firm Goldman Sachs Group Inc. (GS) - Get Goldman Sachs Group, Inc. Report  published a report this week showing that the value of bitcoin and other so-called cryptocurrencies has reached nearly $120 billion. That's twice the size of Costa Rica's entire economy, based on World Bank data. As recently as last year, the total market value was below $20 billion.
In other words, the growth in the virtual currencies has been so rapid that an established Wall Street titan like Goldman Sachs is now trying to demystify the market for big portfolio managers at mutual funds, hedge funds, pension funds and insurance companies. That's despite the fact that the U.S. Internal Revenue Service has denied them legal-tender status in any jurisdiction, treating them as property for tax purposes. 
"It's getting harder for institutional investors to ignore cryptocurrencies," the Goldman Sachs analysts wrote in the report.
The New York-based firm is turning its attention to the nascent market as Bitcoin prices have quintupled in the past year to $3,473, according to news and data provider CoinDesk. The dramatic climb -- albeit noticeably pocked by major price crashes even in the past month -- has attracted the attention of true-believing traders as well as timely opportunists.
And Goldman Sachs isn't the only big U.S. bank weighing in on bitcoin's meteoric rise. Wells Fargo & Co. (WFC) - Get Wells Fargo & Company Report , based in San Francisco, published a "special report" on the virtual currency on Thursday, Aug. 10. Wells Fargo Investment Institute's Bobby Zheng noted that bitcoin is increasingly accepted as a form of payment by companies including Microsoft Corp. (MSFT) - Get Microsoft Corporation Report , Expedia Inc. (EXPE) - Get Expedia Group, Inc. Report and Intuit Inc. (INTU) - Get Intuit Inc. Report .
Still, the cautionary language in Zheng's report shows the delicate balance big banks are keeping between embracing bitcoin and holding it at a distance. In early 2017, the consulting firm McKinsey & Co. declared that neither the Federal Reserve nor U.S. Treasury are unlikely to start accepting bitcoin anytime soon, according to Zheng. 
Bitcoin is vulnerable to hacking due to its decentralized nature as well as operational glitches, malware and cyberattacks, Zheng wrote. 
"This cryptocurrency's usage may be subject to sudden regulatory changes due to involvement of the currency in some black-market transactions, money laundering and illegal activities," Zheng wrote. "While we don't offer guidance on these new types of virtual currencies, we believe that it is important for investors to understand this new technology."
Although there are more than 800 cryptocurrencies in existence, Bitcoin represents about $55 billion of value, or almost 50% of the total market, according to the Goldman Sachs report. The second-biggest, Ethereum, is worth about $25 billion. Most of the others are tiny, with only seven of them having a market value in excess of $1 billion.
There's been a related uptick in "initial coin offerings," or ICOs, in which companies raise money through token sales, according to Goldman Sachs. Just this year, ICOs have raised $1.25 billion. One firm, Gnosis, raised more than $12 million in less than 15 minutes.
"The speed at which money is raised via a white paper and internet browser has sounded the alarm bells from parties including the U.S. Securities and Exchange Commission and the People's Bank of China," the Goldman Sachs analysts wrote.
More of What's Trending on TheStreet:
50 Reasons Dying Sears Had No Choice But to Strike a Deal With the Ruthless Amazon