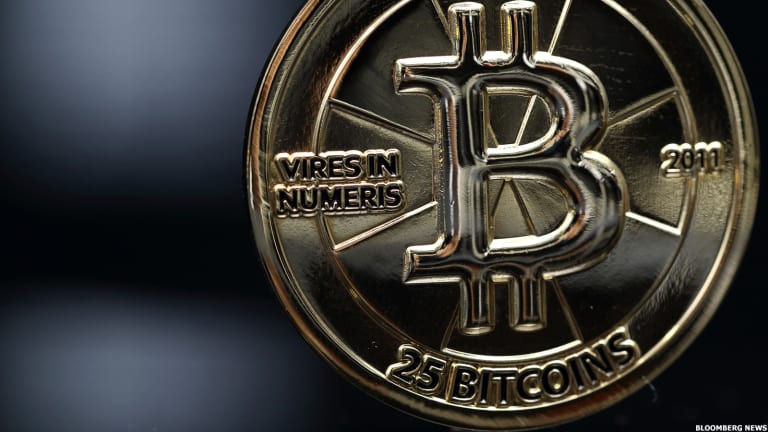 Bitcoin May Be a Portfolio Diversifier, but There Are Still Risks
Investors should put a small allocation toward the digital currency with a medium- to long-term view.
Editors' pick: Originally published Nov. 3.
Although bitcoin has just turned eight, it remains shrouded in an ambiguous stance by regulatory bodies toward it, sensationalism by the media and technical jargon.
These factors have together created a complex image around bitcoin, and it thus remains one of the least explored and most highly misunderstood investment options for average investors. However, bitcoin is a good investment option and can be the perfect diversifier, which average investors should consider for a well-rounded portfolio.
When we talk about investment portfolios, the first thoughts are of maximizing returns and minimizing risk, which is also the core of Noble laureate Harry Markowitz's Modern Portfolio Theory.
The idea is to combine uncorrelated assets in an investor's portfolio and thus diversify the invested amount across different asset classes, which traditionally included bonds, cash and equities, thereby minimizing the risk of putting all one's eggs in one basket.
But there are now additional asset classes commodities, collectibles, currencies and other alternative-investment options such as hedge funds and private-equity funds. The economic upheavals and volatile stock market echoed voices to look at alternatives instead of sticking to conventional investment options.
Bitcoin started trading in January 2009 at about $0.0007 apiece, and it hit parity with the dollar in February 2011, which was the fastest recovery against the greenback ever. By November 2013, bitcoin's value peaked at $1,242.
However, it soon started its downward journey and remained volatile for most of 2014. Its movement last year mostly hovered between $200 and $400.
Bitcoin was at about $400 in the first half this year and started moving higher in the second half.
The number of bitcoins in circulation is limited, which means that it can't be inflated and thus would retain a relatively stable purchasing power as compared with other currencies. The ability to retain its value makes it attractive as a long-term investment especially for retirement purposes.
Bitcoin has a market capitalization value of $11.62 billion and is trading at about $700.
The digital currency's price has shown signs of maturity and is fast shedding the image of being considered speculative in nature. Bitcoin-related ventures have also been attracting a decent number of funds, which demonstrates the increasing confidence of angel investors and entrepreneurs.
This year through Sept. 30, bitcoin venture investment was $375.53 million. Further, detailed studies about bitcoin reflect the rise of a new asset class "cryptocurrencies" given its characteristics to qualify it as a unique asset.
One such study by ARK Invest and Coinbase reflects the low correlation with other asset classes, which makes it an ideal diversifier for a portfolio.
Investors who like to take charge of their money can look to buy bitcoins on an exchange, hold or spend them, and eventually sell them for a profit. This is an active way to indulge in bitcoins.
Some passive ways to invest include The Grayscale Bitcoin Investment Trust that allows investors to gain exposure to the price movement of bitcoin through a traditional investment vehicle without having to hold or safe keep bitcoins. This option is available to accredited investors only.
Then there is the ARK Web x.o Exchange-Traded Fund from ARK Investment Management, which is the first ETF to invest in bitcoins by buying shares of Bitcoin Investment Trust, though that allocation is restricted to about 2% to 3%.
"We think bitcoin can be thought of as money-over-IP, just as Skype was voice-over-IP, which could make sending value to anyone in the world as fluid as sending them an email," said Christopher Burniske, blockchain products lead at ARK Investment Trust. 
"Over time, we believe you could have bitcoin and other digital currencies making the services of many brick-and-mortar banks irrelevant, just as cellphones stripped the need for telephone poles," he said. "In terms of bitcoin as an investment, it has a low correlation to other capital market assets, including equities, bonds and commodities, which we think makes it a great diversification tool for investors."
Now Bitcoin IRA offers investors the ability to take a long-term position on bitcoin through a self-directed individual retirement account, which is an easy, low-cost and tax-efficient way to invest. The mechanism to invest is very simple and starts with a minimum investment of $5,000 for a small upfront purchase fee and without any annual charges.
"Bitcoin and the entire digital asset ecosystem represents the emergence of a new asset class. It has consistently been the lowest correlated asset to other traditional asset classes, and we continue to believe bitcoin is a great investment to diversify your portfolio," said Edmund C. Moy, chief strategist for Bitcoin IRA.
Overall, while bitcoin presents a case as a good diversifier, it isn't free from risks, and thus investors must apply due diligence before taking on exposure. Investors can consider a small addition of 1% to 2% of their portfolio to bitcoins with a medium- to long-term view.
This article is commentary by an independent contributor. At the time of publication, the author held no positions in the stocks mentioned.