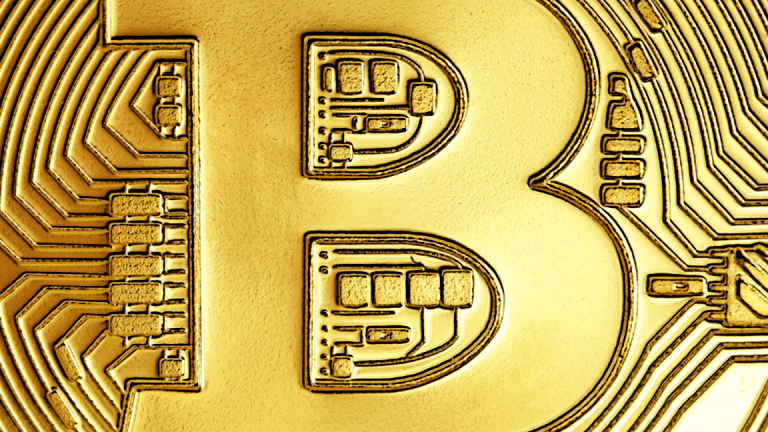 Publish date:
Bitcoin Hits $7,000 Mark As Newborn Bitcoin Gold Faces Safety Issues
The cryptocurrency is now worth five and half times the value of gold.
The cryptocurrency is now worth five and half times the value of gold.
Bitcoin has continued its stratospheric rise, smashing past the $7,000 level for the first time.
Currently trading at $7,061 with a market cap of $117 billion, the cryptocurrency may have seen this upward momentum in part as a result of the Chicago Mercantile Exchange (CME) Group's announcement to launch Bitcoin futures this year. Bitcoin is now worth five and half times the price of gold.
Goldman Sachs's (GS) - Get Goldman Sachs Group, Inc. (GS) Reportflirtation with Bitcoin and rumors that China may ease its ban on initial coin offerings (ICOs) ha also helped buoy Bitcoin's price.
Bitcoin Gold Is Struggling, But Stabilizing Bitcoin Itself
On the other hand, the newly created Bitcoin Gold (BTG) is struggling after facing safety issues. Today BTG is trading at $124. 
BTG was created around October 25, as a group of Bitcoin developers and miners executed a hard fork of the Bitcoin blockchain protocol. 
When the split occurred, a tweet was sent out warning the community of a "Massive DDoD attack" -- a "distributed denial of service" where systems are often infected with a Trojan virus -- that occurred and was then resolved. 
"Bitcoin Gold is yet another example of crypto forks emerging as a free market solution to a decentralized problem," said Trevor Koverko, CEO of Toronto-based blockchain platform Polymath.
And though Bitcoin Gold itself has not been a successful offshoot, it's helped Bitcoin remain stable.
"The intent behind the creation of Bitcoin Gold is to support true decentralization of Bitcoin, with the goal of the project being the same goal as any Bitcoin hard fork: to improve the protocol," said Abhishek Pitti, CEO of cryptocurrency service provider Nucleus.
One of main objectives with BTG is to change how mining works by making it so the most powerful mining machines, known as application-specific integrated circuits ( (aka ASICs), can no longer be used. Pitti explained that by changing the mining algorithm to be incompatible with ASICs and compatible with graphics processing units (GPUs), it opens up the mining market to lot more people. ASICs are expensive and their purpose is singular, and hence Bitcoin mining currently is centralized around just the big players.
"Consumer-miners cannot mine Bitcoin profitably today, and Bitcoin Gold aims to change that," said Pitti. "The intent is to revoke power from few central players who own massive mining farms and transfer that power to a more decentralized based of GPU miners."
Pitti added that the irony here is as follows: Bitcoin Gold is pre-mined, and 100,000 BTG is reserved for the BTG developers. This can cause a market crash if the developers decide to cash out large volumes once Bitcoin Gold starts to trade.
"It falters on its own premise of true decentralization, a large portion of the currency will be owned by just a handful of people," said Pitti.
Too Many Forks on Bitcoin Blockchain? A Look Ahead
It's no secret that with Bitcoin constantly reaching new highs, many are concerned that bubble could burst.
And though the hard fork that created Bitcoin Gold has bolstered Bitcoin itself, Pitti warns that too many forks on the Bitcoin blockchain cannot be a good thing.
There is also already rumors of a Bitcoin Silver in the making. This can cause confusion among new cryptocurrency investors in the years to come.
More of What's Trending on TheStreet: