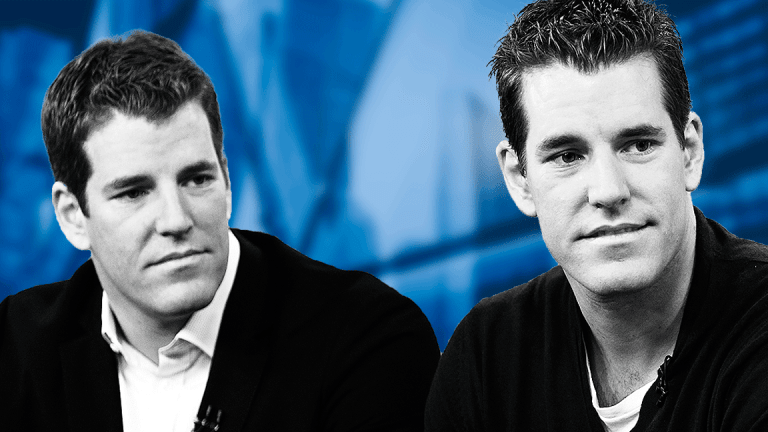 Tyler Winklevoss: At $19,000 Bitcoin Prices Are Undervalued by 20 Times
'Whatever gold has going for itself, bitcoin has that and more,' says famed investor Tyler Winklevoss.
'Whatever gold has going for itself, bitcoin has that and more,' says famed investor Tyler Winklevoss.
Bitcoin will be the new gold.
It's a bold assertion, especially given that gold has been used as money since 700 B.C. But the digital currency could soon be worth more than gold, said Tyler Winklevoss, one half of the illustrious twins who famously accused Mark Zuckerberg of stealing their idea for Facebook Inc. (FB) - Get Report .
Winklevoss and brother Cameron are betting big on bitcoin after a $11 million investment in 2013 in the the currency reportedly made them billionaires this month. Their new venture, called Gemini, is a digital asset exchange for individuals and investors. Winklevoss told TheStreet, "Our framework is that bitcoin is a gold disruptor at the least."
To Winklevoss, there are a number of reasons bitcoin will upend gold. The metal has value based on specific traits, including scarcity, fungibility, divisibility, durability and portability. But it lacks value arbitrarily.
"Whatever gold has going for itself," Winklevoss said, "bitcoin has that and more."
Chief among those advantages is the supply of the cryptocurrency. "Gold is scarce. Bitcoin is fixed. So it's actually better in that sense," he said.
And gold isn't easily broken down for buying and selling smaller, inexpensive items. "It's hard to divide gold. You can divide bitcoin. It's super simple, it couldn't be simpler. And you can divide it into 100 million pieces," he added.
All that taken into consideration, Winklevoss said he doesn't think people will need both gold and bitcoin down the road. It's clear which he's betting on to win.
The comparison provides a useful framework for the often impossible game Wall Street has been playing of late: predicting just where exactly unprecedented bitcoin goes from here.
"Bitcoin's market cap is $300 billion. And gold's is $6 trillion. Then you could make the argument credibly that bitcoin is undervalued by something like 20 times," Winklevoss said.
To him, bitcoin isn't going to be the everyday transactionary currency some like Overstock.com Inc. (OSTK) - Get Report board member Jonathan Johnson think. Instead, it's a commodity, an investment to hold.
"My feeling is that it's a store of value and it's not legally a currency. It can be used like a currency but other things make better currency, like the U.S. dollar, which is soft money," Winklevoss said.
It's a stance not shared by everyone in the investment community. But Winklevoss isn't shy about his idea of bitcoin's future.
"I don't think bitcoin needs to be a currency or a payment solution. I think it's gunning for a store of value, so it doesn't worry me if other things want to be more currency-like and better for payments, then that's great. Bitcoin's not trying to be everything to everybody," he said.
Perhaps the most important facet of bitcoin's eventual gold overthrow is just how young it is. The cryptocurrency was created in 2009 by still-anonymous Satoshi Nakamoto. While it's been a wild ride -- prices are flirting with $20,000 now from the virtually valueless early days -- the history of bitcoin is still in its infancy.
Winklevoss said he knows there's far more to come from the cryptocurrency. "I think our thesis is not done playing out yet. And I think that bitcoin can be even more than gold because it's this great open source project that can continue to evolve," he said.
"Look at LeBron James at 12 years old. He could never hang in the NBA -- yeah, I know, he's 12 years old," Winklevoss pointed out. "Wait till he becomes 18 -- it's going to happen."
Facebook is a holding in Jim Cramer's Action Alerts PLUS Charitable Trust Portfolio. Want to be alerted before Cramer buys or sells FB? Learn more now.
More of What's Trending on TheStreet: