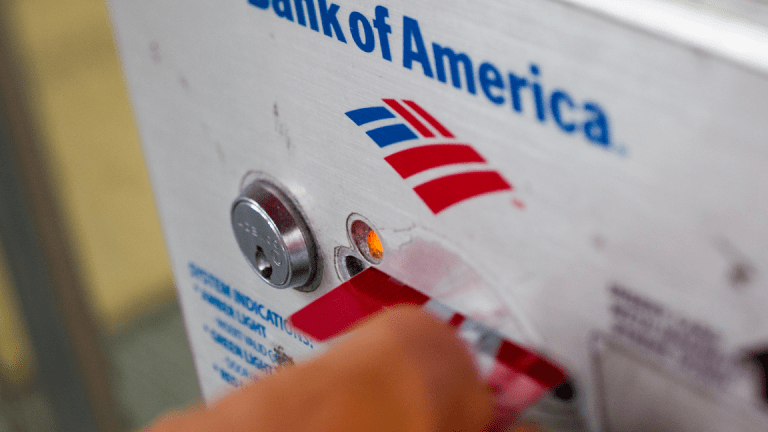 Bank of America Takes Profit Hit From Tax Law, Bond-Trading Slump
Bank of America's results include costs to write down so-called deferred tax assets, or DTAs, a type of credit that allow companies to cancel out taxes by deducting past losses against current earnings.
Bank of America Corp. (BAC) - Get Report , the second-biggest U.S. bank, said fourth-quarter profit tumbled 48% amid a slump in bond trading and as the new U.S. tax law triggered a slew of multibillion-dollar write-downs.
Net income fell to $2.37 billion, the Charlotte, North Carolina-based bank said Wednesday in a statement. Earnings per share were 20 cents a share, including a charge of 27 cents a share related to the tax act. The adjusted figure of 47 cents a share compares with analysts' average estimate of 45 cents in a FactSet survey.
The results included $2.9 billion to write down so-called deferred tax assets, or DTAs -- a type of credit that allows companies to cancel out taxes by applying deducting past losses against current earnings -- and other costs related to the new law. The bank accumulated the tax credits during the financial crisis of 2008, when losses grew so steep that the company had to get a bailout from the U.S. government to stay afloat. Now many of those credits are likely to go unused, due to the U.S. corporate tax rate dropping to 21% from 35%. 
On a conference call with reporters, Bank of America Chief Financial Officer Paul Donofrio said that the bank stands to benefit from the tax law in 2018 with an estimated effective rate of 20% vs. the 29% it would have paid absent the new legislation. 
Any boost to the economy from the tax cuts could also stimulate loan growth, CEO Brian Moynihan said on the call. 
Despite the optimism, the fourth quarter is shaping up as one of Wall Street's worst reporting periods in several years, with the tax-related charges compounding the impact of an abysmal climate for bond trading. Last week, JPMorgan Chase & Co. (JPM) - Get Report , the biggest U.S. bank, said fourth-quarter profit tumbled 37%, the most in three years. On Tuesday, Citigroup Inc. (C) - Get Report , another giant U.S. bank, posted an $18.3 billion net loss for the period, its biggest deficit in a decade. 
At Bank of America, fixed-income trading revenue declined 14% to $1.6 billion, according to the statement.
Wall Street was stymied throughout 2017 by a spell of unusually low price swings in fixed-income and commodities markets, partly explained by the bounty of money pumped into the global financial system over the past decade by the Federal Reserve and other central banks.
The market doldrums contrasted with those in late 2016, when President Donald Trump's surprise election victory sent investors scrambling to reshape their portfolios for the prospect of big tax cuts. Congressional Republicans passed the tax legislation in December, and Trump signed it soon afterward.
JPMorgan's results included $2.4 billion in tax-related charges, while fixed-income trading revenue plummeted 34% from a year earlier to $2.22 billion.
Citigroup, meanwhile, recorded a whopping $22 billion of one-time charges stemming from the tax law, though fixed-income trading revenue slid just 18% to $2.41 billion.
Apart from the tax charges, Bank of America showed growth in its core banking businesses. Net interest income increased by 11% to $11.5 billion, "reflecting benefits from higher interest rates as well as loan and deposit growth," according to the statement. 
And business expenses -- those excluding interest costs -- dropped by 1% to $13.3 billion, partly due to reductions in personnel costs, the bank said.
Another factor is that while interest rates climbed last year with the Federal Reserve increasing U.S. benchmark rates by 0.75%, the bank has continued giving customers a thin return on their deposits. 
The average rate paid on deposits during the quarter was 0.27%, up from 0.09% a year earlier.
On the conference call, Donofrio said Bank of America has been able to keep the rate low partly because it offers other advantages to customers, such as protection against fraud, online banking, mobile banking and access to branches and a ubiquitous network of ATM machines.  
"Our strong growth in deposits shows us that our customers value how we reward them," Donofrio said. 
More of What's Trending on TheStreet: