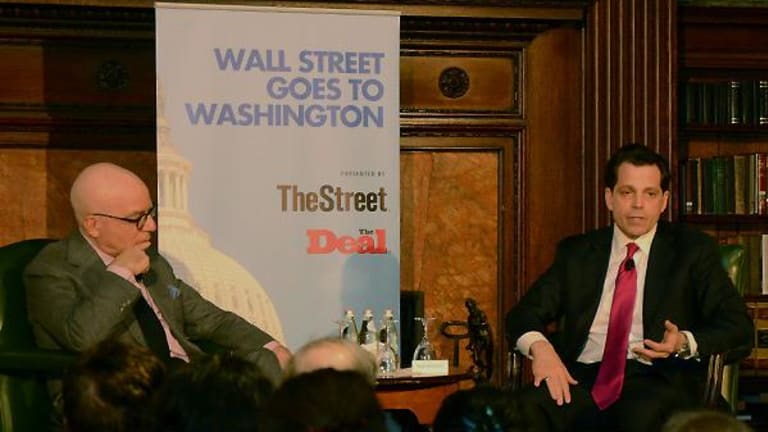 Anthony Scaramucci Is Still Auditioning for a White House Role
Anthony Scaramucci still wants a job in the Trump administration, even though he doesn't know what it is. And his every word is designed to telegraph that to Washington.
Anthony Scaramucci still wants a job in the Trump administration, even though he doesn't know what it is. And his every word is designed to telegraph that to Washington.
Anthony Scaramucci still wants a job in the Trump administration, even though he doesn't know what it is. And his every word is designed to telegraph that to Washington.
The SkyBridge Capital co-founder saw his hopes of joining the White House dashed days after the inauguration when the sale of his business to a politically-connected Chinese conglomerate sounded too many alarm bells for even the seemingly conflict-of-interest-oblivious White House to bear.
But the 53-year-old hedge funder still has his sights set on a spot at 1600 Pennsylvania Ave., as evidenced in a sit-down with veteran journalist Michael Wolff hosted by TheStreet in midtown Manhattan on Monday.
"I was slated for one role, and I think there was an urgency to fill that role," Scaramucci said.
He told reporters in January that he would be joining the White House as a liaison to the business community, though the Trump administration never made an official announcement on the matter.
He said on Monday that Steve Bannon and Reince Priebus have told him once his business deal is closed, he will be given a spot in the administration.
"I honestly don't know what that role will be, but hopefully it will be something where I can have a meaningful impact," he said.
He anticipates SkyBridge's sale to HNA Group, a transaction valued at about $200 million, will take place around May 15.
While he's not in the administration yet, Scaramucci's every word speaks "true believer" on Trump. He refers to the president as "Mr. Trump," and lavishes praise on him -- as one of the smartest, most intuitive, compassionate people he knows.
"It took a man in a tower on Fifth Avenue adjacent to Tiffany's to show me what was going on in the civilization that I grew up in," Scaramucci said, harkening back to his middle-class upbringing in Long Island. "There's a huge opportunity if it's harnessed properly to make a seismic, positive, sustainable change."
Scaramucci took the Trump-appropriate swipes at the press, which the president in February dubbed the "enemy" of the American people.
"We know what the media thinks, boy, do we know what the media thinks," Wolff said at the outset of the conversation.
"We also know what the media thought before the election," Scaramucci countered. He gave the Trump administration thus far a grade of "incomplete" on its performance. The media, he said, scores lower.
Scaramucci measures who within Trump's orbits to praise, and how much.
He spent part of the evening discussing top adviser Steve Bannon, the former Breitbart chairman who has been credited with crafting the president's populist, anti-globalist message. He said they overlapped while at New York investment banking giant Goldman Sachs (GS) - Get Report , though they did not have much direct contact.
"I can hear Bannon in his speeches," he said, adding that Bannon, a 63-year-old millionaire who owes some of his income to a stake in reruns of the comedy "Seinfeld" has "almost clairvoyant understanding" of the divide in the American population.
Compared to the Goldman alums populating the Trump administration -- Gary Cohn, Steve Mnuchin, Dina Powell, James Donovan -- Wolff and Scaramucci sparred over whether Bannon represented "renegade Goldman" or "old-school Goldman."
"Bannon gets it better than anybody," Scaramucci said, only to quickly correct himself that, in fact, it is President Trump who really gets it, though Bannon is "right up there" with him.
Scaramucci launched SkyBridge in 2005 and was the chairman of the SkyBridge Alternatives "SALT" Conference held in Las Vegas annually. For this year's event, his name had previously been mentioned in a few Q&As, but he's since been erased from the agenda, perhaps in anticipation of a White House job.
The millionaire who initially backed Scott Walker and Jeb Bush is not the most obvious of fits for Trump, a figure who campaigned on a promise to drain the swamp and get rid of special interests on Capitol Hill.
On Monday, Scaramucci spoke of the promises of deregulation, tax reform and even infrastructure spending that have been driving Wall Street optimism and characterized the investment world's bad rap in middle America as a bit unfair.
"Wall Street has been disfigured twice in the last 100 years," he said.
One-by-one throughout the conversation, Scaramucci ticked off the Trump to-do list. Health-care reform? Still "optimistic." Trade? We need to "un-even" deals. House Freedom Caucus? Experiencing "buyer's remorse." Trump's election strategy? Focused on the electoral college, not the popular vote. Maureen Dowd's weekend column? "Ridiculous."
"You're better at selling this than anyone I know in Washington," Wolff said of his pitch on health-care reform, which he said isn't yet dead on arrival.
"I love the president. I have studied this stuff very carefully, and, you know, I feel like we have a historic opportunity," Scaramucci said.
He tried to insist that he's not in politics but is instead an entrepreneur. But when pushed by Wolff, he admitted a spot under No. 45 is what he's angling for.
"I guess so. It's sort of weird, right?" he said.