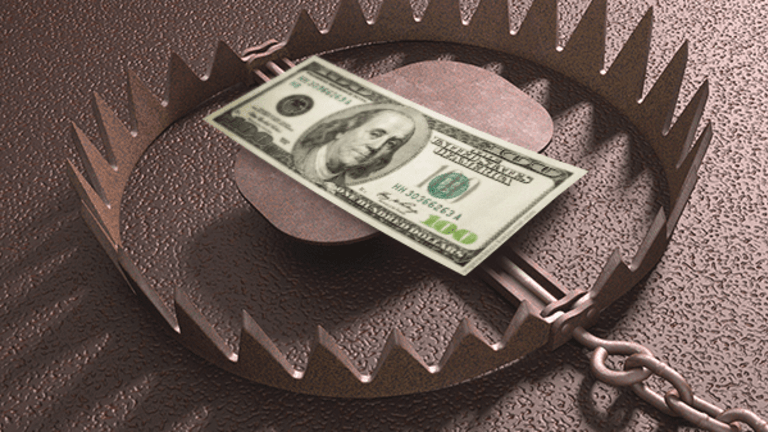 While the dollar is at a 10-week high, keep some things in mind. 
September saw some clouds form over my weak-dollar forecast, but odds are that we'll see more tricks than treats this Halloween month for the greenback. That should spark a further leg down for the U.S. currency.
It's true that the euro/dollar exchange rate moved sideways last month, from about 1.1900 on Sept. 1 to a high just shy of 1.2100 on Sept. 8 and then a 1.1745 low on Sept. 27.
But I've previously written that I don't expect dollar weakness to just be a one-way move. While it has been that way since 2017 began, we should have expected a little sideways action. I think the dollar strength we witnessed over the past few weeks merely stemmed in part from a European temper tantrum over Chancellor Angela Merkel's lack of a suitable coalition following September's German elections.
There was also confusion in the United States over whether the Federal Reserve is bullish or bearish. For all of their talk of transparency, Fed members are expert in talking out of both sides of their mouths. While headlines shout that the "Fed Is Decreasing Its Balance Sheet," a quick calculation shows that the central bank will still be a net quantitative-easing actor until April 2018.
Only then will the Fed no longer be a net re-investor of rolled-off paper. In other words, given open positions on the Fed's board and a looming end to chair Janet Yellen's term, it's more likely that the Federal Open Market Committee will change in composition before the bank's balance sheet does.
Now, the dollar didn't just strengthen against the euro, but also against the Canadian dollar, Japanese yen and Mexican peso. That goes against my view that the dollar is in for much greater weakness -- but it does follow my belief that September's rebound could have just been the "pause that refreshes."
What will get the dollar moving back downward? Factors that I see include:
A Stronger European Economy
French President Emmanuel Macron is looking to make the European economy stronger, but is waiting for his neighbor Angela Merkel to form a coalition government in Germany.
The market remains wary of what concessions Merkel might offer to achieve this, but will likely forget such misgivings once she succeeds in forming a working coalition.
A Merkel/Macron partnership should strengthen the European economy -- and the euro should rise on the increased confidence that follows.
A Softening U.S. Economy
Expect a renewed focus on the weakening U.S. housing and auto sectors once the news cycle moves past the NFL national-anthem controversy. That will create greater skepticism that the Fed will raise rates at its December monetary-policy meeting.
While the Fed has publicly made a December hike one of its goals, the market has yet to concur. Futures markets are only pricing in a 65% chance of a December boost. If market doubts rise, so will dollar weakness.
Little Real Hope for U.S. Tax Reform
Growing excitement over a workable U.S. tax-reform bill has gained much attention in recent days, but I believe that enthusiasm will likely die as quickly as it arose.
After all, there's little consensus about tax reform on Capitol Hill, and Republican interparty bickering will likely send the idea the way of currently defunct Obamacare-repeal plans. If tax reform moves to the backburner, the dollar will weaken as well.
North Korea
North Korea-related jitters continue to permeate, but the vast majority of market watchers believe there's minimal chance of a U.S./North Korean military conflict occurring.
However, I see a growing probability of a military incident arising as U.S. bombers more or less share airspace with North Korean fighters. Any shootout would serve as an immediate negative for the dollar, prompting a flight-to-safety boost for the euro and dollar/yen to drop below 110.
China
China last month relaxed a number of rules that had dissuaded people from selling the yuan, helping to strengthen the Chinese currency against the dollar in the process. These rules had also resulted in Beijing boosting its U.S. Treasury exposure as officials intervened to slow the yuan's appreciation.
But it's my view that relaxing these rules isn't a signal for yuan weakness, but rather a move toward further CNY flexibility. Yuan weakness was likely just a passing phase, with further strengthening just around the corner. That should result in additional dollar weakness.

Watch: Hyperinflation is boosting Bitcoin in this Country
Watch More from October's Trading Strategies:
Will the Market's Upward Momentum Continue into October?
A Strong September Could Be Setting Up an October Pullback
The 'Snowball Effect' Could Create an October Pullback