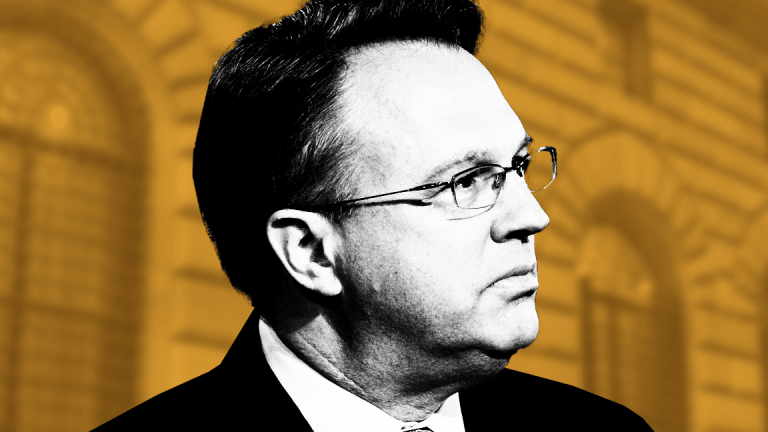 Leading N.Y. Fed Candidate John Williams Fills Policy Gap for Chairman Powell
Federal Reserve Bank of San Francisco President John Williams, reported to be the top pick to replace the retiring head of the New York Fed, failed to stop widespread customer abuses at Wells Fargo, the public-interest group Better Markets alleges.
As Federal Reserve officials go, John C. Williams may be a one-trick pony.
But his one trick might be enough: deep expertise in monetary policy.
Williams, 55, currently president of the Federal Reserve Bank of San Francisco, is the leading candidate to take over the far-more-powerful Federal Reserve Bank of New York, according to people with knowledge of the matter.
That's despite a lack of experience in crucial New York Fed functions, including daily money-market operations with Wall Street firms, oversight of global payment systems and coordination with foreign regulators on international banking issues -- not to mention supervision of the giant U.S. banks JPMorgan Chase & Co. (JPM) - Get JP Morgan Chase & Co. Report , Citigroup Inc. (C) - Get Citigroup Inc. Report , Goldman Sachs Group Inc. (GS) - Get Goldman Sachs Group Inc. (The) Report and Morgan Stanley (MS) - Get Morgan Stanley Report .
Williams's primary experience with big-bank supervision is the San Francisco Fed's oversight of Wells Fargo & Co. (WFC) - Get Wells Fargo & Company Report , which created such a toxic culture of aggressive sales practices and customer abuses during his watch that the Federal Reserve Board in Washington had to take the draconian step of temporarily banning the San Francisco-based bank from further asset growth.
Williams is also a white man, at a time when many leaders of the New York community have clamored for the appointment of a woman or minority candidate to replace retiring New York Fed President Bill Dudley, another white man.
But take a look at Williams's resume, and his strength becomes clear. Since getting a doctoral degree from Stanford University in 1994, he has spent his entire career in the Federal Reserve System, doing research on the economy and monetary policy. He's authored or co-authored 101 research articles or other publications on the topic, according to his curriculum vitae. He's also served on the Federal Reserve's monetary-policy committee with former Fed Chairs Ben Bernanke and Janet Yellen, both economics experts in their own right; at meetings, Williams chimed in confidently on the arcana of employment economics, the relationship between business confidence and investment and the impact of interest rates on foreign exchange, according to transcripts.
And it so happens that an academic grounding in economics and monetary policy is the biggest hole on the resume of current Fed Chairman Jerome Powell -- a former private-equity executive, investment banker and corporate lawyer appointed this year by President Donald Trump. That's significant because the Fed sets benchmark U.S. borrowing costs as part of its mandate to keep unemployment low and runaway inflation at bay.
So Williams's expertise in monetary policy could make him a crucial ally of Powell's as the Fed seeks to reverse the drastic steps taken by the Fed to stimulate the economy following the financial crisis of 2008. Those included providing more than $1 trillion in secret emergency loans to banks, cutting interest rates to near zero and quadrupling the size of the Fed's balance sheet to about $4.5 trillion in a bid to flood financial markets with freshly printed money.
Controversy over the job search is amplified by the fact that the New York Fed president, while playing an outsize role in U.S. financial and regulatory policies, is neither elected nor appointed by an elected official. Whereas Fed chairs are nominated by the president of the U.S., heads of regional Fed branches are nominated by committees of local board members - some of them nominated by banks - and approved by the Federal Reserve Board in Washington.
"Too often, arguments for the independence of the Fed are used as cover for insufficient transparency that leads directly to the clear lack of diversity in the highest levels of governance in the Federal Reserve system," Noel Poyo, executive director of the National Association for Latino Community Asset Builders, said last week in a statement from a coalition of community and advocacy groups.
The Fed has 12 regional reserve-bank presidents, but only the New York Fed's leader has a permanent seat on the national monetary-policy committee; the rest are relegated to rotating terms. And the New York Fed chief is considered key because he - the role has always been held by a white man - supposedly is the closest observer of what's happening on Wall Street and in financial markets. The New York Fed branch held $2.5 trillion, or 56%, of the Federal Reserve System's total assets at the end of 2017. The San Francisco Fed, by comparison, held $568.7 billion.
In fact, the New York Fed president is considered by insiders as part of a "troika" of U.S. monetary-policy leadership along with the Fed chair and vice-chair. The three people often coordinate privately on plans and strategy for monetary policy prior to bringing matters before the full 12-member committee for a discussion and vote, according to people with knowledge of the matter. The Fed currently has no vice chair because the White House has not nominated anyone for that post; the vacancy just adds to the importance of the New York Fed choice.
The other top candidates recommended by the New York Fed search committee were Mary John Miller, a former Treasury Department undersecretary at executive for the money-management firm T. Rowe Price, and Ray McGuire, a black executive who serves as chief of investment banking at Citigroup, according to a person with knowledge of the matter.
But under the process for selecting the New York Fed's head, the Federal Reserve Board must approve any choice. That essentially gives Powell veto power.
Williams was a candidate for Fed vice chair earlier this year - backed by Powell -- but did not do well in his White House interview, people familiar with the matter said. So installing him at the New York Fed role represents a fallback option to get him onto the troika.
Numerous critics have slammed the process since Williams's likely selection was first reported by the Wall Street Journal.
Better Markets, a non-profit organization that advocates for the public interest on Wall Street, issued a press release last week saying that a potential promotion by Williams to lead the Federal Reserve Bank of New York would reward failure - because of the lax supervision at Wells Fargo.
A separate coalition of community organizations issued a statement blasting the reported selection and urging the New York Fed's search committee to start over. U.S. Senator Kirsten Gillibrand, a New York Democrat, was quoted as saying that the "New York Fed has never been led by a woman or a person of color, and that needs to change."
U.S. Senator Elizabeth Warren, a Massachusetts Democrat, has called for a public hearing prior to the Fed's approval of the choice.
Eleven members of the New York City Council sent a letter on March 23 to Sara Horowitz and Glenn Hutchins, the co-chairs of the New York Fed search committee, arguing for a "candidate who will increase the diversity of Fed leadership" and "stand up to Wall Street" in favor of working families and disenfranchised minorities.
(Horowitz is executive director of the Freelancers Union, and Hutchins is a private-equity investor who currently serves as vice chairman of the Brookings Institution, where both Bernanke and Yellen serve as fellows. Hutchins is also vice chairman of the Economic Club of New York and a member of the board of the New York Presbyterian Hospital; both bodies comprise who's whos of Wall Street and New York's moneyed elite. Neither Horowitz nor Hutchins responded to interview requests.)
The choice of Williams to run the New York Fed signals that, as far as the powers that be are concerned, the next president's expertise in monetary policy trumps other considerations.
And in the Federal Reserve system, Powell has the most power.