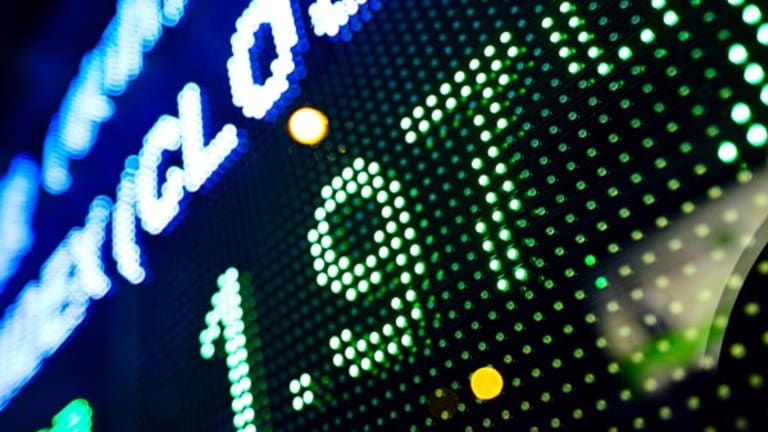 Stocks Extend Gains as Crude Oil Surges
Stocks extend gains on Tuesday morning as crude oil makes a rebound after Monday's selloff.
Stocks extend gains on Tuesday morning as crude oil makes a rebound after Monday's selloff.
Updated from 9:36 a.m.
Stocks extended gains on Tuesday morning as crude oil made a rebound after Monday's selloff.
The S&P 500 (SPY) - Get Report added 0.88%, the Dow Jones Industrial Average (DIA) - Get Report gained 0.95%, and the Nasdaq (QQQ) - Get Report rose 0.97%.
Crude oil prices were under pressure earlier in the week over fears about international demand triggered by new signs of China's economic weakness. West Texas Intermediate crude oil rebounded on Tuesday morning, jumping 2.3% to $37.67 a barrel.
Market activity looks to be quieter than normal in low-volume trading during the holiday season. The number of shares traded on the S&P 500 in the past several sessions reached just a fraction of the three-month daily average of nearly 700 million. Markets will be closed on Friday for New Year's Day.
Tight supply in the housing market helped to push home prices higher in October. Prices rose 5.2% compared to a year earlier, a higher price increase than the 4.9% gain in September. San Francisco, Denver and Portland, Ore., ranked as the top-performing markets. 
Consumer confidence rose in December after hitting a bump in November, according to the Conference Board. A measure on confidence rose to 96.5, up from 90.4 a month earlier. Analysts had expected an increase to 93.8. A solid job market and optimism for overall economic improvement in the new year boosted confidence. 
Freeport-McMoRan (FCX) - Get Report climbed nearly 3% on Tuesday, rebounding from a 10% slump a day earlier. Shares had been under pressure after chairman and co-founder James Moffett announced his resignation.
Icahn Enterprises (IEP) - Get Reporthas stepped in with a higher offer after Pep Boys (PBY) - Get Report agreed to accept Bridgestone's previous proposal. Activist investor Carl Icahn and Bridgestone have upped recent bids for the auto shop chain to secure a deal. Pep Boys said the latest offer of $18.50 a share from Icahn Enterprises was a "superior proposal" to Bridgestone's bid.
Dunkin' Brands (DNKN) - Get Report shares were on watch after the company announced a new partnership with Madison Square Garden (MSG) - Get Report . As part of the deal, the Dunkin' Donuts brand will have significant ad space during Knicks, Rangers and Liberty games and will also become the official coffee of the three teams.
FedEx (FDX) - Get Report has responded to its weak performance over Christmas that resulted in a number of late deliveries, noting that both severe weather and an "unprecedented surge" of last-minute purchases were to blame. The delivery service contended with severe weather interruptions, particularly at its major air hub in Memphis. FedEx ran extra shifts on Christmas Day to clear the delivery backlog.
Valeant Pharmaceuticals (VRX)  slipped 2% after appointing three executives to temporarily take over for its CEO, Michael Pearson, who was hospitalized with pneumonia last week. Valeant has faced pushback for its drug price hikes and link to a pharmacy that pushed name-brand drugs.