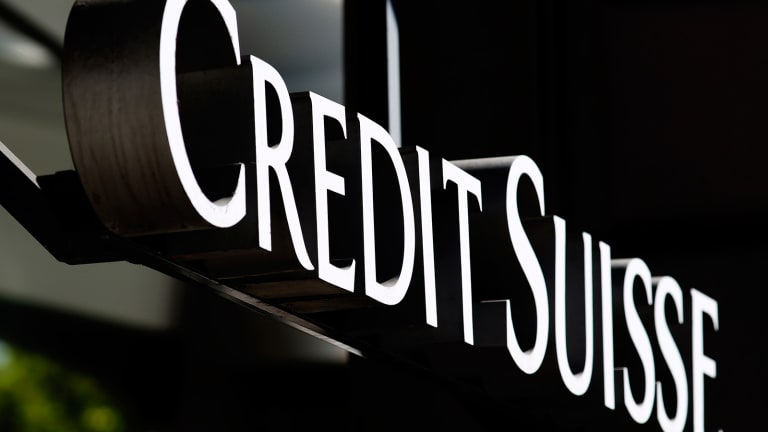 Publish date:
Credit Suisse Shares Sink to December Lows on Capital Hike Report
Credit Suisse fell to December lows after a report it may sell new shares instead of floating a portion of its Swiss business in order to boost its balance sheet.
Credit Suisse fell to December lows after a report it may sell new shares instead of floating a portion of its Swiss business in order to boost its balance sheet.
Credit Suisse (CS) - Get Report fell to a three-and-a-half-month low in Zuirch Thursday amid speculation the bank may opt for a share sale instead of floating a portion of its domestic Swiss business in order to shore up its balance sheet.
Credit Suisse changed hands at Sfr14.31 each in afternoon trading, the lowest level since Dec. 7, after falling more than 3% against a 0.51% gain for the SMI benchmark in Zurich and a 0.63% advance for the Stoxx 600 Europe Banks Index.
Reuters reported earlier in the session that sources had told the news agency the bank is looking to an "accelerated bookbuild" instead of the Swiss business IPO that had earlier been seen as its favored option.
CEO Tidjane Thiam earlier this year that even with a CET1 ratio of 11.6% at the end of 2016 and a fourth quarter loss of Sfr1.9 billion ($1.88 billion), he was in a "more comfortable position from which to assess our capital options" and would instead look at a "broad range of options" alongside the idea of the partial sale of its Swiss business.
Deutsche Bank AG (DB) - Get Report shares have fallen more than 18% since Germany's largest confirmed plans to raise €8 billion ($8.6 billion) in a rights issue on March 5 and are currently trading at around €15.69 each.
Deutsche will sell 687.5 million shares at €11.75 each, the bank said Sunday, compared to its Friday closing price of €17.86 with a ratio of 2:1 and subscription period that will run through April 6.
"Our goal is to strengthen our position as a leading European bank with global reach, supported by our strong position in our home market, Germany," CEO John Cryan said in the bank's annual report. "A solid capital base is essential if we are to succeed in our future strategy and capture growth opportunities for Deutsche Bank. For that reason, the Management Board has decided on a capital raising from which we expect proceeds of around eight billion euros."
Deutsche Bank also outlined a series of capital raising and balance sheet measures, including the sale of around €80 billion in legacy assets from its Global Markets division and the partial spin-off of its Deutsche Asset Management Unit within the next two years.
Deutsche Bank has now set a high-water mark of 14.1% in terms of its new core equity tier 1 (CET1) ratio -- a measure of financial strength -- that could test the resilience of its European rivals.
The biggest 20 European lenders generated only €33 billion in net income last year, nearly 5x shy of the record $172 billion bottom line put together by the U.S. banking sector, which is actually smaller in size. European banks also saw revenues fall faster than expenses last year. Even dumping assets didn't really change the overall risk picture on the continent: the average CET1 ratio of Europe's biggest banks was largely unchanged at 12.7%.
And the problems don't stop there.
The European Central Bank is likely to maintain its loose monetary stance for most of this year, including negative rates, even as the Federal Reserve tightens policy again after its March 15 rate hike. The ECB's stance is hampering bank profitability. European lenders are also sitting on more than €1.0 trillion in bad loans, according to European Banking Authority data, and will likely need to raise a collective €158.7 billion by 2019 to meet new rules on funding ratios.
That said, risk-weighted assets at the 20 biggest banks are at their lowest levels (€6.5 trillion) since the financial crisis and big European lenders looking to the (now hot) U.S. market to energise earnings might have an easier time of it, owing to the anticipated roll-back of Dodd-Frank regulations.