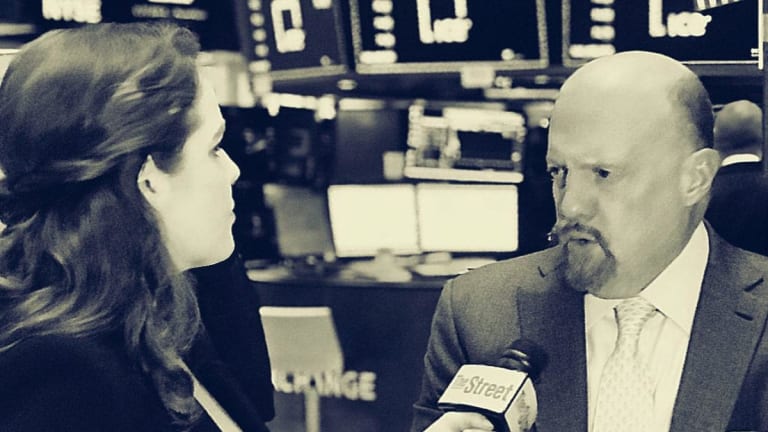 Jim Cramer Breaks Down Qualcomm, Netflix, and Abbott
Jim Cramer weighs in on Abbott's earnings, Qualcomm's dispute with Apple is over and Netflix's earnings.
Happy hump day!
Abbott's Earnings
Abbott Labs (ABT) - Get Report reported first-quarter earnings that topped its own forecast.
Abbott reported adjusted earnings of 63 cents per share on revenue of $7.5 billion, a 2% year-over-year increase.
Analysts polled by FactSet were expecting the company to report earnings of 61 cents per share on revenue of $7.48 billion.
"We're right on track with our expectations to start the year," said Abbott's Chairman and CEO Miles D. White. "All of our key long-term growth drivers are performing well and we're targeting another year of strong sales and earnings growth."
The company reported a 5.5% increase in worldwide medical device sales, led by double-digit growth in its electrophysiology, heart failure, structural heart and diabetes care devices.
For the year, the company expects to earn between $3.15 and $3.25 per share, which is in line with Wall Street's $3.21 guidance. For the second quarter, the company expects to earn between 79 cents and 81 cents per share, also in line with analysts' expectations of 80 cents.
Watch Jim Cramer's Live Show EVERYDAY at 10am!! 
Qualcomm's Ending its Dispute With Apple
Qualcomm (QCOM) - Get Report ended its long-running dispute with Apple (AAPL) - Get Report  over royalty payments for Qualcomm's smartphone equipment.
Qualcomm shares jumped 23.2% on Tuesday after the settlement was announced.
The settlement ends all litigation between the two companies and includes an unspecified payment from Apple to Qualcomm, according to a press release issued by Apple following the settlement.
As part of the settlement, Apple and Qualcomm also reached a six-year license agreement, effective as of April 1, including a two-year option to extend, and a "multiyear chipset supply agreement." That could mean that Apple is returning to using Qualcomm as its supplier for modem chips after switching to Intel (INTC) - Get Report when the dispute with Qualcomm began.
Intel announced Tuesday that it was dropping out of the 5G modem business, just hours after Qualcomm and Apple announced their settlement.
Qualcomm said that the deal with Apple will add about $2 in "incremental EPS" as its chip shipments ramp up.
Related. Jim Cramer: One Heck of a Resilient Market
Netflix's Earnings Forecast Falls Short
Netflix (NFLX) - Get Report said it added 9.6 million paid streaming subscribers in the first quarter, beating guidance of 8.9 million, but its outlook for the second quarter disappointed.
First-quarter earnings of 76 cents a share rose from year-earlier profit of 64 cents. Revenue jumped to $4.5 billion from $3.7 billion a year earlier.
Analysts were forecasting earnings of 58 cents a share on revenue of $4.5 billion.
Netflix said it expects to add 5 million paid subscribers in the second quarter, an 8% decline from a year earlier, with 300,000 new subscribers in the U.S. and 4.7 million new subscribers internationally. Analysts were calling for 5.5 million paid new subscribers. In addition, Netflix said its expects revenue in the quarter of $4.93 billion, slightly below consensus, while earnings were forecast at 55 cents a share, well below expectations of 99 cents.
The company said it expects to see "some modest short-term churn effect as members consent" to the company's recently announced price changes. While U.S. net adds were seemingly unaffected by the change, the international market may be less forgiving.
To combat this, the company said it was "looking forward to a strong slate of global content in the second half of the year."
Related. Why Apple May Have Decided to Settle With Qualcomm Now