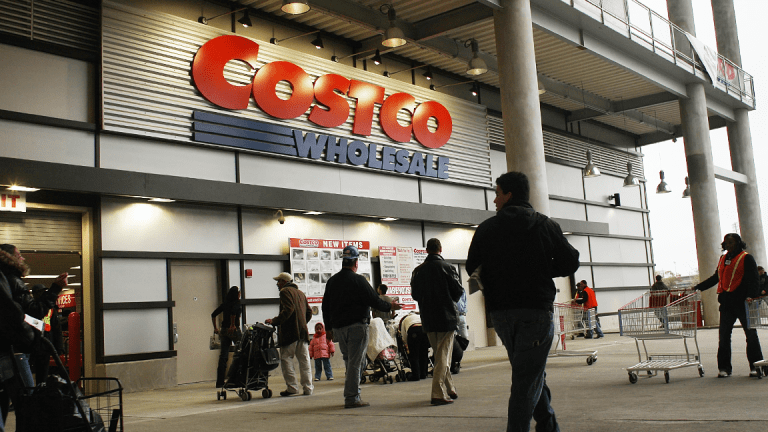 Costco Has Customer Loyalty to Thank for Impressive Sales Growth
Costco has one thing over its competition: customer loyalty.
Costco is still king, for the most part. 
Costco Wholesale Corp.  (COST) - Get Costco Wholesale Corporation Report  didn't post quarterly results last month and so it wasn't part of August's strong retail earnings frenzy. But make no mistake: It's right in the thick of the surging retail sector, according to many on Wall Street. 
Costco reports sales for August on Thursday, Sept. 6, and many expect monthly sales to come in strong again. "With Costco, we would expect digital and online to continue to outpace the market," Greg Melich, analyst at Moffett Nathanson, told TheStreet.
Costco sales rose 8.3% in July from a year earlier, with e-commerce sales up 20%. E-commerce sales grew 36.8% in Costco's third quarter, which stacks up with the surging Walmart Inc.  (WMT) - Get Walmart Inc. Report , which saw 40% e-commerce sales growth in its most recent quarter. 
Costco's August sales aren't expected to see a huge fall-off. Baird & Co. just upgraded the retailer to a price target of $250 a share, 7% above its current level, on the back of "sales tracking ahead of our initial forecast."
"We expect firm August sales," a note from Baird said. While the analysts expect 5% to 6% year-over-year sales growth for August, a slight drop-off from July, that's still above what Melich said is roughly broader retail sales growth in the U.S. of about 4% to 5%.
While Costco is in the middle of the pack in market share of U.S. grocers - and certainly not a laggard - the value the business has accrued is largely attributable to a little bit of secret sauce.
That'll be customer loyalty, driven by a highly competitive value proposition. "What's driven Costco's strength is the power of their membership model, which, as the renewal rates improve, it drives a lot of consistency of traffic," Melich said. Therefore, "the loyalty builds itself," he added. 
Costco is also undertaking "strategic price investments," according to the Baird note, which normally implies lower pricing of some products. Those investments, combined with some improvements to operating efficiencies, are catalysts to what Baird sees as a strong August sales report.
On Wall Street, 73.3% of analysts rate the stock a buy. It has risen 24% this year and is valued at 35 times trailing 12-month earnings.
Start, and end, your trading day right with TheStreet's 'Daily Snapshot' on your favorite smart-speaker. Learn more about TheStreet's market coverage for your trusted smart-speaker here.