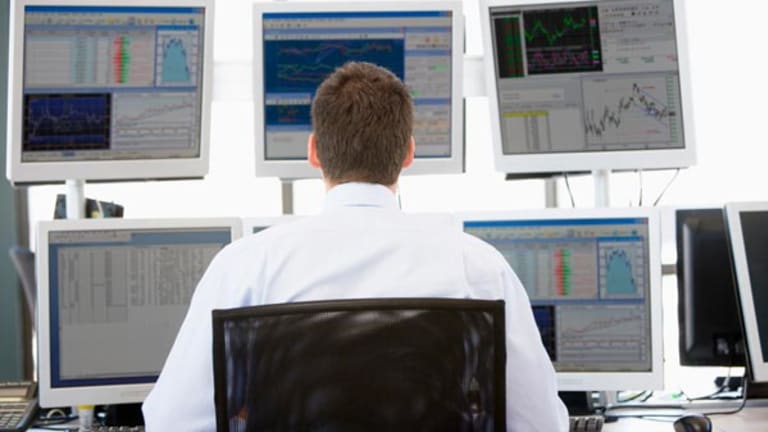 Correct Your Trend Relativity Errors
Charting one time frame but trading another? Try two fixes.
This column was originally published on RealMoney on Dec. 7 at 12:15 p.m. EST. It's being republished as a bonus for TheStreet.com readers. For more information about subscribing to RealMoney, please click here.
Swing traders learn quickly how easy it is to be right but still fail to profit because of bad market-timing. Our methodology forces us to negotiate a minefield of conflicting trends each of which depend on time limitations. Long and short positioning must align perfectly with these cycles in order to capture the movement anticipated in our chart analysis.
The problem starts when we analyze the charts in one time frame but then trade in another time frame. These
trend-relativity errors
define just about everything that can and will go wrong with market timing. Fortunately, we can minimize these brain cramps with the application of two simple techniques.
First, pick a logical holding period and then stick with it. Second, lay Bollinger Bands over your charts and look at the setups in multiple time frames. The bands will estimate how far the price can stretch within different cycles before hitting resistance. They'll also reveal if your exposure period allows enough time for the price to reach profit targets.
Bollinger Bands expose the underlying trend-range axis in the same way as price bars, moving averages and popular indicators. The Bands also constrict or expand as they move through time. This particular characteristic draws unique patterns as bars unwind through the upper and lower boundaries of the Bands.
This popular tool also predicts how far trends will stretch before central tendency drags them back toward a central axis. All sorts of complex relationships develop between price bars and Bollinger Bands. For example, an uptrend often pauses when it hits the upper Band, moves sideways for a few bars and then spikes higher when the Band "opens up."
Choose the right settings for your Band analysis. The classic indicator uses a 20-day simple moving average and two standard deviations. For intraday charts, I prefer 13/2 settings to highlight smaller price swings and elicit faster trading signals.
Use multiple time-frame Band analysis to find the holding period that shows the least resistance between trade entry and intended reward target. This process works best with a charting program that lets you toggle through time frames quickly. The distance between price and the Band's boundaries defines the "stretch" for that time frame.
Let's see how this works by examining the price action on
Starbucks
(SBUX) - Get Starbucks Corporation Report
and applying multiple time-frame Bollinger Bands to our analysis.
The monthly chart shows a strong uptrend starting in early 2003. The latest rally leg stalled out seven months ago and the stock dropped into a broad sideways pattern that continues to the current date. Advancing price has now moved into the upper half of this broad trading range.
The top boundary of the monthly Bollinger Band has stretched up to $41.31. This indicates that a breakout from the long trading range could reach that level within two months. Note, however, that the Bands do not predict whether or not the move will ever happen. We need to look at other factors and the overall pattern to see if the breakout is likely.
The weekly chart brings the Band analysis into much sharper focus. The trading range now looks like a developing cup-and-handle pattern, with resistance near "round number" 40. Note how price has dropped into support at the 20-week Bollinger Band and bounced in the last two weeks. This could set the stage for a quick run-up to range-resistance.
The upper Band also supports the likelihood of this quick spike to $40. The Band is now sitting just above that level, showing clear space between the most recent closing price and current location. The Band is also opening up and pointing higher. This second factor adds support to a possible run at the highs in the two-to-four-week time frame.
The daily chart paints a mixed picture. It reveals a bearish island reversal triggered when price gapped down in mid-November. Note how Starbucks jumped above the bottom Band earlier this week and now has run into resistance at the central Band average. This pivot point could trigger a downside thrust that fills the recent gap between $35.75 and $36.50.
On the other hand, the upper Band supports a rally that tests range resistance in the next five to seven days. Notice how it's moving sideways well above the current midpoint. This clear space opens the door for price to recover from the November breakdown. But the Band's horizontal orientation should yield firm resistance if and when the stock approaches it.
The three Band views don't trigger immediate signals but do point out hidden layers of support and resistance. You can also add firepower to your analysis by combining the Bands with momentum-based indicators, such as the moving average convergence-divergence (MACD). These twin elements help traders anticipate emerging trends and improve entry-timing.
At the time of publication, Farley had no positions in any of the stocks mentioned in this column, although holdings can change at any time.
Alan Farley is a professional trader and author of
The Master Swing Trader
. Farley also runs a Web site called HardRightEdge.com, an online resource for trading education, technical analysis and short-term investment strategies. Under no circumstances does the information in this column represent a recommendation to buy or sell stocks. Farley appreciates your feedback;
to send him an email.
Also,
click here to sign up for Farley's premium subscription product The Daily Swing Trade brought to you exclusively by TheStreet.com.
TheStreet.com has a revenue-sharing relationship with Trader's Library under which it receives a portion of the revenue from purchases by customers directed there from TheStreet.com.