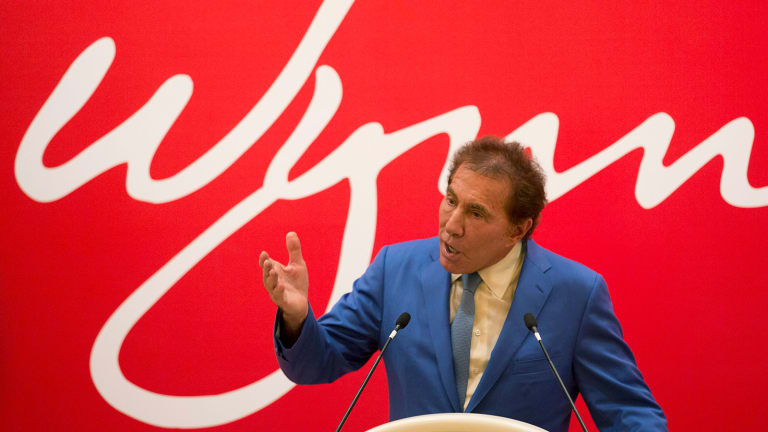 Wynn Stock Tanks Following Sexual Misconduct Allegations Against CEO
The Wall Street Journal reported a 'pattern of sexual misconduct' by the billionaire casino mogul.
Wynn Resorts Ltd.'s  (WYNN)  market capitalization lost $2 billion in value following sexual misconduct allegations made against Chairman and Chief Executive Steve Wynn, and while the billionaire casino mogul is at the center of the story, the board of directors will likely face scrutiny as well.
Shares of Wynn Resorts fell by 10.1% to $180.29 on Friday, leaving its market cap at $18.5 billion, after the Wall Street Journal reported a pattern of sexual misconduct by Wynn, which included a $7.5 million settlement. Wynn called the idea that he ever assaulted any women "preposterous," also noting that "the instigation of these accusations is the continued work of my ex-wife Elaine Wynn," according to the Journal. Steve and Elaine Wynn are involved in a lawsuit as she wants a revised divorce settlement that allows her freedom from restrictions on the control of her stock, which is worth an estimated $1.9 billion.
But the company's board of directors, as well as Elaine Wynn, who is a former board member, will be faced with questions of what they knew, when they knew it and what they did about it. Because if a CEO of a company faces workplace sexual harassment or misconduct allegations, the board is "absolutely accountable and responsible," since their duty is to oversee the management team, Micah Alpern, principal of the leadership, change and organization practice at global management consulting firm A.T. Kearney, told the TheStreet in October.
"A board must put the company before the individual," Alpern said.
Directors conduct risk assessments to see what could potentially harm the organization, and one would be sexual harassment, Kevin Hyams, the partner-in-charge of the Governance, Risk and Compliance Services practice at accounting firm Friedman LLP, said in October.
In a statement to the Journal, Wynn Resorts called it noteworthy that "despite knowing of the allegations since 2009, Ms. Wynn didn't make them known to the board, of which she was a member, or raise them until after she lost her board seat." An attorney for Ms. Wynn told the Journal that she had raised the issue internally when she learned of it.
The Wynn Resorts board currently consists of 10 members, including Steve Wynn. Robert Miller, the former Governor of Nevada, serves as lead independent director, according to BoardEx, a relationship mapping service of TheStreet Inc. Miller has been on the board since 2002 and serves as chairman of the nominating and corporate governance committee.
John Hagenbuch, chairman of WestLand Capital Partners LP, Ray Irani, the former Occidental Petroleum Corp. (OXY) chairman and CEO, Admiral Jay Johnson, the former chairman and CEO of General Dynamics Corp. (GD) , Patricia Mulroy, the former Nevada Gaming Commissioner, Clark Randt Jr., a director at Qualcomm Inc. (QCOM) and United Parcel Service Inc. (UPS) , Alvin Shoemaker, a director at Huntsman Corp. (HUN) , James Virtue, CEO of MidOcean Partners LP, and Daniel Wayson, a former director at MGM Resorts International (MGM) , are the rest of directors on Wynn's board.
"The board of directors of Wynn Resorts met [Friday] and formed a Special Committee of the board comprised solely of independent directors to investigate allegations contained in the January 26, 2018 Wall Street Journal article," the board said in a statement. "The Special Committee will be chaired by Ms. Patricia Mulroy, a member of the board's corporate governance and compliance committees and a former member of the Nevada Gaming Commission. The board is deeply committed to ensuring the safety and wellbeing of all of the company's employees and to operating with the highest ethical standards."
Industry experts say a company should have a policy in place that clearly outlines its stance on sexual harassment in the workplace. The policy should "define workplace sexual harassment, prohibit it in all forms, carry out appropriate disciplinary measures in the case of violations, and provide procedures for lodging complaints about conduct that violates the policy as well as investigating sexual harassment claims," said Hyams, adding that the board should also ensure compulsory sexual harassment training for all employees and directors.
"Boards have a fiduciary responsibility to ensure that no harm comes to the organization," said Hyams.
The 2017 Women in the Workplace study by consulting firm McKinsey and Co. and non-profit organization Lean In found that 55% of men say disrespectful behavior toward women is often or always addressed quickly, compared to just 34% of women.
"Some CEOs are perpetrators of disrespect toward women, and you can't expect the people below the CEO to be different," Sharon Jones, CEO of Jones Diversity, told TheStreet.
-- This story has been updated to include a statement from Wynn's board of directors. 
More of What's Trending on TheStreet: