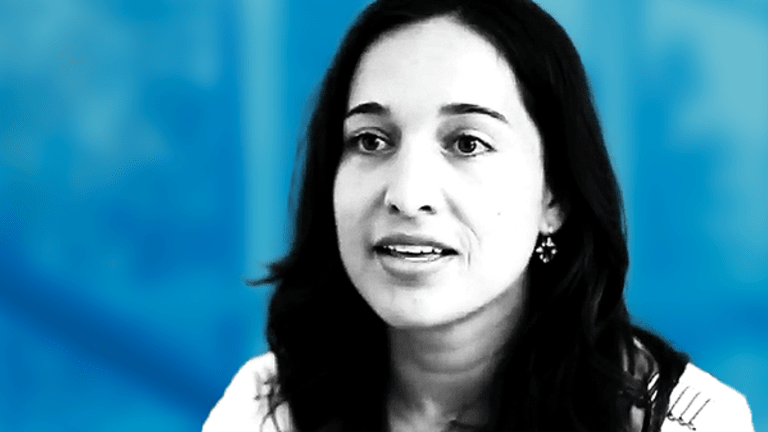 Women Who Code CEO: Biggest Challenge for Tech Is Gender Diversity
Alaina Percival, chief executive officer of Women Who Code, says companies have a 'fiscal responsibility' to not only bring women into the organization but to see them succeed.
Alaina Percival, chief executive officer of Women Who Code, says companies have a 'fiscal responsibility' to not only bring women into the organization but to see them succeed.
Women working for computer and software companies face a range of unconscious biases that can inhibit their success, making gender parity one of the biggest challenges in the industry, said Alaina Percival, chief executive officer of the non-profit organization Women Who Code.
"Women are so underrepresented that having a sense of belonging over time is really challenging," Percival, 36, said in an interview with TheStreet. Unconscious bias comes about from the "tiny things that happen on a daily basis ... but they build up and so you start to have these doubts about if you're going to be successful in the industry," she said.
Such things include reports of sexual harassment at Uber Technologies Inc. leading to dismissal of nearly two dozen employees; systemic compensation disparities, for which the U.S. Department of Labor (DoL) is suing Alphabet Inc.'s (GOOGL) - Get Report Google, which the tech giant denies; and an internal memo written by a now-fired, male Google engineer who claimed the "distribution of preferences and abilities of men and women differ in part due to biological causes and that these differences may explain why we don't see equal representation of women in tech and leadership." Mountain View, Calif.-based Google was even forced to cancel an all-hands on meeting due to employee worries of online harassment.
Apple iPhone 8's 'Crown Jewel' Has Everything to Do With Your Face
In fact, there's evidence that more diverse companies tend to perform better financially. A 2015 report by consulting company McKinsey & Company found that "companies in the top quartile of gender diversity were 15% more likely to have financial returns that were above their national industry median."
"While there is that social good aspect of it, teams that are diverse are smarter and they perform better and companies with women in the leadership role, from Fortune 500 company level to startup level, they experience a higher [return on investment]," said Percival. "So, companies actually have a fiscal responsibility to not only bring women into the organization but to see them succeeding there."
Women Who Code offers 1,700 technical events annually where women can hone their skills such as leadership and networking with other female engineers.
"It creates a really strong sense of community and a sense of belonging, and you're really building up some of those softer skills that engineers aren't typically looking to build up but they will definitely help you get to the next level in your career," Percival said.
Percival also disputed the notion that affinity groups enable a discriminatory practice, which the fired Google engineer had claimed. These groups give "people a voice and a platform to connect and have a sense of belonging," said Percival.
The non-profit organization targets women who are working in the industry but welcomes beginners. The average age of Women Who Code members is 30, Percival said. The organization is in 60 cities and 20 countries around the world. Women Who Code also has a job board where hundreds of positions are posted every month.
"Currently, the market is 600,000 engineers shy of its needs," said Percival. "So, for both men and women, not only is there a tremendous amount of job security there, it's also frequently listed on the best-jobs lists -- like the top job to have -- and it's paid very well and has flexible hours."
The statistics for women in tech have improved slightly over recent years but are still far from parity. At Google, women make up 31% of the overall workforce, just 20% in tech and 25% in leadership, according to data as of January 2017. Women comprised 48% of the non-tech roles.
The workforce at Apple, the world's most valuable brand according to Forbes, is 32% female. Women make up 23% of tech roles, 38% of non-tech positions and 28% of the leadership jobs, according to data as of June 2016.
Amazon Inc.'s (AMZN) - Get Report global workforce is 39% women and 25% of the managers are women, the company reported citing data as of July 2016. The tech company with a market capitalization of $460 billion also noted that "a review of the compensation awarded in 2016 at Amazon, including both base and stock, shows that women earned 99.7 cents for every dollar that white employees earn in the same jobs," adding that pay equality remains a priority.
Why Google's Android Oreo Doesn't Push the Envelope as Much as Apple's iOS 11
As female representation at Facebook Inc. (FB) - Get Report grew in 2017, the company acknowledged that it still has "a long way to go," and remains "committed to building a diverse and inclusive company -- no matter how long it takes." Overall, women in the workforce increased by two percentage points to 35%; women in non-technical roles jumped to 55% from 53% while women in technical roles ticked up to 19% from 17%. Women in leadership roles climbed one percentage point to 28%.
At Microsoft Corp. (MSFT) - Get Report , there are about 29,300 female employees representing 25.8% of the overall workforce. Women make up 17.5% of the tech-related positions, and 39.4% of the non-tech roles.
Apple, Alphabet and Facebook are holdings in Jim Cramer's Action Alerts PLUS Charitable Trust Portfolio. Want to be alerted before Cramer buys or sells APPL, GOOGL or FB? Learn more now.
Even though Women Who Code is growing globally, working to place more women in technology jobs, Percival hopes that one day her job will become obsolete.
"Our goal is to put ourselves out of business," said Percival. "We look forward to the day when we can't understand why Women Who Code would be necessary."
Women Are 'Dramatically Underrepresented' in Tech, Says Women Who Code CEO
More of What's Trending on TheStreet: