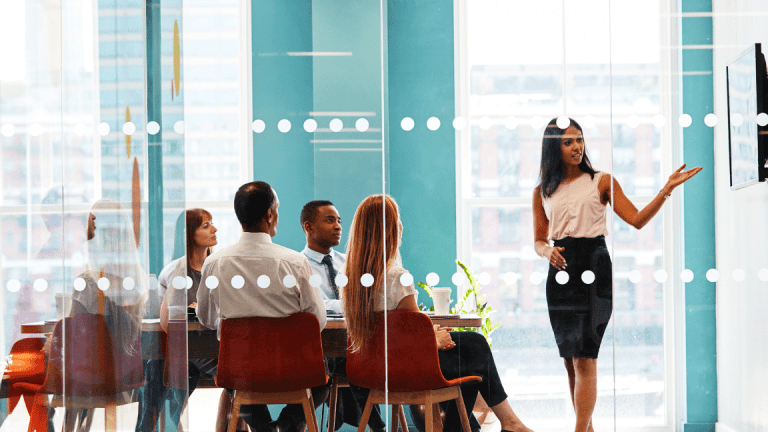 Women Are Gaining Seats Without Power on Corporate America's Boards
A truly diverse board grants women 'the ability to have a voice and an impact,' says Yaron Nili.
The biggest U.S. companies, which have been promoting women directors amid evidence that gender diversity can lead to better financial results, give those women fewer leadership roles once they're on the board, according to a study.
Among lead independent directors in the S&P 1500 in 2015, 57 were female compared with 539 who were men, according to the report, written by Yaron Nili, an assistant professor of law at the University of Wisconsin Law School. That was up from 28 women and 434 men acting as lead independent director in 2010.
When it comes to having a leadership role performing the duties that make up much of a board's work, though, the evidence is less encouraging. Men outnumber women in leadership roles on all board committees by more than four to one, according to an analysis of data compiled by BoardEx, a relationship mapping service of TheStreet Inc.
There are 821 women who hold a total of 977 committee chair positions for companies in the S&P SmallCap 600, S&P MidCap 400 and S&P 500, compared with 3,993 men who hold a total of 4,595 committee chair positions, according to BoardEx data.
"A truly diverse board gives women more than a seat at the table -- it grants them the ability to have a voice and an impact," Nili wrote in his study, which is available online, and expected to be published next year in the Indiana Law Journal. "Gender diversity discourse ... must look beyond the numbers of female directors on the board and account for the roles that these directors take once appointed."
Between 2007 and 2015, female representation for chairs of the audit, compensation, and nominating and governance committees grew from 11% to 15%, according to Nili's study. The BoardEx data covers all committees and shows that women currently comprise about 14.7% of all committee leadership positions.
Some women hold committee chair roles at more than one public company, such as Linnet Deily who serves as the Corporate Governance and Responsibility Committee Chair at Action Alerts Plus holding Honeywell International Inc. (HON) and as the Public Policy Committee Chair at Chevron Corp. (CVX) . Charlene Barshefsky, a former U.S. Trade Representative, also serves as committee chair for two companies. Barshefsky is the chair of the public responsibility committee at American Express Co. (AXP) and the chair of the finance committee at Intel Corp. (INTC) , according to BoardEx.
Presently, there are just 21 female chairs at S&P 500 companies, according to BoardEx, a relationship mapping service of The Deal and its parent company, TheStreet Inc. Some of those women include Mary Barra, chair and chief executive officer at General Motors Co. (GM) , Newmont Mining Corp.'s (NEM) Independent Chair Noreen Doyle, and Marillyn Hewson, chair and CEO of Lockheed Martin Corp.  (LMT) .
The chair position is a key indicator of influence in the boardroom because the chair decides the board's agenda in addition to other formal and informal powers, said Nili. Beyond that position, women can influence a board's work through board committee chair positions as well as the lead independent director role. But, like the chair position, women lag behind their male counterparts in these jobs.
"There is a significant disparity between the number and percentage of women as lead independent director, chairman of the board -- in case the CEO is not the chairman -- and those are even more important factors in controlling the board work as a whole," Nili told The Deal in a recent interview. "Putting an emphasis on that is something that we need to make sure companies are attuned to, and investors have some say with the independent director, or at least they can push companies to appoint more women directors."
Recent research suggests that companies with more women on boards perform better financially than those with fewer, according to a March 2017 report by Catalyst, a non-profit organization with a mission to accelerate progress for women through workplace inclusion. Companies with the most women board directors had 16% higher return on sales than those with the least, and 26% higher return on invested capital, Catalyst said.
Similarly, companies with more diverse boards have seen a higher subsequent return on equity almost every year since 2005, according to a March 7 report by Bank of America Merrill Lynch analysts.
To be sure, Nili said in his study that "while positive correlations have been seen with increased gender diversity, researchers acknowledge that 'correlation does not imply causation.'"
Overall, women make up about 23% of S&P 500 boards, according to BoardEx data as of Jan. 22.
Even as women pick up more seats in the boardroom, there is still an incongruity about the length of tenure between male and female directors. Women generally serve for less time than a man does.
"In 2007, women had an average tenure of 6.87 years, Nili wrote. "This number increased to 7.8 years in 2012, but subsequently fell to 7.42 years in 2015."
Men, meanwhile, had an average tenure of about 10 years between 2012 and 2016, according to Nili's study.
"The shorter tenure of women on boards should be of potential concern," Nili wrote. "Tenure has been recognized to play an important role in the influence that one possesses. Since longer tenured directors arguably carry more clout and influence in the boardroom, they might inhibit and restrain, intentionally or inadvertently, the ability and willingness of less tenured directors to act independently, and might jeopardize the ability of the boardroom to foster an 'open to all ideas' atmosphere."
Despite the discrepancy in tenure between men and women, Nili doesn't think companies should be forced to have rigid tenure restrictions.
"Some directors are very valuable and still important contributors even into their 15 to 20 years of service at a company," Nili told The Deal.
Nili's article also calls on the U.S. Securities and Exchange Commission to require companies to provide investors with both substantive and quantitative measures of gender diversity in the boardroom through the adoption of a Substantive Gender Diversity disclosure form.
The Substantive Gender Diversity Disclosure would require a company to provide a clear table that summarizes key data points, including "the current ratio of women to men on the board, the specific roles of women on the board compared to men (with a specific breakdown of leadership positions), a comparative breakdown of age and tenure and any specific insight into how its board and corporate structure promote diversity," Nili wrote.
Thus far, the U.S. has taken a "soft regulatory approach" to the issue of gender diversity, "requiring companies to disclose only whether they have a diversity policy in place, and to provide a description of the policy to investors," the study said.
The SEC did not immediately respond to TheStreet's question about whether it was considering any additional regulations regarding gender diversity at public companies.
"Looking just at the number of women on boards is - at the very best - the first step. We need to also make sure that the board is actually an equal opportunity place for women, and that means getting the opportunity to make an impact," Nili said in an interview. "It's the beginning and not the end of where things go."