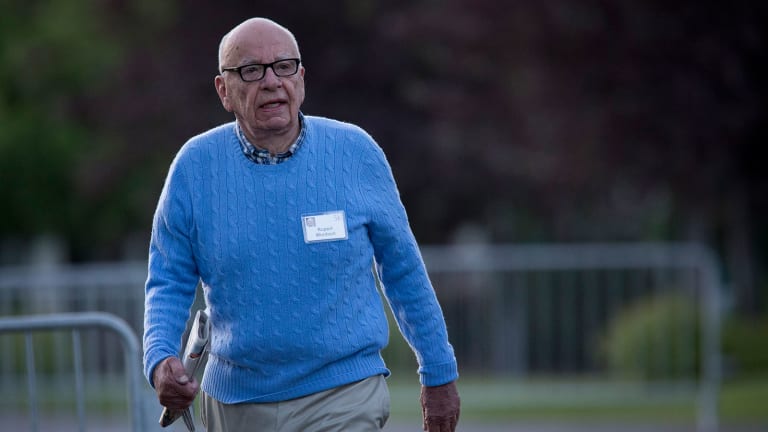 Why Rupert Murdoch Will Survive the Fox scandal
Sexual harassment allegations at Fox News have hurt the value of Twenty-First Century Fox, but its governance keeps the Murdoch family that controls it beyond the reach of investor outrage.
When Twenty-First Century Fox Inc. (FOXA) - Get Fox Corporation Class A Report had Roger Ailes walk the plank in July, it hoped that action would quiet the controversy over the alleged sexual harassment at Fox News as well as the rumors of secret settlement payouts running into the millions.
This brand of alleged corporate bad behavior is exactly the kind of thing that investors hate, and it's also the kind of thing that attracts activist investors.
But Twenty-First Century has little reason to panic, thanks to a corporate governance structure that limits the voting rights of shareholders outside the family of Executive Chairman Rupert Murdoch. The company declined to comment for this story.
Of course, such a dual-class share set-up isn't limited to Fox. In fact, this type of arrangement, involving two or even three classes of stock, is common throughout the media world, firmly entrenching owners and their minions in management at companies ranging from Comcast (CMCSA) - Get Comcast Corporation Class A Report and Discovery Communications (DISCA) - Get Discovery, Inc. Class A Report to Liberty Media (LMCA) . The arrangement is also common in technology, with such powerhouses as Alphabet (GOOGL) - Get Alphabet Inc. Class A Report and Facebook (FB) - Get Facebook, Inc. Class A Report using it.
This isn't to suggest that any of these companies are susceptible to the kind of scandal now nipping at Fox's heels. But at all of them, controlling shareholders are insulated from criticism over their business practices, including that coming from activists.
Ailes, who turned Fox News into a powerhouse and the dominant voice of the political right under the banner "Fair and Balanced", stands accused of creating studios akin to a locker room in terms of culture, with banter replete with sexual harassment. The product of that culture is as many as 25 women coming forward with stories of Ailes' unwanted advances, and possible lawsuits in the making. Moreover, Ailes, Fox and ultimately Twenty-First Century now appear to have dipped into the network's budget to make settlement payments that were not made public by Twenty-First Century.
Alphabet, Comcast and Facebook are holdings in Jim Cramer's Action Alerts PLUS Charitable Trust Portfolio. Want to be alerted before Cramer buys or sells GOOGL, FB and CMCSA? Learn more now.
Over the years Fox has endured a number of other scandals including recent allegations from Gretchen Carlson as well as other employees. Former co-host of The Five on Fox News, Andrea Tantaros, filed a lawsuit Aug. 22 against Fox News, Ailes and others alleging sexual harassment, charging that the network forced her to work in an environment that "operates like a sex-fueled, Playboy Mansion-like cult, steeped in intimidation, indecency and misogyny." Her suit asks for almost $50 million in damages and lost income.
Fox News also settled a lawsuit by the U.S. Equal Employment Opportunity Commission alleging a hostile workplace had been created for women, paying $225,000 in 2006 to make the complaint go away.
British tabloid News of the World, owned by Murdoch and News Corp. folded in 2011 after not one but two phone hacking scandals were linked to the paper. Several reporters were arrested and Murdoch and his son James were hauled in to testify before a parliamentary committee. The scandal forced the company to close the tabloid, abandon its bid for satellite broadcaster Sky plc, and ultimately split into two pieces.
Negotiations around Ailes departure, which had been in the works since early July ended with Ailes receiving a $40 million check as a parting gift.
At the same time Fox bid goodbye to its CEO, Murdoch said that the management team under Ailes, Bill Shine, Jay Wallace and Mark Kranz would maintain the news network's momentum. But by Aug. 12, it was evident that Ailes was not the only Fox exec that was going to be pondering a future outside the offices at 1211 Avenue of the Americas. While Shine and Jack Abernathy were named co-presidents in charge of programing and legal, business and finance respectively, CFO Kranz was retiring.
Through his attorney, Ailes has denied the sexual harassment allegations lodged against him.
Ailes appears to have landed on his feet, consulting with the Trump campaign on debate prep. And publishing house HarperCollins says it has plans to publish a memoir by Ailes which it contracted for in 2012, providing that Ailes is forthcoming about his time in the Fox News executive suites.
It is hard to say for certain whether the fallout from the Ailes' controversy has impacted Twenty-First Century's share price, but it trended down in the days following the announcement of the investigation. Shares bounced around from a low of $24.99 to a high of $27.96, off 12.2% from the stock's 52-week peak of $31.39.
With other lawsuits sure to follow and litigation and settlement expenses mounting for the public company, at some point the company could expect investors to push back.
EDITORS' NOTE: This article was originally published by The Deal, a sister publication of TheStreet that offers sophisticated insight and analysis on all types of deals, from inception to integration. Click here for a free trial.
Twenty-First Century has been an activist target on two previous occasions. In 2012, Christian Brothers Investment Services called for corporate reforms after news of the phone hacking scandal by News Corp. property News of the World began to circulate. Christian Brothers pursued its action for more than a year, calling for the appointment of an independent chairman for News Corp, stripping Murdoch of the chairmanship. But the action failed to garner enough support for the advocated change.
In August 2014 the San Francisco-based hedge fund ValueAct Capital Management took a $1 billion stake in the company following Fox's failed $80 billion bid to acquire Time Warner, and the investor increased its position in 2015. The hedge fund's Chief Executive, Jeffrey Ubben met with Murdoch and others at the company a number of times over a period of months, and now Ubben has a seat on the board.
But that perch had a cost. ValueAct approved a standstill agreement which states it can't solicit proxies against Fox.
A factor that could give activists pause is the dual class voting structure, designed to give the Murdoch family more long-term security.
SEC filings show no large share buys or filings claiming an activist intent. But there are several activist investors who already hold positions in Fox. The Baupost Group LLC, led by Seth Klarman, holds 14.9 million shares, 33 million shares less than ValueAct. Over the last two quarters Baupost's holdings in Fox have remained steady, though the value of those holdings have lost $13,000 as Fox's share price has dropped.
David Einhorn's Greenlight Capital has 4.7 million share position which has also remained unchanged this year. There is nothing that points in the direction of Greenlight making a move but, Einhorn's campaign against Apple Inc. (AAPL) - Get Apple Inc. (AAPL) Report in 2013, trying to get the tech giant to turn loose with some of its massive pile of cash, is proof that Einhorn is unswayed by the size of the dog in the fight.
Apple is a holding in Jim Cramer's Action Alerts PLUS Charitable Trust Portfolio. Want to be alerted before Cramer buys or sells AAPL? Learn more now.
Appaloosa Management LP's holdings are similar in size to Greenlight, but David Tepper's hedge fund has been acquiring shares of Fox this year, going from 3.9 million shares up to 4.3 million shares from Q1 to Q2. Tepper and company are not as active as a lot of funds, despite their recent tussle with SunEdison Inc. (SUNE) over its now doomed merger with Vivint Solar (VSLR) - Get Vivint Solar Inc Report .
Gabelli Securities, a fund tied to investor Mario Gabelli, has a modest stake of just 13,300 shares, but Gabelli has been known to support other activist efforts.
Between the stakes that activist funds hold in Fox now, the two-tiered share structure and the fact that ValueAct's hands are tied, Fox should have some degree of comfort, despite the fact that the fallout from the Ailes's tenure atop the network is likely far from over.
EDITORS' NOTE: This article was originally published by The Deal, a sister publication of TheStreet that offers sophisticated insight and analysis on all types of deals, from inception to integration. Click here for a free trial.