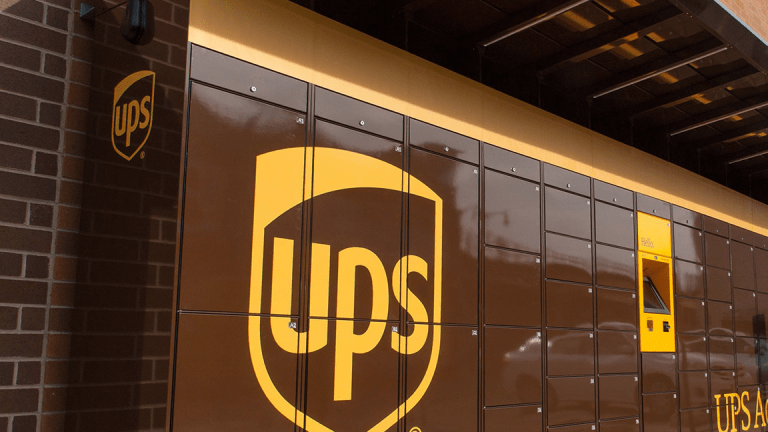 Why Activist Investors Won't Target UPS Even After Lackluster Results
The shipping giant's shares continue to slide, so why are insurgent fund managers hesitating?
United Parcel Services Inc. (UPS)  shares have been on a downward trajectory for most of the month of February, following another lackluster quarter. Most recently, the shipping giant's shares fell on news that Amazon.com (AMZN) may launch a delivery service for businesses, a prospect that could eat into UPS's profits.
The company faces higher costs handling record package volumes in the U.S. during the holidays and its 2018 earnings outlook included some increases to Capex spending that some sell-side analysts hadn't predicted. Overall, the stock is down about 10% since the beginning of the year.
If things don't improve soon, many believe an activist investor might jump into the situation with a campaign to improve UPS' bottom line. But will one pounce? It's not likely.
Historically, insurgent managers haven't shied away from the logistics sector. In 2005, MMIInvestments targeted Brinks Co. (BCO) to sell its marginally profitable BAX Globalsubsidiary. Last year, Starboard Value's Jeff Smith pushed Brinks to bring on three dissident directors, after which its shares quickly ascended. Elliott Management's Paul Singer is still in the midst of a campaign it launched in 2015 against XPO Logistics Inc. (XPO) , in an attempt to get what it deems to be fair value for its acquisition of French trucking company Norbert Dentressangle SA.
In addition, the UPS board has five directors who governance experts would say are overtenured, which might make them easy targets of any activist campaign.
However, the shipping giant has one key attribute that most people would argue makes it almost impervious to an activist investment incursion - its share structure. Upon initial inspection, UPS shares appear to be mostly owned by the usual suspects including Vanguard, BlackRock and State Street. However, these and other institutional investors own Class B shares, which overall control a measly 27.7% of the voting power.
Class A shares, which are owned by current and ex-UPS employees, executives and their dependents, control the other 72% of the vote. According to UPS, there were over 155,000 holders of class A shares, as of Feb. 8, 2017. These include more than 30,000 current salaried employees and charitable trusts established by UPS-founding families. According to UPS, these dependent trusts and organizations have large share concentrations, but a large swath of shares is also diffusely owned by rank-and-file employees.
The fact that current and ex-UPS employees essentially control the vote is something that most activist investors would find troubling. Insurgent managers typically threaten, publicly or privately, to nominate dissident director candidates when they launch activist campaigns. If they don't believe their nominees have a chance of being elected they probably won't launch an insurgency in the first place. That's why activists, for the most part, shy away from targeting companies where insiders control the votes.
UPS is a bit different because the largest part of its vote is controlled by a large cross-section of current and ex-employees. But even so, when it comes to dissident-driven boardroom battles, current and ex-employees of companies typically back management slates, which is a key reason why an activist would probably avoid UPS in the first place.
Consider, Nelson Peltz's boardroom battle at Procter & Gamble Co.  (PG) , the largest director fight ever to take place. In the end, Peltz received roughly half the votes and P&G agreed to add him to the board. But on closer inspection, the insurgent investor received much of his support from institutional investors, as retail shareholders including current and ex-P&G employees mostly backed management. Peltz even used TV ads in Cincinnati, P&G's base, to petition retail shareholders and ex-employees directly, but it didn't matter.
"The employee and ex-employee [at UPS] control of the vote certainly makes an activist's role more difficult," said Charles Elson, director of the John L. Weinberg Center for Corporate Governance at the University of Delaware. "It was an employee-owned company that went public and that ownership will make it a lot tougher for any activist that thinks about targeting it."
That said, the employee control of the vote doesn't make UPS completely impervious to an activist campaign. Some activist investors have targeted controlled-companies in the past with campaigns, including Mario Gabelli's GAMCO Management. The goal in these situations is to embarrass the target company, either privately or publicly, enough that it agrees to make changes. Should a large swath of the institutional Class B shares support an activist's campaign it could make it hard for UPS not to take action.
However, as long as Class A shareholders support management, an activist would have an almost impossible time getting directors elected. Without the threat of a boardroom shakeup, an activist's most important tool is gone.