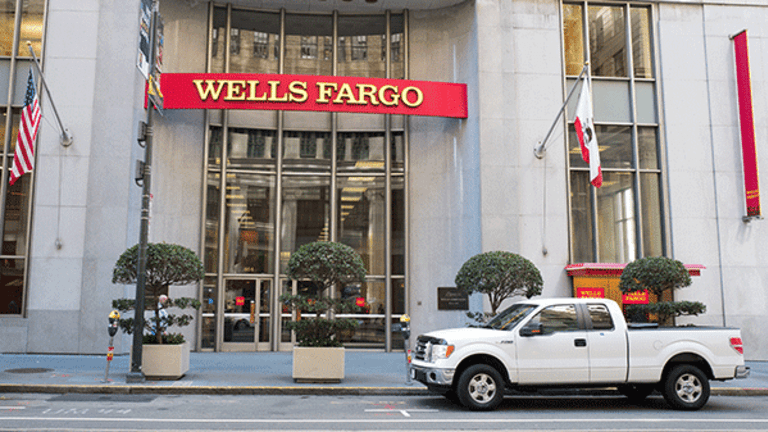 The former Securities and Exchange Commission chief who helped Wells Fargo & Co. (WFC) - Get Wells Fargo & Company Report review its board of directors after a harsh rebuke from shareholders said the lender has taken "strong actions" to improve its governance.
Mary Jo White, who led the SEC for four years prior to her departure following U.S. President Donald Trump's election in November, said the bank has a "good, conscientious and knowledgeable board" that has "learned and listened carefully" to investors after scandals involving fake accounts and unneeded car insurance.
San Francisco-based Wells Fargo hired White, 69, to assist in the board's annual self-assessment conducted earlier in the year, amid calls for improved oversight from many investors and U.S. Sen. Elizabeth Warren, a Massachusetts Democrat who has advocated for stricter banking regulations.
On Tuesday, the company said Chairman Stephen Sanger, 71, would step down at the end of the year and be replaced by Elizabeth "Betsy" Duke, a former Federal Reserve governor who previously served as an executive at several banks in the southeastern U.S. that now form part of Wells Fargo's sprawling branch network. Two directors who have served on the board since the 1990s, Cynthia Milligan and Sue Swenson, will retire, according to a company statement.
"They've both been on the board for quite some time," said White, now a partner at the law firm Debevoise & Plimpton LLP in New York. "It's not criticism of them. It's really just facilitating refreshment of the directors."
The bank's actions may nonetheless be sufficient to appease shareholder advocates and some investors who have called for the removal of all directors who served as the scandal unfolded.
In September, the lender agreed to a $185 million settlement with federal and local regulators over the creation of more than 2 million unauthorized customer accounts by workers trying to meet ambitious sales targets. A consent order with federal bank regulators and the Los Angeles City Attorney covered a period of 2011 through 2016, and Wells Fargo recently disclosed in a regulatory filing that an expanded review looking back to 2009 might result in a "significant increase" in the number of potentially unauthorized accounts.
The fallout led to contentious Congressional hearings as well as the abrupt retirement of former Chairman and CEO John Stumpf while costing Wells Fargo a number of lucrative government bond deals and much of the rally that rival banks enjoyed following President Donald Trump's election.
Stumpf's successor, Tim Sloan, had begun to make progress in restoring the bank's reputation when Wells Fargo disclosed last month that some 490,000 car-loan customers were erroneously charged for insurance they didn't need. An additional 60,000 borrowers in states with specific disclosure requirements may not have been told about the insurance by the third-party vendor that issued it, the bank said.
That only compounded investor ire expressed at the company's annual meeting in April. After it concluded , Wells Fargo disclosed that Sanger, a former CEO of Cheerios-maker General Mills Inc. (GIS) - Get General Mills, Inc. (GIS) Report who took over as independent chairman following Stumpf's departure, received just 56% of shareholder votes -- tantamount to a rejection in corporate elections where approval ratings below 90% are rare.
"I continue to remain unhappy with what's happened and the pace of refreshment," said Charles Elson, a corporate-governance expert at the University of Delaware who also owns Wells Fargo shares. "In my view, anyone who was there during the previous administration, when the culture developed that allowed all the problems to percolate, really all of them need to be refreshed."
In its statement on Tuesday, Wells Fargo said it planned to add one to three more directors to get the size of the board to the range of 14 to 16 directors. A 113-page analysis the bank released in April largely exonerated directors as having been kept in the dark about the scope of the problems.
"Maybe they could have asked some things sooner, pressed a little harder," said White, who also served as U.S. Attorney for the Southern District of New York from 1993 to 2002. "They're a good board and enhancing themselves to get better."
Sanger, Milligan and Swenson didn't respond to requests for comment. 
The bank's director-recruitment efforts are now likely to focus on adding more financial expertise, White said. In February, Wells Fargo tapped former Bank of New York Mellon Corp. (BK) - Get Bank of New York Mellon Corporation Report President Karen Peetz as a new director. As of Sept. 1, she will become head of the board's risk committee, replacing Enrique Hernandez Jr., who is the CEO of a private security company based in Pasadena, Calif.
"It's a large complex bank," White said. "What is relevant there, certainly to some degree, is banking expertise and other financial-markets expertise. It's an area that they have focused on, and they're looking for even further expertise in those areas."
Juan Pujadas, a retired principal at the accounting and advisory firm PricewaterhouseCoopers LLP, will join the board as a new independent director effective Sept. 1, Wells Fargo said in the press release.
White noted that the bank had recently recruited Suzanne "Zan" Vautrinot, a retired U.S. Air Force major general and commander who now runs a cybersecurity strategy and technology-consulting firm.
The hire was viewed as a coup, she said, because it's tough to find people who have expertise in the cybersecurity -- a crucial area for banks given the recent spate of major hacking incidents -- and also possess "the board skills you look for."
White said she didn't conduct an independent review of the board but simply acted to assist the bank in its annual self-assessment. Usually the process is conducted in-house and done later in the year.
"They did it sooner than they usually do, and they turned to me as a facilitator," she said. "I gave advice and made observations."
White said she compiled board members' self-assessments, interviewed all the directors on a range of corporate-governance issues and then "facilitated a dialogue."
Asked whether Wells Fargo was pressured by banking regulators to overhaul its board, White said the directors were being "proactive" in making the changes announced Tuesday.
"I'm not saying that regulators aren't focused on the governance issues, as you would expect them to be," she said. "It's part of the continuing process of refreshment, which any board should be doing."
Watch More with TheStreet: