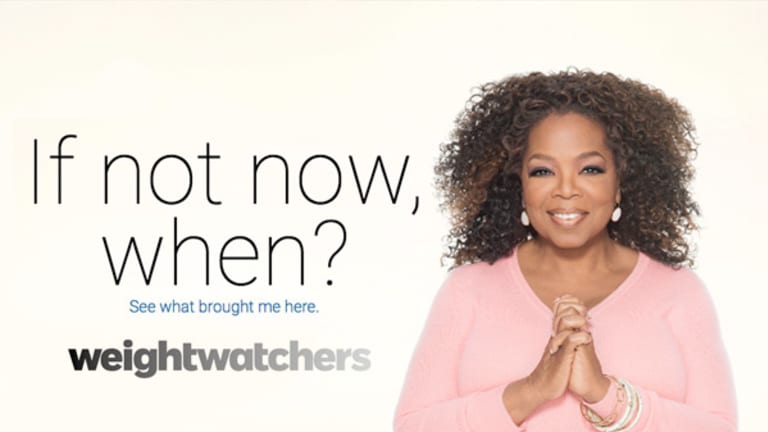 As Oprah Winfrey and her fellow board members hunt for the next CEO of Weight Watchers International (WTW) - Get Weight Watchers International, Inc. Report , analysts who follow the company have put forward some suggestions about the top priorities for a successful turnaround.
Morningstar analyst R.J. Hottovy said he hopes Weight Watchers will choose someone who has a strong background in technology, something that is increasingly important as the company works to fend off competition from those offering mobile apps and fitness devices. Weight Watchers needs to build on its positive momentum in member recruitment and expand its audience beyond its core target group of women over the age of 50, Hottovy said.
It sounds like the weight loss and wellness group is approaching the search process with an open mind.
A Weight Watchers spokeswoman said the board and its search committee will decide on the priorities for selecting a new CEO. She declined further comment.
Weight Watchers announced after the market closed on Monday that CEO James Chambers will step down effective Sept. 30 and that Winfrey and other board members are conducting a search process for a new chief executive. The New York company will be run by an interim CEO committee comprising CFO Nicholas Hotchkin and two directors, Thilo Semmelbauer, also a former COO of the company, and Christopher Sobecki.
Shareholders were skittish about the news. The New York Stock Exchange-listed stock slumped about 6.6% Tuesday to $9.68 after closing at $10.37 on Monday.
Hottovy suggested the timing of Chambers' departure ahead of Weight Watchers' most important recruitment season, winter, was "very unusual."
Nevertheless, Weight Watchers chairman Ray Debbane said in Monday's statement: "I would like to thank Jim [Chambers] for leading our turnaround and the transformation progress of the company over the past three years. Under Jim's leadership we returned to member recruitment growth, transformed our technology platform and introduced the new holistic Beyond the Scale program that we believe has great potential," referring to a program introduced in December that aims to integrate healthy eating, fitness, and personal goals for a holistic approach to wellness.
Hotchkin said in Monday's statement, "We remain confident we will deliver revenue and earnings growth in 2016 and that Q3 will be our fourth consecutive quarter of year-over-year member recruitment growth. We are positioned to enter 2017 with a revenue and earnings tailwind."
Standard & Poor's analyst Peter Deluca said a good marketing strategy is key to the turnaround process, as the weight management and exercise industries increasingly merge and the entire space becomes more and more crowded. He praised the "special touch" Winfrey has brought to Weight Watchers.
Her October decision to pay $43.2 million for a 10% equity stake in Weight Watchers and join its board created a wave of enthusiasm among investors and customers. Even after this week's losses, the stock is still up more than 42% since its last closing price before Oprah came on the scene.
"[Winfrey's] role in marketing and advertising had a very positive effect in the U.S. during the diet season -- January and February -- of 2016," Moody's Investors Service analyst Edmond DeForest said. However, he asked, "Can they maintain those strong levels of subscriber growth when Oprah's involvement is no longer new?"
In addition, the media mogul may not have the same magic touch overseas.
"Can [Weight Watchers] stabilize and grow the subscriber base outside the U.S. as well? That's a challenge where they can't rely on the force of [Winfrey's] personality. We believe she doesn't resonate with potential subscribers as much outside the U.S." DeForest said.
The company, though, has made progress grappling with the equally important issue of its debt load, including buying back debt at a discount. Now it has breathing room on major maturities until 2020, with $69 million of long-term debt classified as current as of July 2, down from $213.32 million on Jan. 2, Securities and Exchange Commission filings show.
"Reducing leverage is a clear capital structure priority for the company," it said in its latest 10-Q. Weight Watchers is targeting a net debt to Ebitdas ratio of less than 4.5 times by the end of 2018, down from 8.2 times as of July 2. Ebitdas is earnings before interest, taxes, depreciation, amortization and stock-based compensation.
Still, as DeForest sees it, at the end of the day, "We don't think this is a case where they can fix the company through financial engineering. ... The key is subscribers, subscribers, subscribers."
This article was originally published by The Deal, a sister publication of TheStreet that offers sophisticated insight and analysis on all types of deals, from inception to integration. Click here for a free trial.