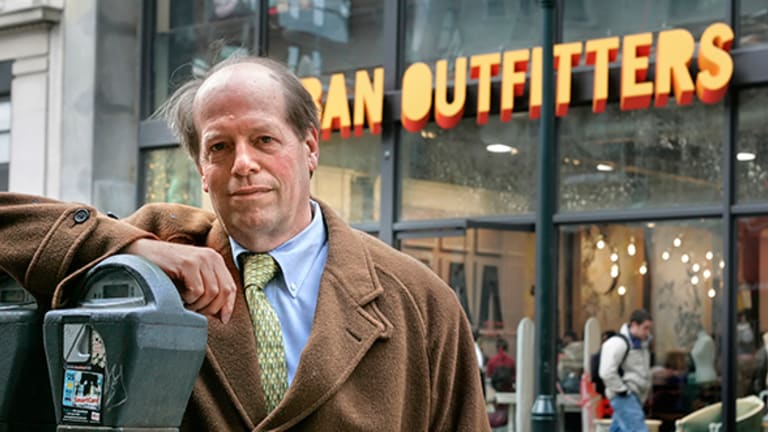 Here's Why Urban Outfitters Could Soon be Attacked by an Activist Investor
Urban Outfitters could be a target.
If Urban Outfitters Inc. (URBN) - Get Urban Outfitters, Inc. Report misses its upcoming second-quarter earnings estimates, one wonders whether the sometimes-activist investor lurking on its cozy, over-tenured board will strike.
Urban Outfitters is expected to report second-quarter results on Aug. 15, when analysts surveyed at FactSet expect the retailer to post earnings of 39 cents a share on revenue of $867 million. But, the outlook on Urban Outfitters is grim as it has missed profit expectations for the past three consecutive quarters.
In its recent first quarter, the retailer reported earnings of 10 cents a share on revenue of $761 million, badly missing Wall Street's estimates for earnings of 15 cents a share on revenue of $769 million.
Scott Galloway, a professor at the Leonard N. Stern School of Business at New York University and the founder and chairman of activist investment firm Firebrand Partners LLC, joined the board of Urban Outfitters as an independent director last May.
As of April 3, Galloway owned a less-than 1% stake in the Philadelphia-based company, but could boost his position in order to launch an activist campaign, if he chooses. Back in 2008, Galloway increased his stake in the New York Times Co. (NYT) - Get New York Times Company Class A Report , to 19%, to launch a campaign to shake up its board. He ended victorious, landing a board seat for himself for two years at the company.
Galloway did not return a request for comment.
Although not drawing ire from an activist hedge fund yet, a number of other groups have called upon the apparel retailer, behind the Urban Outfitters, Anthropologie and Free People brands, to overhaul its over-tenured board. For example, in May, Washington D.C.-based CtW Investment Group, which works with union-sponsored pension funds, urged shareholders to vote against re-electing directors Robert Strouse and Harry Cherken Jr., the longest-sitting board members, at the company's May 23 meeting.
"The company has suffered from years of stagnant revenue growth and a slumping stock price," CtW wrote at the time. "While the retail and apparel sector, more generally, has also suffered from falling stock prices, Urban's stock price has fallen more dramatically than peers."
The California State Teachers Retirement System, which first took issue with Urban Outfitters in 2015, voted to oust the entire board this year, Aeisha Mastagni, CalSTRS corporate governance portfolio manager, told TheStreet on Thursday.
"While CalSTRS does not support limiting director tenure, we do believe the board should review the director's years of board service as part of the annual board review," Mastagni said. "The need for directors that are not embedded in the old retail model is a central factor to ensuing the future financial health of Urban Outfitters."
The company's profit growth has underperformed the retail and apparel industry by 37% for the past three to five years, CtW said in its letter to shareholders prior to the May 23 meeting. Year to date, the company's stock is down 36.34%.
A representative at CtW did not return a request for comment.
Strouse and Cherken ended up keeping their seats but it is unclear how many outside investors compared to insiders voted to reelect them.
According to an ISS report obtained by TheStreet, 57.14% of non-executive directors on Urban Outfitters' board are over-tenured. ISS gave Urban Outfitters' board structure a score of 10, which is the worst on its scale, with one being the best. Co-founders of Urban Outfitters, Scott Belair and Richard Hayne, have sat on the board for 41 years.
CtW also criticized Urban Outfitters for only having two women on its nine-member board, one of whom, Margaret Hayne, is company CEO and Chairman Richard Hayne's wife. CalSTRS has taken issue with Margaret Hayne, too, calling, in 2015, for a woman to be appointed to the board who is not related, blood or otherwise, to a company executive.
"The first woman brought on Urban Outfitters board was the wife of CEO Richard Hayne," CalSTRS chief of governance Anne Sheehan told TheStreet in September. "Really? You couldn't find someone else?"
Mastagni said one of CalSTRS' "goals is to advance diversity in the boardroom."
CalSTRS filed a diversity proposal in 2015, resulting in the appointment of Elizabeth Ann Lampert to the board. After Lampert's appointment, CalSTRS withdrew its diversity proposal.
More of What's Trending on TheStreet:
Former Apple Exec: 'It's Sad to See Apple Slipping to the Position of Follower'