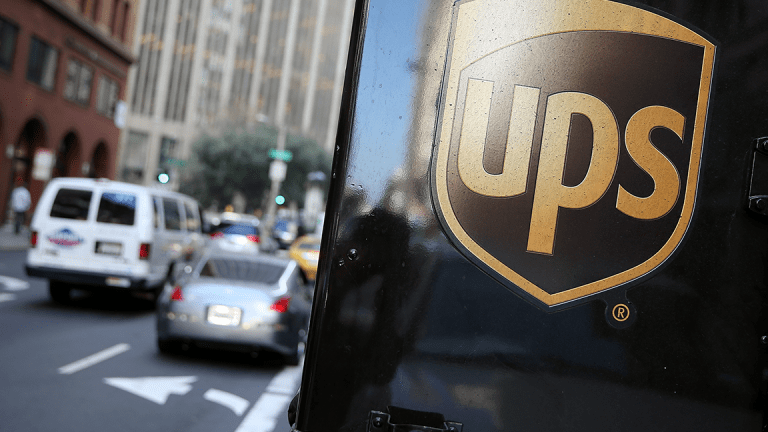 United Parcel Service Inc. (UPS) - Get United Parcel Service, Inc. Class B Report  stock has tumbled about 10% this year as investors worry about what, as its old ad slogan used to say, Brown's management and board can do for them.
What they can count on not happening, though, is that an activist investor will launch a campaign at the Atlanta-based shipping giant. That's because UPS employees own super-voting Class A shares, leaving little room for institutional investors to make their views known. Still, there are a handful of over-tenured directors who could be targeted should investors decide to push for change.
The company's stock has been under pressure after incurring holiday season shipment costs during its most recent quarter and reports that Amazon.com Inc. (AMZN) - Get Amazon.com, Inc. Report is planning to launch a delivery service for businesses.
Even though all directors are elected annually, and Christina Smith Shi, the founder of Lovejoy Advisors, was named a new director on Feb. 8, the board's composition, particularly the long-tenured directors, merited a red flag to influential proxy advisory firm Institutional Shareholder Services, according to a Feb. 2 ISS Due Diligence Profile obtained by TheStreet.
ISS flagged UPS' long-tenure board members because 41.7% (now 38% with the addition of Smith Shi) of the board has served more than 9 years, which is "considered to potentially compromise a director's independence," according to ISS Governance guidelines. The red flags show where the company is an outlier compared to its peers, suggesting that while there has been some refreshment, there is a core group of directors that has been there for a long time.
More broadly, director tenure is a newer issue for investors, executive search firm Spencer Stuart said in its 2017 U.S. Board Index report. "Increasingly, investors are questioning the independence of long-tenured directors, and some are classifying directors as independent or non-independent based on their tenure."
There are five directors on UPS's 13-member board who have served beyond the average tenure of 8.2 years, according to Spencer Stuart.
The company's "Nominating and Corporate Governance Committee regularly considers the long-term makeup of our Board of Directors and how the composition of our board changes over time," said Glenn Zaccara, UPS's director of corporate media relations, in an e-mail.
Ann Livermore, 59, a former executive vice president at Hewlett-Packard Co., has been a board member since 1997, according to BoardEx, a relationship mapping service of TheStreet Inc. Livermore is chair of the compensation committee and a member of the executive committee as well as the risk committee.
Carol Tomé, 62, is the second-longest serving director, having joined UPS's board in 2003, according to BoardEx. Tomé is the chief financial officer at Home Depot Inc. (HD) - Get Home Depot, Inc. (HD) Report and chairs the audit committee for UPS.
Michael Burns, the former CEO of Dana Inc. (DAN) - Get Dana Incorporated Report , which manufactures driveline and thermal-management products for vehicle manufacturers, has served as a director at UPS for 12.5 years, according to BoardEx. Burns, 65, is also a member of the audit committee.
Rudolph Markham, 71, the former CFO at Unilever PLC  (UL) - Get Unilever PLC Sponsored ADR Report , has been a board member since 2007. Like Burns, Markham serves on the audit committee.
William Johnson, UPS' lead independent director, has been on the board for nine years. Johnson, the former chairman and CEO of H.J. Heinz Co., is chair of the nominating and corporate governance committee and is a member of the executive committee.
For the entire board, the median tenure is approximately seven years, reflecting the mix of long-tenure directors and new directors. UPS has added seven directors in the last eight years.
Charles Elson, director of the John L. Weinberg Center for Corporate Governance at the University of Delaware, believes that directors should serve for approximately 15 years, but acknowledges that there are going to be circumstances where a director will serve longer than that. He said that setting term limits and a retirement age of 75 years old will "do the heavy lifting" in keeping boards refreshed.
"I've been around too long not to know that sometimes your best director for the next four years is someone who has been on the board for 12 years," Christie Hefner, former CEO of Playboy Enterprises Inc., said in a recent interview.
"I have become a believer in average term-limits as a policy change that I would promote," Hefner explained. "I think we could take a number that was an average for a board and then, if the board asks someone to stay longer, then someone else needs to rotate off sooner."
Some of the biggest institutional investors are UPS' largest shareholders, including The Vanguard Group, BlackRock Fund Advisors, Wellington Management Co. LLP and SSgA Funds Management Inc., a subsidiary of State Street Global Advisors Inc. (STT) - Get State Street Corporation Report , and they have the power to push for change at the board level through proxy voting.
While Vanguard lays out its proxy voting policies, director tenure is not a factor that would sway its vote. Wellington Management, meanwhile, is against adopting director tenure limits or setting a mandatory retirement age for directors. BlackRock also doesn't support setting director tenure limits.
"While we support regular board refreshment, we are not opposed in principle to long-tenured directors, nor do we believe that long board tenure is necessarily an impediment to director independence," BlackRock said in its proxy voting guidelines for U.S. securities. "A variety of director tenures within the boardroom can be beneficial to ensure board quality and continuity of experience."
State Street, however, does consider director tenure during proxy season and may withhold votes "when overall average board tenure is excessive and/or individual director tenure is excessive."
That being said, only BlackRock has been involved in one activist campaign against a company, according to FactSet Research Systems Inc. The firm voted against Mylan N.V.'s (MYL) - Get Mylan N.V. (MYL) Reportsay-on-pay proposal and against certain board members at the company's 2017 annual meeting due to concerns regarding the company's excessive pay and leadership structure, according to FactSet. The other three institutional investors have never been involved in a publicly disclosed activist campaign.
Furthermore, two of the most influential proxy advisory firms, Institutional Shareholder Services and Glass Lewis & Co. LLC, both supported all of the directors ahead of the May 2017 annual meeting. All the directors received shareholder support above 90%.
The proxy advisory firms will issue its director recommendations closer to the annual meeting as will Glass Lewis, which many institutional investors tend to follow.
UPS has not set a date for its annual shareholder meeting.