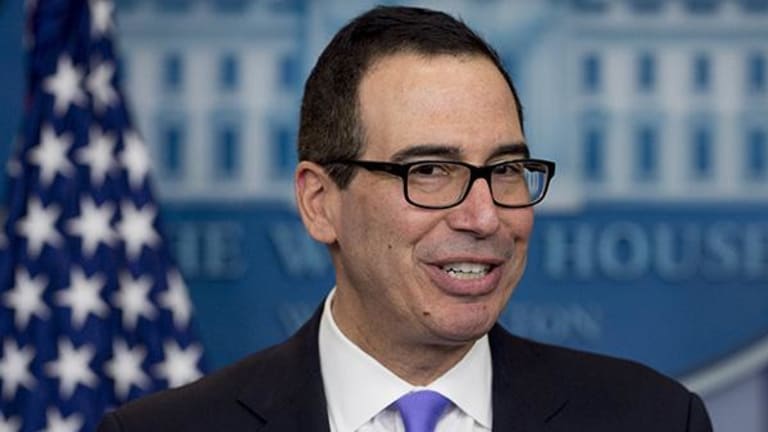 Treasury's Mnuchin Focused on 'Quick' Changes to Dodd-Frank Banking Rules
The Treasury Secretary suggested that a June 3 report will include recommendations for legislators and regulators as well as executive order ideas for bank oversight
Treasury Secretary Steve Mnuchin says a report on the impact of Dodd-Frank banking regulations will emphasize improvements that can be made 'relatively quickly,' some through policy shifts and executive orders.
"One of the things we're focused on is that we want to make sure that banks have the ability to lend and make loans," Mnuchin said to furious applause at a community bankers gathering in Washington. "We'll be making a series of recommendations to the president. Some of those recommendations are things regulators can do, and some will be things that be done by executive order and others will need legislation."
The proposals will be included in a Treasury Department report commissioned by President Donald Trump that's due June 3 on how the reform law passed after the 2008 financial crisis has affected the industry and consumers. It's expected to have a major impact on the course of legislation being spearheaded in Congress by House Financial Services Committee Chairman Jeb Hensarling, R-Texas.
Hensarling is overseeing the second of an expected three days of committee votes on the Financial Choice Act, a package of deregulatory measures.
Mnuchin dismissed as "highly unlikely" speculation that that the report will include suggestions about trimming the numerous bank and securities regulators. The Treasury Department has held 18 focus groups with 15 to 100 people in each to help develop the recommendations, Mnuchin said.
"This report will focus on things that we believe we can do reasonably quickly," Mnuchin said. "We are looking to make sure there is consistency in how the regulators work together. They want more consistency."
It's possible that the Treasury Department could include its approach to reinstating Glass-Steagall -- a Depression-era law that split commercial and investment banks -- in that report, though any such proposal would probably face significant pushback on Capitol Hill. Mnuchin declined to comment on that.
He did, however, point out that the Trump administration is working to fill key bank regulatory posts shortly. The president has signed off on a new top bank regulator for the Federal Reserve, which will be announced in advance of the White House's recommendations for two open slots on the central bank's Board of Governors, Mnuchin said.
Reports have suggested that Trump will nominate former Treasury Undersecretary Randy Quarles as the Fed's banking supervision chief.
On Wednesday, Mnuchin said in a statement he would appoint Keith Noreika, a partner at law firm Simpson, Thacher & Bartlett,  as First Deputy Comptroller in the Office of the Comptroller of the Currency, a national banking regulator. Noreika would hold the top job on an acting basis when Thomas Curry steps down on Friday, May 5.
The Treasury Secretary said he's "hopeful" that tax reform efforts will be completed this year, without providing further details. He had previously suggested an August timetable.
Any effort to reform housing refinance giants Fannie Mae and Freddie Mac will need to wait until after tax reform, and regulatory reforms are completed, he added. "Our priorities are tax reform and regulation reform," Mnuchin said "This [Fannie/Freddie] will be a bigger focus for the second half of the year. We have talked to lawmakers, but this has been at a high level because our initial focus has been regulatory issues and taxes."
Jim Cramer and the AAP team takes a deep dive analysis into Alphabet (GOOGL) following last week's strong earnings report Find out what they are telling their investment club members. Get afree trial subscriptionto Action Alerts PLUS.
Meanwhile, over on Real Money, Cramer explains why Estee Lauder's CEO, Fabrizio Freda, has pulled off the impossible. Get his insights with a free trial subscription to Real Money.