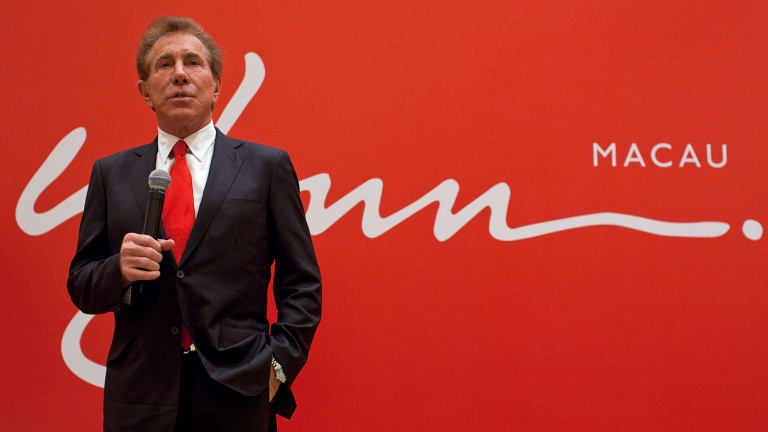 Steve Wynn Gives Up Control of Ex-Wife's Shares
The move increases the odds that either an activist could step in to break up the $18 billion hotel and casino empire or that Wynn's wife, Elaine, relaunches an effort to get on the company's board.
One major impediment to an activist investor moving to target Wynn Resorts Ltd. (WYNN) - Get Report may be on her way out—casino mogul Steve Wynn's ex-wife Elaine and her 9.3% stake in the company.
At issue is a shareholder agreement between Elaine and Steve, who stepped down last week from his position as CEO of the resort chain in the wake of sexual harassment allegations.
Steve Wynn currently controls roughly a fifth of the company's shares, and he could be a major obstacle to an activist foray if he wants to keep the businesses intact and under his name. A shareholder agreement between Wynn and his ex-wife, gives him the right to vote his and her stake, 11.8% and 9.28% respectively.
However, on Monday, Steve Wynn reported in a securities filing that he has formally dropped his contest of a lawsuit filed by Elaine Wynn, which argued that the shareholder agreement was invalid.
Jefferies analyst David Katz said in a note Monday that he believes that should a Nevada court give Elaine Wynn control of her shares that there is a good chance she will seek to liquidate her stake in a thoughtful manner, over a period of time. Katz noted that strategic investors could be interested in her shares or that Wynn Resorts could repurchase them by employing some of the company's $3.13 billion in cash, as of the fourth quarter of 2017.
Steve Wynn however, will still control his 11.8% stake and he said in the securities filing that he has "no immediate plans to sell shares that he owns."
Nevertheless, The Deal, believes that it is a real possibility that an activist investor could step in and seek to break up the chain of resorts. If Elaine sell her shares that means that there is a good chance Steve will have control of a much smaller block of shares that would vote against that outcome.
Alternatively, Elaine, who was removed from the Wynn board in April 2015 after a 13-year stint at the company she co-founded, might try to find an activist investor to help her try to take over some seats on the board. Consider that in 2015, Elaine Wynn initiated a proxy contest for her seat after the board declined to renominate her, citing an alleged conflict of interest caused by her pending legal dispute with Steve Wynn. However, she lost. Nevertheless, it is possible that in light of the recent sexual harassment charges, Elaine could seek to get back on the company's board again. 
Wynn's board reportedly could face the possibility of civil liabilities over the allegations involving Wynn, if they are found to have failed to provide adequate oversight, making them even more susceptible to an activist attack.
Activists often attempt to divide up undervalued businesses to extract share-price value, and that might be something an insurgent fund manager seeks at Wynn Resorts, whose shares have plummeted from about $200 a share to as low as $163 a share recently.
In a note last week, Jefferies analysts argued that Wynn's value to the company is "unarguably profound as its chief visionary and diplomat."
With him gone, the chain is rudderless and could become vulnerable to an activist seeking to break up the business.
Steve Wynn's Inglorious Departure Could Draw Activist Investor Campaign
In the note, the Jefferies analysts contend that a sale of the business as a whole or in pieces could produce a sum-of-the-parts valuation of about $201 a share, significantly more than its recent share price.
It is possible that the Wynn resorts could be sold in pieces, in part, because a hotel and casino operator might want to pay more to get into one of the Wynn markets—Boston, Nevada or its Chinese unit, Macau—but not all.
Editor's note: This article originally appeared on The Deal , our sister publication that offers sophisticated insight and analysis on all types of deals, from inception to integration. Click here for a free trial.