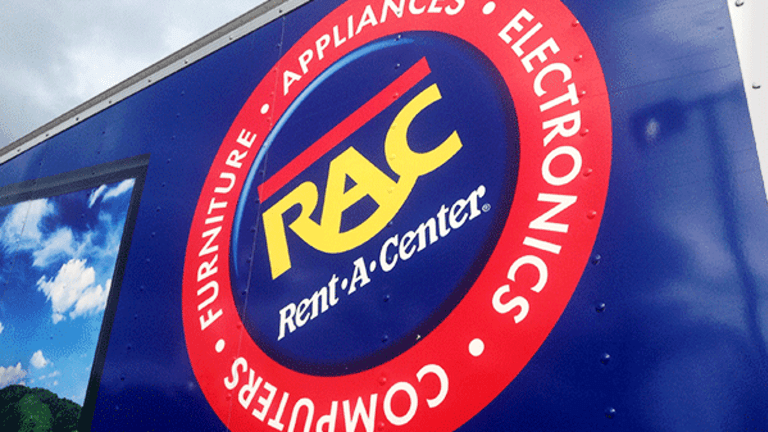 Rent-A-Center Adopts 'Poison Pill' Following Activist Campaign
The rent-to-own operator adopts a stockholder rights plan to reduce the likelihood that an investor would gain unsolicited control of the company.
This is part of a series of stories that comprise TheStreet's Blue Chip Studio, which will illuminate issues related to corporate board performance, activism, dealmakers and personalities revealed by analysis of data generated byBoardEx, a business unit of TheStreet.
Rent-A-Center   (RCII) - Get Free Report is adopting a stockholder rights plan, or a so-called "poison pill," about a month after an activist campaign escalated.
The rights plan is intended to reduce the likelihood that an investor or firm would gain unsolicited control of the company. The Plano, Texas- based retailer said the right entitles shareholders to buy one-thousandth of a share of newly-created Series D Preferred Stock for $25, which would become exercisable if a person or group purchases 15% or more of the outstanding common shares.
Shares of RCII were slightly lower during the trading session Tuesday.
The move by the board of directors comes after Rent-A-Center found itself as an acquisition target. Activist investor Engaged Capital LLC launched a campaign earlier this year, urging the retailer to sell itself "in whole or in parts." Glenn Welling's Engaged Capital owns 16.9% of outstanding shares, according to a March filing with the U.S. Securities and Exchange Commission.
Calls to Engaged Capital's media relations representative, Riyaz Lalani at Bayfield Strategy Inc were not returned by the time of publication.
The rent-to-own operator, which has seen revenues decline over the past year, recently reaffirmed its commitment to a turnaround, promising to cut costs.
"We remain committed to taking all necessary actions to execute our turnaround and are moving forward with urgency to drive improved results and shareholder value, including an execution of cost rationalization plan to achieve approximately 6% reduction in the field support center workforce," Mark Speese, interim CEO for Rent-A-Center, said in an earnings statement last month. Speese, who had been the company's CEO from 2001 to 2014, resumed the CEO role after Robert Davis quit in January.
Engaged Capital, however, expressed its displeasure with the "risky public turnaround strategy," and nominated five candidates for election to the board.
"We are hereby putting each and every director on notice," wrote Glenn Welling in a February 23 letter. "We will use any and all resources at our disposal to ensure that the approximately 98% of shares outstanding not owned by Mr. Speese are protected from further value destruction."
Engaged Capital put forth Mitchell Fadel, former president of U.S. Pawn for EZCORP Inc (EZPW) - Get Free Report , William Butler, CEO of ATL Leasing Inc, Xerox Corp (XRX) - Get Free Report CIO Carol McFate, Brown Equity Partners LLC's CEO Jeffrey Brown and Christopher Hetrick, the director of research at Engaged Capital.
"Board composition, director accountability, and shareholder rights will be key themes in 2017; these can be expected to propel a number of targeted shareholder proposals and campaigns against directors," according to a recent post by Harvard Law School Forum on Corporate Governance and Financial Regulation based on a publication by Institutional Shareholder Services Inc.
Five directors of Rent-A-Center's seven-member board are overtenured directors and the board is comprised of only men, according to BoardEx. BoardEx is a business unit of TheStreet.
Speese, 60, who has been a director since 1990, is the chairman. J.V. Lentell is vice chairman and has served as a director for 22 years. Independent directors Michael Gade, Jeffrey Jackson and Leonard Roberts have each been board members for more than a decade. The average tenure for S&P 500 directors is 8.2 years, according to leadership consulting firm Spencer Stuart.
In a March 21 SEC filing, the board said that it will nominate Speese, Roberts and Jackson for three director positions to be elected at the company's 2017 meeting. A month prior, the company said the board will review Engaged Capital's proposed nominees and present the directors recommendation in Rent-A-Center's proxy materials. A date for the meeting has not yet been scheduled.
The company will also seek stockholder approval of the stockholder rights plan at or before to the annual meeting in 2018. The plan has an expiration date of March 28, 2020, or earlier if it has not been approved prior to the 2018 meeting.
J.P. Morgan is serving as financial adviser and Winston & Strawn LLP is serving as legal adviser to Rent-A-Center.
Employees of TheStreet are restricted from trading individual securities.