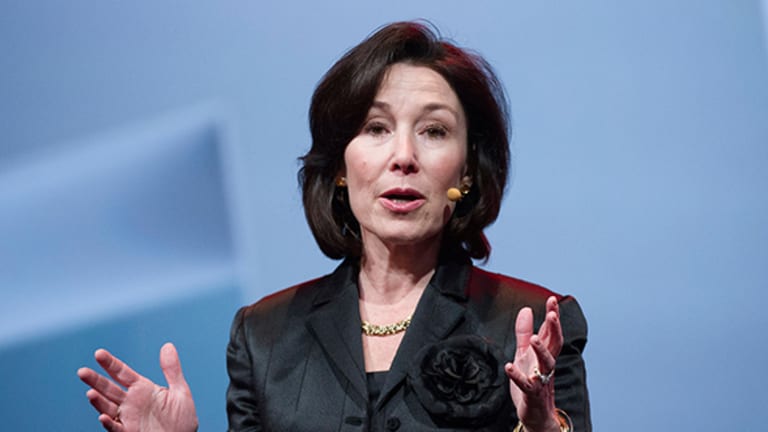 This is part of a series of stories that comprise TheStreet's Blue Chip Studio, which will illuminate issues related to corporate board performance, activism, dealmakers and personalities revealed by analysis of data generated by BoardEx, a business unit of TheStreet.
For the second consecutive year, Oracle Corp.'s (ORCL) - Get Oracle Corporation Report co-chief executive Safra Catz is the highest paid female CEO, a new study reveals.
While it is still more common for men to lead some of the largest U.S. companies, female chief executives are making gains. A study by Equilar, a provider of board intelligence solutions, finds that the women who lead the largest U.S. firms "far outpace their male counterparts when it comes to total compensation." Using the Equilar 100, an annual list of CEO pay packages at the 100 largest U.S. companies by revenue, the firm discovered that women were awarded an average of $23.1 million in 2016, compared to $16 million for men. Yet, there are only nine women who make the list.
Female tech CEOs fill out the top three spots. Oracle's Catz, 55, leads the pack, making $40.9 million, despite a 23% drop in her total compensation value from the previous year. Catz was named co-CEO along with Mark Hurd in 2014, according to BoardEx, a business unit of TheStreet. During Catz and Hurd's tenure, Oracle shares have gained 6%.
Hewlett Packard Enterprise Co.'s (HPE) - Get Hewlett Packard Enterprise Co. (HPE) Report Margaret Whitman, 60, comes in second with $32.9 million, a 93% raise over the previous year. She has served as CEO since 2011 -- before Hewlett Packard Enterprise separated from HP Inc. (HPQ) in 2015. Meanwhile, International Business Machines Corp.'s (IBM) - Get International Business Machines (IBM) Report Virginia Rometty, 59, was just behind Whitman, earning $32.3 million. Rometty, who is the first woman to head the IBM, was named CEO in 2012. She is also currently serving as a member of President Trump's Strategic and Policy Forum.
The women who make up the rest of the nine-person list hail from a variety of industries. Pepsico Inc. (PEP) - Get PepsiCo, Inc. Report CEO Indra Nooyi earned approximately $25.2 million; Phebe Novakovic, CEO of General Dynamics Corp. (GD) - Get General Dynamics Corporation (GD) Report , received $21.2 million; Lockheed Martin Corp.'s (LMT) - Get Lockheed Martin Corporation (LMT) Report Marillyn Hewson made $19.4 million; Irene Rosenfeld, Mondelez International Inc. (MDLZ) - Get Mondelez International, Inc. Class A (MDLZ) Report CEO, collected $15.8 million; Duke Energy Corp.'s (DUK) - Get Duke Energy Corporation (DUK) Report Lynn Good picked up roughly $13.5 million; and, Susan Griffith, CEO of The Progressive Corp. (PGR) - Get Progressive Corporation Report -- a new addition to the list this year -- brought in $6.9 million.
"With such a small sample size, this data may not reveal enough to signify a closing gender pay gap overall," Equilar said in its report. "The paltry number of females who are in the highest-level positions at the largest U.S. firms says much more about the state of gender diversity in corporate America."
Presently, there are 29 female S&P 500 CEOs, or about 6% of the total, according to BoardEx data.
Yet, the presence of women in corporate leadership positions may improve firm performance, a 2016 study by the Peterson Institute for International Economics found.
"We found that going from having no women in corporate leadership (the CEO, the board, and other C-suite positions) to a 30% female share is associated with a one-percentage-point increase in net margin - which translates to a 15% increase in profitability for a typical firm," the authors of the study wrote in a post for Harvard Business Review.
Still, when looking at the overall Equilar 100 list, Catz is the fifth highest-paid CEO. Charter Communications Inc. (CHTR) - Get Charter Communications, Inc. Class A Report CEO Thomas Rutledge scored $98 million in 2016, more than double second-place finisher Nike Inc. (NKE) CEO Mark Parker, who earned $47.6 million. Catz's co-CEO at Oracle, Mark Hurd, comes in the third spot with $41.1 million -- Equilar noted that Catz and Hurd receive the same base salary, stock and options, and awards, yet Hurd received more in "other compensation." Walt Disney Co's (DIS) - Get Walt Disney Company Report Bob Iger made approximately $41 million to come in fourth. Interestingly, billionaire Warren Buffett, CEO of Berkshire Hathaway (BRK.A) - Get BRK.A Report , was last on the list, receiving a mere $487,881 in compensation.
Editors' pick: Originally published April 19.
Employees of TheStreet are restricted from trading individual securities.