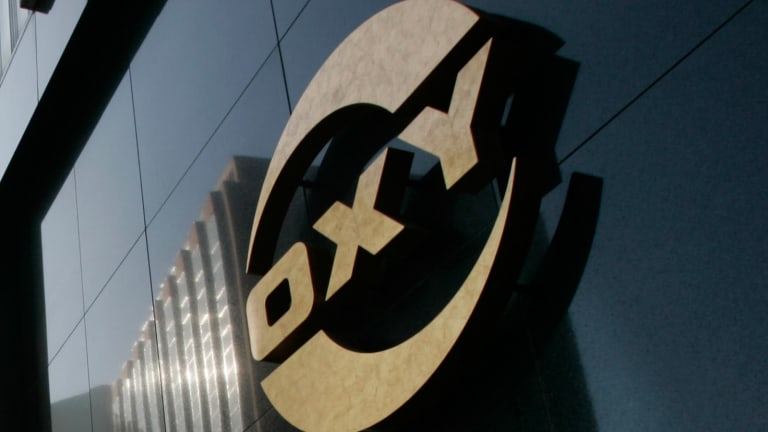 Occidental to Produce Climate Risk Report in 2018
The Houston-based company will publish a report on the risks that climate change poses to its business after a shareholder proposal seeking such action passed by more than 60%.
Occidental Petroleum Corp. (OXY) is planning to issue a report on the risks that climate change poses to its business in early 2018 after a shareholder proposal this year gained more than two-thirds of shareholder support.
The Deal confirmed that the Houston-based company will produce a report next year, but the company declined to say whether the report would be published in the first or second quarter of 2018.
"We have been productively engaging with our shareholders and other stakeholders on climate-related disclosure and expect to publish a report in early 2018," said Melissa Schoeb, vice president of corporate affairs at Occidental.
Shareholders requested that the company with a market capitalization of $53 billion to produce an assessment of the long-term portfolio impacts of "plausible scenarios that address climate change." According to the proposal, the report should explain how capital planning and business strategies incorporate analyses of the of the financial risks of a lower carbon economy.
"We were pleased that Occidental agreed to issue the report, and the company has been open to investor feedback," Wespath, one of the firms the filed the proposal, said in a statement via email. "We look forward to seeing if the final report meets investors' needs regarding climate-related scenario planning and disclosure."
At Occidental's May 12 annual meeting, that proposal garnered 67.3% of shareholder support, according to sustainability non-profit Ceres. Occidental's board had opposed the measure, noting in its proxy statement that it was in the process of "expanding our disclosures of how climate-related issues are relevant in our current governance, strategy and risk management practices."
In June, Occidental Chief Executive Officer Vicki Hollub told Fortune that the company is working to reduce its emissions, and that it had been successful in doing so over the past few years. To help accomplish its environmental goals, Occidental has employed a technique called "enhanced oil recovery."
"As a socially-responsible company we've got to do the right thing," Hollub said.
Shares of Occidental rose by 0.6% to $70.99 as of about 10:45 on Friday.
Occidental's move to publish a report comes as environmental, social and governance (ESG) issues are gaining traction with institutional investors. During the 2017 proxy season, climate change proposals passed at three companies, including Occidental, oil company Exxon Mobil Corp. (XOM) and electric services company PPL Corp. (PPL) .
"This is the first time we have seen these types of proposals pass, and they did so with the help of some of the largest institutional investors like BlackRock, Vanguard and Fidelity," PwC's 2017 Annual Corporate Directors Survey said.
The Vanguard Group, BlackRock Fund Advisors and SSgA Funds Management Inc., a subsidiary of State Street Global Advisors Inc., are the three largest institutional holders of Occidental shares.
At all public companies, average support for climate change shareholder proposals jumped to 32% in 2017 from 24% in 2016, the report stated.
Earlier this week, Exxon announced that it will enhance its climate-related disclosures to include "energy demand sensitivities, implications of two degree Celsius scenarios and positioning for a lower-carbon future" following a shareholder proposal that received 62% of shareholder support.
Exxon did not provide a specific date for when it will issue the disclosures.
"Exxon's decision demonstrates that investors have the power to hold corporations accountable and to compel them to address our very real climate-related concerns," said New York State Comptroller Thomas P. DiNapoli. The proposal at Exxon was filed by the New York State Common Retirement Fund and the Church of England.
PPL published its report assessing the long-term effect of climate policies on the company in November.
"We anticipate these shareholder initiatives will have even more widespread backing going forward," the PwC report said.
Paula Loop, the leader of PwC's Governance Insights Center, told The Deal in October that because institutional investors have been focused on ESG, she thinks that there will be a "broader discussion of ESG embedded into the strategy discussion."
There are already eight 2018 shareholder proposals seeking a climate risk report, according to data from Ceres.
Mercy Investment Services Inc. has filed a proposal seeking an assessment of climate-related risks at electric services company Ameren Corp. (AEE)  and electric power distribution company AES Corp. (AES) .
As You Sow, a non-profit foundation that promotes social responsibility through shareholder advocacy, has filed a similar proposal at Anadarko Petroleum Corp. (APC) . The non-profit organization also filed the proposal at Akron, Ohio-based electric services company FirstEnergy Corp. (FE) .
Zevin Asset Management has filed a climate risks report proposal at oil and gas pipeline company Kinder Morgan Inc. (KMI) .
At MGE Energy Inc. (MGEE) , Don Wichert filed a proposal requesting that the company prepare a report disclosing the business operations strategy for aligning with the 2015 Paris Agreement's goal of limiting global warming to a maximum of two degrees Celsius.
The Presbyterian Church is requesting that by 2019 Noble Energy Inc. (NBL) publish an assessment of the long-term portfolio impacts of scenarios consistent with the internationally recognized goal of limiting the global increase in temperature to 2 degrees Celsius.
The Max & Anna Levinson Foundation also filed a climate risks report proposal at PNM Resources Inc. (PNM) .
-- This story has been updated to include a statement from Wespath.
More of What's Trending on TheStreet: