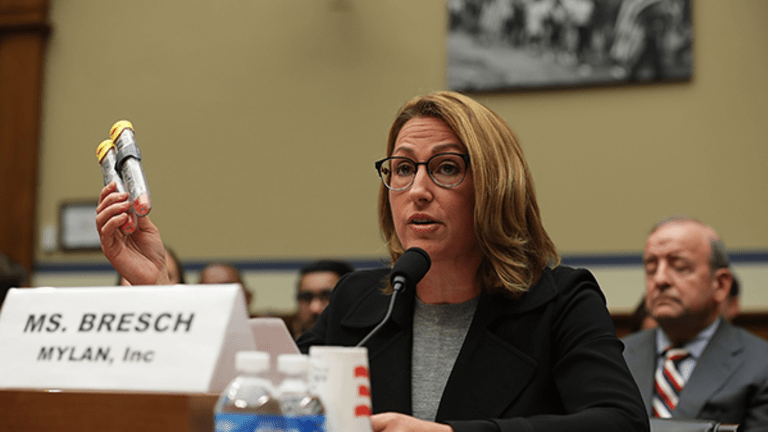 Mylan's Governance May Be the Root of Its Problems
The scandals plaguing the pharmaceutical company can be traced to lack of change at the board level.
Nearly a year of becoming mired in scandal over the high price tag of its life-saving medication, EpiPen, Mylan (MYL) attempted to instill hope in its shareholders Wednesday at an investor day held in New York.
Executives highlighted better-than-expected fourth-quarter earnings and a revenue stream that derives at least half of its sales from outside of the U.S. at Mylan's investor day. Shares responded in kind, rising 7% Wednesday.
Mylan's new CFO, Ken Parks, even made promises to investors that the company would be more transparent, noting that Mylan is "trying to give better visibility" to what the company is doing.
But no amount of happy talk by company officials about improved performance and transparency may overcome its poor governance.
While the conference was underway, Connecticut's attorney general announced that 20 more states have joined the lawsuit against Mylan and other pharmaceutival companies, alleging that they colluded to push up prices of two drugs. These states joined the 20 others that had filed suits against Mylan, Teva Pharmaceuticals Industries (TEVA) and four smaller generic companies.
Mylan officials declined comment on the suit. This, though, is a mere drop in the bucket compared with what Mylan is dealing with on a corporate level.
"Mylan's poor governance practices are legendary," then-CEO of Perrigo (PRGO) Joseph Papa wrote to shareholders in 2015, when Mylan was attempting to buy Perrigo.
He noted Heather Bresch, Mylan's CEO, called the U.S. "too shareholder centric" and that the company receives "the worst possible governance score from ISS" consistently in his letter. Institutional Shareholder Services Inc. (or ISS) evaluates takeover approaches on a variety of criteria, including risk mitigation and responsible governance as well as shareholder value. 
Editor's note: This article was originally published by The Deal, a sister publication of TheStreet that offers sophisticated insight and analysis on all types of deals, from inception to integration. Click here for a free trial.
And these these comments were made before Mylan's EpiPen scandal, which rocked the share price in 2016. Mylan had been increasing the price of EpiPen, an autoinjector used to treat severe food allergies and anaphylaxis, 25% year-over-year, while the drug industry standard of price increases hovered around 10%. That generated profits but also a political backlash, since the EpiPen is used by many school districts to ensure the lives of students who need a jolt of adrenaline to overcome allergic reactions.
On top of that, it came to light that EpiPen had been misclassfied for years by the Center for Medicare and Medicaid as a generic, which allowed Mylan to receive bigger rebates from the government.
This was all while CEO Bresch's pay saw huge increases. Bresch was paid a modest $2 million in 2007, when Mylan acquired EpiPen. In 2015, her pay ballooned to $18.9 million.
The company made changes to how EpiPens are priced—it now offers coupons, assistance programs and a generic version of EpiPen, which previously wasn't available. Patients are now paying $300 at most for a two-pack, as compared to the more than $600 price tag they saw before.
As a result of all this questioning, New York City Retirement Systems called on Mylan to appoint an independent chair to strengthen its board oversight back in May. Mylan still has not done so, and those at the top during the company's problems with EpiPen remain in place.
Take, for example, Rodney Piatt, who has sat on the board at Mylan since 2004, according to BoardEx, the relationship mapping service of The Deal's parent, TheStreet Inc.
Piatt was investigated, along with Mylan, in 2015 by the Securities and Exchange Commission after he sold land to a business partner's firm for just $1.
One day later, Mylan purchased the land for $2.9 million from that same partner's firm, and the partner reimbursed Piatt for an undisclosed amount. Mylan announced in May 2016 that it paid $338,000 to Piatt to cover legal fees for the investigation.
Piatt remains a part of Mylan's board, and sits on the governance and nominating committee as well as the audit committee.
And then there's the fact of Mylan's move to the Netherlands, which it made in 2015 to reduce its tax bill. The company found it was able to employ a European-style poison pill called "stitching" when it was approached by Teva Pharmaceuticals with a hostile bid for $82 per share that year.
"Stitching" allows companies to form foundations that buy enough shares of stock to exercise voting options, and in turn, voting against a hostile takeover. This also allows the company to keep board members in place despite dubious actions.
Two activist firms are currently invested in Mylan—Greenlight Capital Inc., which has a 1.62% stake in the company, and Paulson & Co., which has taken a 3.85% stake in Mylan.
But the effectiveness of either of these firms will likely be minimal, given Mylan's ability to employ "stitching" to thwart outside pressure for change.
Then there are Bresch's dubious political ties. Bresch's father is Joe Manchin, a West Virginia Democratic senator. And her mother, Gayle Conelly Manchin, was the president of the West Virginia School Board Association for two years, after serving as vice president since 2007. 
Her mother's role in getting EpiPens into most schools is unclear, but one can connect the dots. Also worth connecting? Mylan's PAC, called MyPac.
The political action committee has given money to state senators like Susan Westrom of Kentucky, Andy Biggs of Arizona and Chuck Hufstetler of Georgia, all of whom went on to introduce state legislation to either require or encourage schools to stock EpiPens in nurse's offices and cafeterias.
This practice is now being investigated by the New York attorney general, as Mylan "may have inserted potentially anti-competitive terms into its EpiPen sales contracts with numerous local school systems."
Editor's note: The report first appeared March 2 on The Deal, the sister publication of TheStreet, and has been updated to correct the affiliation of Gayle Conelly Manchin, the mother of Mylan CEO Heather Bresch.